Computer Science and Engineering Undergraduate Leads the Way for New Students
Balint Szigeti Csucs, a third-year computer science and engineering major originally from Hungary, spent the first two years of his undergraduate experience exploring opportunities and building community. Later this month, Szigeti Csucs will welcome and guide new students as an orientation team lead at the University of California, Davis.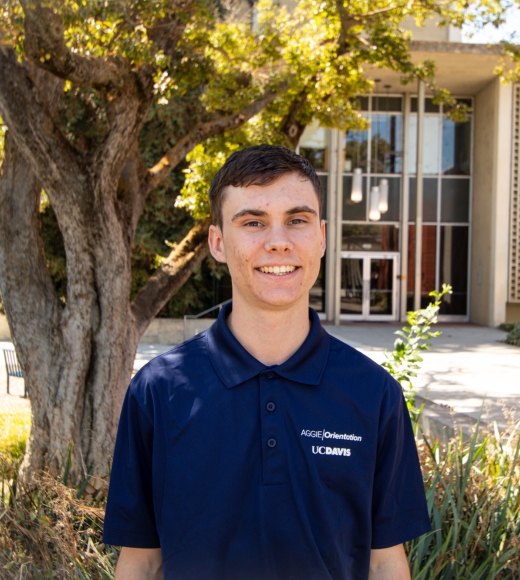 As a team lead, he manages a group of orientation leaders and ensures that incoming students have a positive orientation experience. He decided to become a team lead after having a very positive experience at his freshmen orientation.  
"My favorite aspect of the work is contributing to orientation's mission, which is to be welcoming to new students and equip them to succeed during their time here at UC Davis," Szigeti Csucs explained. 
He started at UC Davis as a civil and environmental engineering major but knew he was curious about other engineering fields. He took courses in other engineering departments to explore his options. 
He finally found that he was most passionate about computer science. He still considers ECS32A – Intro to Programming to be his favorite engineering course. According to Szigeti Csucs, taking the time to find what really interested him through classes with faculty members from all over the world — Russia, Greece and China — has been especially valuable. 
When he is not busy with work or school, Szigeti Csucs enjoys reading, playing sports with friends and being an active member of the Davis Christian Fellowship. He is also active in Engineers Without Borders, a student-led organization focused on developing and implementing engineering projects in developing countries. 
"It's been a great experience to see the positive impact college students are able to make on communities around the world," he said of the group's global reach. 
Szigeti Csucs commits to "staying organized, keeping my priorities straight, and taking ample time to rest every week" to maintain balance. 
Exploration in and out of the classroom hasn't always been easy, but his investment of time and energy has proven useful to a fulfilling college experience. 
"It's worth it to take the time to explore your interests, academic and otherwise," Szigeti Csucs said. 
Primary Category
Tags