The College of Engineering Celebrates our 2021 Graduates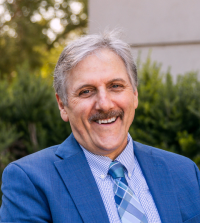 Dear Graduates, Families and Friends,
Congratulations to the Class of 2021.
This achievement marks an important milestone for our students, their families, our college and the world. I know firsthand what this institution does for aspiring engineers, no matter their life experiences. We are a true community of scholars. The world needs more Aggie engineers: those who understand the essential principles of engineering and have the knowledge, passion, will and determination to address society's biggest challenges with inspiration and innovation.
Thank you for joining us as we celebrate the accomplishments of our graduates and the great possibilities that await their futures. I am inspired to watch them grow as engineers, walk across the stage today and then help transform our society and planet for the better. Go Ags!
Richard L. Corsi
Dean, UC Davis College of Engineering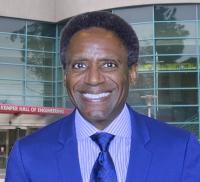 Dear Graduates,
Congratulations on earning your engineering degree from UC Davis! This great accomplishment reflects your many years of hard work, dedication, and commitment. The successful completion of your degree requirements during these very challenging, and uncertain times is especially commendable. The foundation of engineering principles and skills that you have built will undoubtedly set you apart as you navigate the array of professional opportunities that will be afforded to you as proud UC Davis engineering alumni.
On behalf of the Engineering Undergraduate Office, it has been our great pleasure working with you through academic advising and sharing in the joy of your personal accomplishments along your journey to the finish line. We will miss you, and we wish you well as you leave to become leaders, life-long learners, teachers, experts, innovators, and activists for the betterment of our society.
With warm regards to you and your families,

Ralph Curtis Aldredge
Associate Dean, Undergraduate Studies
Senior Spotlights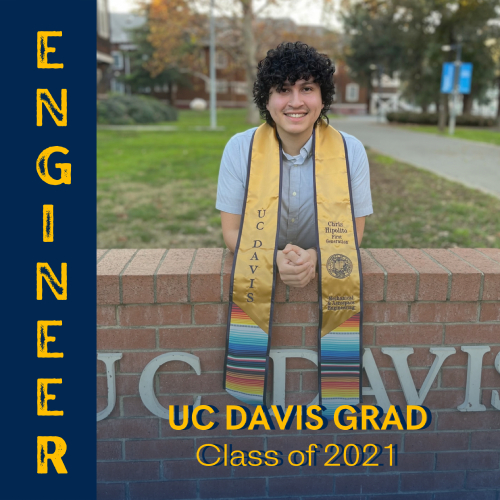 Christopher Hipolito
Mechanical Engineering
Read Christopher's spotlight
One of his favorite memories was participating in the 2019 AvenueE Summer Transfer Bridge Program where engineering transfer students are helped with their transition into the rigorous quarter system. During one of the panels, he had the opportunity to meet with the Space and Satellite Systems team.

"I remember being so excited and happy that Davis offered a club this cool and related to what I wanted to do with my career. Fast forward 2.5 years later, I've met amazing coworkers, gained valuable technicalskills and have led and become president of this wonderful team," said Christopher.

A piece of advice he has for incoming engineering students is to take advantage of all of the resources campus has to offer, such as tutoring centers, academic organizations, discord and advisors. "If you struggle, that is okay, you're not alone. Imposter syndrome is real!" Christopher encourages students to watch fun major-related videos, do mini-projects and participate in clubs so that they don't forget why they chose their major.

After graduation, Christopher will continue working in the satellite industry as a Thermal Manufacturing Engineer at Maxar Technologies.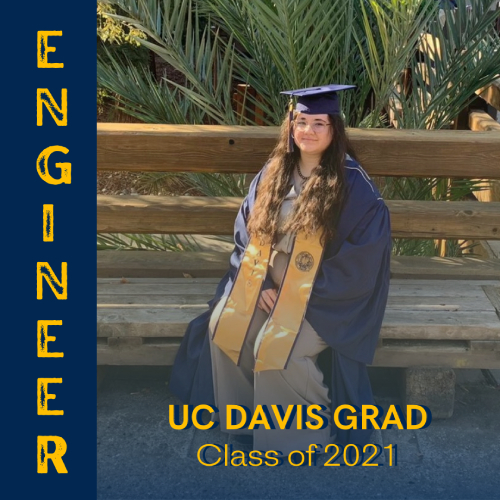 Milena Tuimavave
Aerospace Science and Engineering
Read Milena's spotlight

One of her favorite memories was her time in the Space and Satellite Sytems Club (SSS).

"Through SSS, I made many great friends, got to work on developing Davis' first CubeSat and determined that I have a passion for satellites and design work," said Milena.

One piece of advice she would like to share with the upcoming generation of engineering students is to get involved in clubs and/or labs. She says it is a great way to network, make new friends, apply what you learn in your classes to real-life applications and it looks great on your resume. Additionally, Milena advises students to get comfortable with being uncomfortable. "The best way to grow as an engineer is to work on projects or research that you feel you might not be qualified for and learn as much as you can. You are more prepared than you think."

After graduation, Milena will be working at Maxar Technologies in the Mechanisms Engineering and Manufacturing department. She interned at Maxar for two summers and is very excited to go back in January!
Welcome to the Engineering Alumni Network
Congratulations, Class of 2021! We are proud of your accomplishments and look forward to staying in touch as you thrive personally and professionally in your new life as a College of Engineering graduate. Follow these tips to enjoy a lifelong connection with UC Davis.
Update Your Info

Never miss an invitation or newsletter by keeping your contact information up-to-date at alumni.engineering.ucdavis.edu. Pro tip: bookmark the webpage for convenience!

Get Involved

Join us for in-person and virtual events and volunteer opportunities—and invite your fellow alumni to attend, too!

Rep the College of Engineering

Proudly sport your new Engineering Alumni status with branded gear—bumper stickers, t-shirts, bags and more—by purchasing at the College of Engineering's online store!

Use Your Influence

Share College of Engineering news and accomplishments via social media, with peers and your employer. Hire other Aggies when the opportunity is available!
Awards and Honors
The following awards were selected and distributed in Spring 2021.
2021 M.S. Ghausi Medal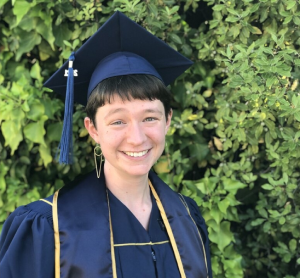 The M.S. Ghausi Medal is named after the College of Engineering's third dean, Mohammed S. Ghausi. The award is the highest honor bestowed upon one outstanding graduating senior from the College of Engineering. This year's Ghausi Medal recipient is Kathryn Tarver from the Department of Biological and Agricultural Engineering.
Outstanding Senior Awards
The Outstanding Senior Awards recognize graduating seniors who have made significant contributions to the learning environment through active academic engagement at UC Davis. This prestigious award is given to seniors across campus and is distinct from the departmental awards. Each College of Engineering department selects one graduating senior per major.
Department Citation Awards
The Department Citation Awards recognize students by their departments for exemplary achievements or service.
Chevron Scholar Awards
Chevron Scholar Award recipients come from multiple majors across the college and are managed by the College of Engineering Undergraduate Dean's Office. The Chevron Scholar Award is made possible by the Chevron Corporation.
Dean's Honor List
The quarterly Dean's List includes names of students who have completed, for a letter grade, a minimum of 12 units in a specific quarter with a grade point average equal to or higher than the minimum grade point average attained by the upper 16 percent of those registered in the same class level and college during that quarter. 
To view the full list of recipients, click here.