The College of Engineering Celebrates our 2021 Graduates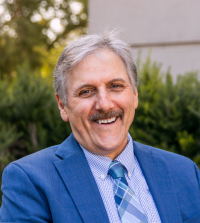 Dear Graduates, Families and Friends,
Congratulations to the Class of 2021.
This achievement marks an important milestone for our students, their families, our college and the world. I know firsthand what this institution does for aspiring engineers, no matter their life experiences. We are a true community of scholars. The world needs more Aggie engineers: those who understand the essential principles of engineering and have the knowledge, passion, will and determination to address society's biggest challenges with inspiration and innovation.
Thank you for joining us as we celebrate the accomplishments of our graduates and the great possibilities that await their futures. I am inspired to watch them grow as engineers, walk across the stage today and then help transform our society and planet for the better. Go Ags!
Richard L. Corsi
Dean, UC Davis College of Engineering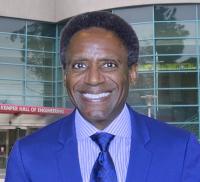 Dear Graduates,
Congratulations on earning your engineering degree from UC Davis! This great accomplishment reflects your many years of hard work, dedication, and commitment. The successful completion of your degree requirements during these very challenging, and uncertain times is especially commendable. The foundation of engineering principles and skills that you have built will undoubtedly set you apart as you navigate the array of professional opportunities that will be afforded to you as proud UC Davis engineering alumni.
On behalf of the Engineering Undergraduate Office, it has been our great pleasure working with you through academic advising and sharing in the joy of your personal accomplishments along your journey to the finish line. We will miss you, and we wish you well as you leave to become leaders, life-long learners, teachers, experts, innovators, and activists for the betterment of our society.
With warm regards to you and your families,

Ralph Curtis Aldredge
Associate Dean, Undergraduate Studies
Senior Spotlights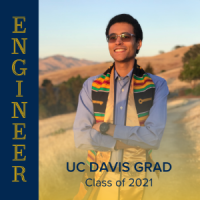 Michael Cox
Mechanical Engineering
Read Michael's spotlight

One of his favorite memories from the College of Engineering was joining the UC Davis Eclipse Rocketry student design club where he was able to travel with the team to the subscale rocket launch near Stockton and see other teams launching model rockets thousands of feet into the sky.





"Since I had not had any previous engineering experience, the moment stuck with me and has inspired my journey as an aerospace and mechanical engineer. I will never forget the roar the solid rocket motor makes when it launches off the pad," said Michael.





A piece of advice that he would like to share for incoming engineering students is to not be afraid of learning new things and exploring different areas of engineering outside of your major. "Not only is having skills in multiple engineering areas a big bonus, but it also expands your ways of problem solving and allows you to find more ways in which engineering interests you." 





After graduation, Michael will be joining the NASA Jet Propulsion Laboratory in Pasadena as a thermal engineer.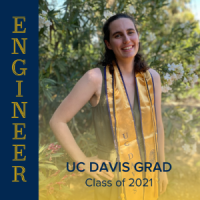 Anna Garverick
Biomedical Engineering
Read Anna's spotlight

One of her favorite memories from the College of Engineering was travelling to Philadelphia for the Biomedical Engineering Society's 2019 Annual Meeting with a group from their undergraduate chapter.

"I had the opportunity to present our chapter's best practices and accept the Outstanding Mentorship Award on behalf of our chapter, which was an honor and awesome experience," said Anna.

A piece of advice that she would like to give to incoming engineering students is to "just go for it!" Anna thinks you shouldn't be afraid to try new things, or embrace opportunities that may not fit into the "grand plan" you had for your college experience.

After graduation, she will attend the Masters in Robotics Program at Northwestern University in Illinois, where she hopes to work on projects at the intersection of biomechanics, rehabilitation and assistive tech.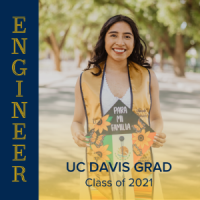 Sarahi Granados
Aerospace Science and Engineering
Read Sarahi's spotlight

One of her favorite memories from the College of Engineering was working as a resident mentor and ambassador for the Leadership in Engineering Advancement, Diversity and Retention (LEADR) Program.

"I had the opportunity to serve as a mentor and share my experience on how I navigated through college to incoming first-generation freshmen and minority engineering students. It was a great way to give back to UC Davis," says Sarahi. 

A piece of advice that she would like to give to incoming engineering students is to take risks and get out of your comfort zone. She came to UC Davis with the mindset of managing her time to focus on getting good grades, but in the end she realized that though it was difficult juggling between academics, research and social life, it was all possible and worth it.

After graduation, Sarahi will be working full-time as a systems engineer at Northrop Grumman in the aerospace division team in Redondo Beach. She is looking forward to moving closer to her home, spending more time with her family and working at her dream job!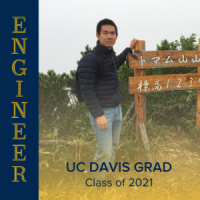 Eric Li
Computer Science and Engineering
Read Eric's spotlight

One of his favorite memories from the College of Engineering was conducting research with computer science Professor Cindy Rubio González's BugSwarm team.

"Working on this project gave me the chance to apply what I learned in class and collaborate with other students on the team to solve a research problem," said Eric.

A piece of advice he has for incoming engineering students is to make sure to reach out to your faculty and learn about their research. "Since UC Davis is a research institution, you may have a better experience if you have a chance to do research on what you are interested in."

After graduation, Eric will be pursuing his master's degree at Carnegie Mellon University in Pennsylvania.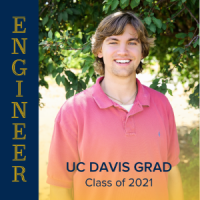 Trevor Pollack
Electrical Engineering
Read Trevor's spotlight

One of his favorite memories from his time at the College of Engineering was developing an electromagnetics software that can characterize materials using THz. 

"It combined the subject matter that I learned in electrical engineering courses in a way that allowed me to solve an interesting and challenging research problem," said Trevor.

A piece of advice that he has for incoming engineering students is to focus on your grades the first two years of college because this will establish good study habits and open doors for internships, networking and research. Additionally, Trevor says to spend the last two years of college focusing on research and the senior design project because this is where most of the hands-on learning will happen in your degree. "Recruiters have asked me about the senior design project and research experience so this is a way to find what you like, learn independently and get a job."

After graduation, Trevor will be pursuing his master's degree in electrical engineering at UC Davis through the Integrated Degree Program, and then he will begin his SMART fellowship at Naval Base Ventura County.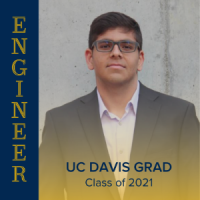 Ratik Sachdeva
Computer Engineering
Read Ratik's spotlight

One of his favorite memories from the College of Engineering was being able to work on cool projects in his classes with friends. 

"Working on team projects gave me an opportunity to learn how to build new things as well as learn from my teammates' perspectives. Additionally, since the students and faculty were from diverse backgrounds we got to know a lot about each other's culture," said Ratik.

A piece of advice that he would like to give to incoming engineering students is to communicate with the faculty as well as go to office hours even if you don't have any questions. "Use this interaction as an opportunity to learn from faculty and hear their life stories and experiences as it will surely enhance your learning journey." Ratik says that his professors were amazing and that the faculty certainly inspired him during his time at UC Davis. 

After graduation, Ratik will be joining a big four advisory firm as a technology consultant. He is excited to apply what he learned at UC Davis in his new role.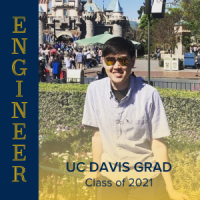 Mogan Teng
Civil Engineering
Read Mogan's spotlight

One of his favorite memories from his time at the College of Engineering was leading the UC Davis GeoWall team at the GeoCongress Conference in 2020.

"Participating in the GeoWall competition was an amazing experience and we got to show UC Davis' geotechnical project team to other schools and professionals from around the nation," said Mogan.

A piece of advice that he would like to share for incoming engineering students is don't be afraid to try new things and ask questions. "There are a lot of project teams and research opportunities on campus! Don't be afraid to email the project managers or professors and ask more questions about those opportunities."

After graduation, Mogan plans to join the Navy as a civil engineering officer for the next eight years of his career as he is already a collegiate officer candidate for the US Navy Civil Engineering Corps.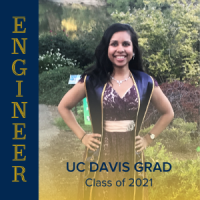 Anika Varma
Biochemical Engineering
Read Anika's spotlight

One of her favorite memories from the College of Engineering was participating in project-based classes that involved real-life lab data analysis, design of a green ammonia synthesis plant and design and techno-economic analysis of a cell-based meat facility.

"The classes were super intense, but also extremely motivating and fulfilling. They were the culmination of several quarters worth of knowledge acquisition in material balances, transport and thermodynamics."

A piece of advice that she would like to give to incoming engineering students is to be open to your surroundings and all of the opportunities before you, never give up and remember that learning is a life-long process.Through experience, she realized that college can be hard at times, but the people you meet and the knowledge you gain make the hard work worth it.

After graduation, Anika will begin the next phase of her journey as a clinical research coordinator at the Center for Health + Technology at the University of Rochester in New York. She can't wait to expand her horizons beyond the engineering process and plant design for medical drug manufacturing into the realm of clinical science and patient interactions.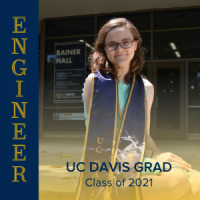 Nichole Yacoub
Chemical Engineering
Read Nichole's spotlight

One of her favorite memories from the College of Engineering was when she attended the 2019 Western Student Regional Conference for the American Institute of Chemical Engineers at the University of Southern California in Los Angeles.

"Throughout this trip, our chapter's officer board bonded over a seven hour car ride, an impassioned game of chemical engineering jeopardy (where we beat UC Berkeley!) and an exhausting night of MATLAB coding," said Nichole.

A piece of advice that she would like to share for incoming engineering students is to face each challenge at UC Davis day by day and to not forget to take time to savor the nonacademic activities that the college offers. During her senior year, Nichole realized that her college experience became substantially more enjoyable when she spent less time worrying about class statistics and more time with her friends.

After graduation, Nichole is returning to Los Angeles where she received a full-time offer with JSat Automation as an automation and validation engineer. Additionally, she is eager to further her academic development in graduate school and explore a career as a teaching professor in chemical engineering.
Welcome to the Engineering Alumni Network
Congratulations, Class of 2021! We are proud of your accomplishments and look forward to staying in touch as you thrive personally and professionally in your new life as a College of Engineering graduate. Follow these tips to enjoy a lifelong connection with UC Davis.
Update Your Info

Never miss an invitation or newsletter by keeping your contact information up-to-date at alumni.engineering.ucdavis.edu. Pro tip: bookmark the webpage for convenience!

Get Involved

Join us for in-person and virtual events and volunteer opportunities—and invite your fellow alumni to attend, too!

Rep the College of Engineering

Proudly sport your new Engineering Alumni status with branded gear—bumper stickers, t-shirts, bags and more—by purchasing at the College of Engineering's online store!

Use Your Influence

Share College of Engineering news and accomplishments via social media, with peers and your employer. Hire other Aggies when the opportunity is available!
Awards and Honors
The following awards were selected and distributed in Spring 2021.
2021 M.S. Ghausi Medal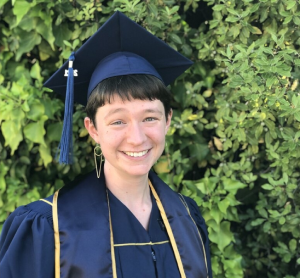 The M.S. Ghausi Medal is named after the College of Engineering's third dean, Mohammed S. Ghausi. The award is the highest honor bestowed upon one outstanding graduating senior from the College of Engineering. This year's Ghausi Medal recipient is Kathryn Tarver from the Department of Biological and Agricultural Engineering.
Outstanding Senior Awards
The Outstanding Senior Awards recognize graduating seniors who have made significant contributions to the learning environment through active academic engagement at UC Davis. This prestigious award is given to seniors across campus and is distinct from the departmental awards. Each College of Engineering department selects one graduating senior per major.
Department Citation Awards
The Department Citation Awards recognize students by their departments for exemplary achievements or service.
Chevron Scholar Awards
Chevron Scholar Award recipients come from multiple majors across the college and are managed by the College of Engineering Undergraduate Dean's Office. The Chevron Scholar Award is made possible by the Chevron Corporation.
Dean's Honor List
The quarterly Dean's List includes names of students who have completed, for a letter grade, a minimum of 12 units in a specific quarter with a grade point average equal to or higher than the minimum grade point average attained by the upper 16 percent of those registered in the same class level and college during that quarter. 
To view the full list of recipients, click here.