With ten world-class graduate programs, College of Engineering students can explore interests across multiple disciplines and engage in various areas of research. Find out what it takes to join our master's and doctoral programs and start your journey in becoming part of the next generation of engineering leaders.
What is a Graduate Degree?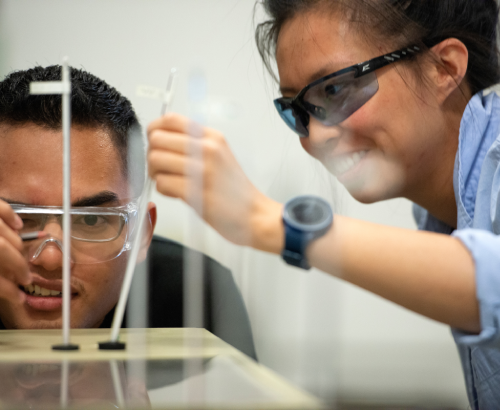 Broadly speaking, graduate education provides a student with advanced training and education within specific topic. Depending on your ultimate goals, the experience may encompass coursework, research, and teaching. Earning a graduate degree is essential for working in research, product development, and academia. A graduate degree may also enable you advance an industry career more quickly.
Graduate study is generally centered around a "problem" or "question" that YOU decide and frame, usually under the guidance of a faculty member. Graduate education is concerned less with completing a broad array of courses and developing general knowledge (like a bachelor's degree). Instead, as a graduate student, you will complete a smaller number of courses, spend more time conducting various kinds of academic research, and write a thesis/dissertation in the model common to that discipline. In some engineering fields, a graduate degree is strongly encouraged, or even required, in order to advance further as a practicing engineer.
You may choose to pursue a graduate degree immediately after completing a bachelor's degree, or you can choose to attend graduate school after working for a few years.
Here are a few ways to generally compare and contrast a master's and a doctoral (PhD) degree:
 

Master's

PhD

Time to completion

About 2 years

4 – 5 years

Costs

~$19,000 (2021-22 in-state tuition/fees, does not include living costs)

You may be expected to pay out-of-pocket. It's also possible to offset your costs by working as a Teaching Assistant or Graduate Student Researcher.

We pay you!

Full tuition, fees, health insurance, and a living stipend are provided for all admitted PhD students.

Thesis

A thesis or capstone project is required

Dissertation required

General information

More knowledge in your field of study

Specific, unique subject area

"Specialize" within a topic of your choice

Enhance problem solving and analytical skills

Independent research

Traditional academic environment

Expertise within a specific subject area

Usually the highest degree you can attain in most fields
*Degree requirements vary by program. Consult with an advisor for details.
Types of Graduate Degrees
The UC Davis College of Engineering awards both Master's and Doctoral degrees within our 10 graduate programs.
Master of Science (MS)

Advanced study in fields related to science, engineering, technology, and mathematics. Coursework may include traditional seminars, lab work, field work and/or research. Usually culminates in a thesis or capstone project.

All COE graduate programs offer a MS degree.

Master of Engineering (MENG)

Usually less than 2 years to complete. Advanced study in fields related to science, engineering, technology, and mathematics. Coursework may include traditional seminars, lab work, and/or field work. Generally little or no research required. Culminates in a capstone project. 

The following COE graduate programs offer a MENG degree: 
Chemical Engineering 
Materials Science & Engineering

Doctoral Degree (PhD)

Expert education and training in fields related to science, engineering, technology, and mathematics. Coursework may include traditional seminars, lab work, and/or field work. Extensive original research required. Culminates in a dissertation. 

All COE graduate programs offer a PhD degree.

Doctor of Engineering (DENGR)

Rigorous preparation emphasizing design, analysis, economics, management, and labor. Requirements are academically equivalent to the PhD program but emphasize the professional aspects of engineering rather than research. 

The following COE graduate program offers a DENGR:
Biological Systems Engineering