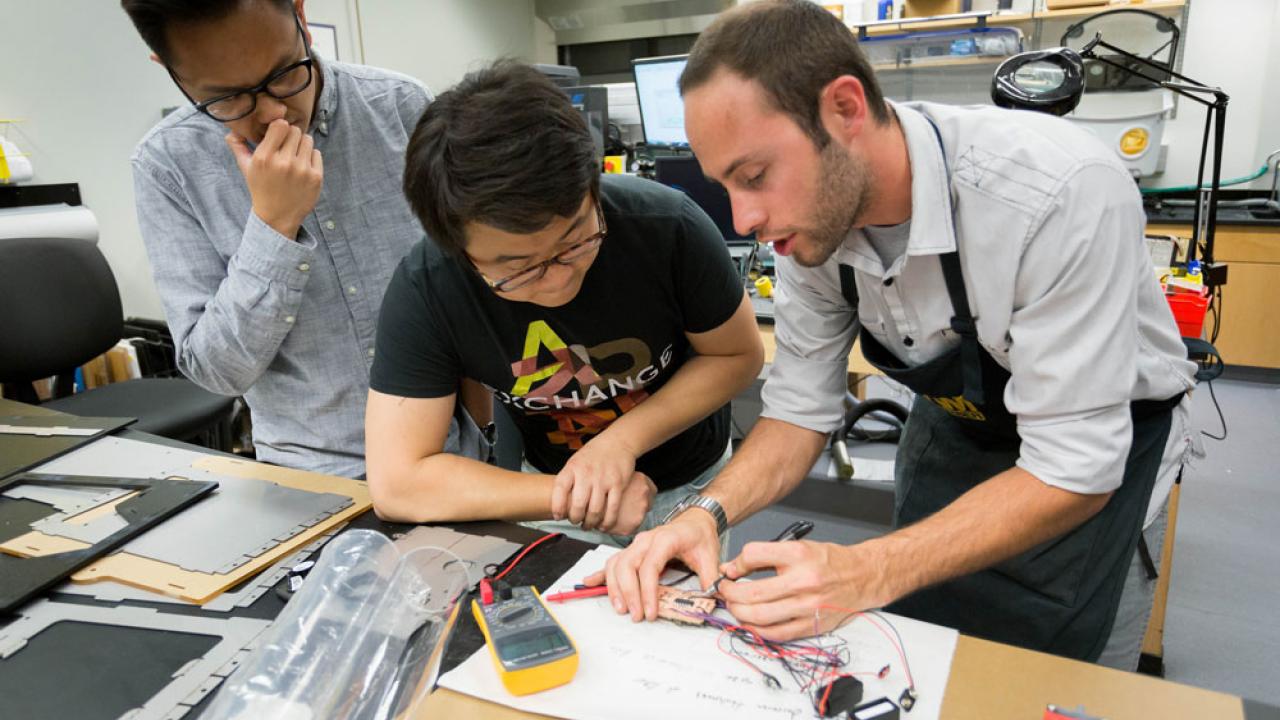 By Bonnie Dickson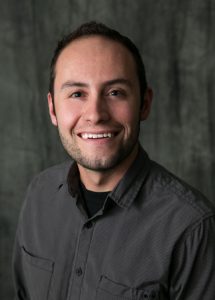 The Department of Biomedical Engineering's Translating Engineering Advances to Medicine (TEAM) Lab, supports roughly 1,200 faculty, student and client projects each year. From 3D-printed body parts to the fabrication of electrical-mechanical devices for pathogen detection, the TEAM Lab – and its staff – help its users bring their research to life.
One of these staff members is Steven Lucero, a development engineer and the TEAM Lab's electro-mechanical facility manager. He joined the TEAM Lab in 2010, after graduating from UC Davis with a bachelor's degree in mechanical engineering. Since then, Steven has been instrumental in transforming the modest maker space into a growing prototyping and design space equipped with cutting-edge technologies.
When he's not working, Steven is busy with renovation projects around his Sacramento home and being a dad to his one-and-a-half-year-old son, Cameron.
In this College of Engineering Staff Spotlight, Steven explains what a typical day on the job looks like for him and shares his passion for helping people translate their ideas into tangible objects.
Describe what you do as a development engineer.
There are quite a few components to my job. First, I manage the day-to-day operations of the facility itself, and ensure the equipment is maintained and functioning. Second, I train our researchers to utilize the equipment where appropriate. Third, I develop equipment, and mechanical devices for research purposes within, and outside of the department. Finally, I serve education in an advising role for our senior design program. Our senior design teams are ultimately tasked with solving an engineering design problem and they typically have to design and manufacture and something. Since I do that on a daily basis, I'm well-suited for advising them on those types of topics.
What do you enjoy most about your work?
I would say the thing I enjoy most is the variety that we see come through our space. The types of activities that we're doing are always different. There's seldom anything that's routine. We definitely build off of experience from previous projects but because we're a research development facility, all of our projects are unique and different day in and day out.
What skill(s) are most important for your job?
Computer-aided design. Everything that we do starts with computer-aided design, or CAD. From there, we manufacture our designs by way of a variety of advanced technologies like 3D printing, laser cutting, machining, casting – all sorts of different fabrication methods. But everything still begins with, and revolves around CAD. If we didn't have strong CAD skills we wouldn't be very efficient at working in the space every day.
Communication is also very critical, because we're often interacting with researchers who have perhaps never designed or manufactured anything before. Communicating with them and understanding their actual needs can be challenging at times because a researcher may have an idea that is perhaps not feasible, or maybe they're not revealing the entire picture during our first sit-down, so ensuring that we're asking the right questions is critical to the success of all of the projects that we see come in and out.
What are some of the challenges that you face with your work?
A personal challenge is lack of bandwidth, but I would say that's largely due to how successful the TEAM Lab has been. Once you have good outcomes in projects, more and more people begin to tap you for assistance. This is great, because we love supporting the research that comes through the lab, but sometimes it can be a bit overwhelming managing multiple requests at one time. But we really hope to pivot off of that and continue to grow in the future.
What kinds of activities are you involved with on campus?
In January, we work with the Biomedical Engineering Society, or BMES, to host an event called the Make-a-Thon. The event gets undergraduate students in an environment where they're working with their hands and thinking critically in a short window of time. It's always a lot of fun to put the event on and to expose students to some of the most advanced design and manufacturing technologies that are available to today.
Tell us about some of your hobbies outside of work?
I'm a very mechanical person, even at home, so my hobbies generally focus on tasks that include working with my hands. I like doing home renovation projects and I have a 2007 Jeep Wrangler Rubicon Unlimited that I like to tinker on, and upgrade in my garage. I like taking it out to the trails to get away from everything with my close friends.
If you could have one superpower, what would it be and why?
The ability to manipulate time – to pause and un-pause – so I can be more productive [laughs].
Anything else you would like to share?
I am very proud of the facility that we have built out over the past seven years and I look forward to see where we're heading in the future. I believe in these technologies and I think they have exciting potential for the future.
Learn more about the Department of Biomedical Engineering's TEAM Lab:
Category
Tags