Engineering Students Dominate Big Bang! Business Competition with Innovative Technologies
A time-saving seed cleaner and a cell incubator are among the top developments that wowed judges at the annual entrepreneurial contest
University of California, Davis, College of Engineering students were big winners at the 23rd annual Big Bang! Business Competition on May 23, taking home $64,000 in prizes with their innovations in food and agriculture, education, energy and sustainability, health and social enterprise.  
Davis-based SchedGo, helmed by senior computer science major Henry Yu along with two MBA students, received the $20,000 first prize for best innovation. The award's lead sponsor is business leader Lorin Johnson; DLA Piper is co-sponsor. 
The intuitive platform leverages artificial intelligence and machine learning to create personalized, easy-to-follow degree plans for college students overwhelmed by the seemingly countless number of complex options to graduate on time. Currently, approximately 2,000 students at four University of California campuses use the web-based app. The team also won the $10,000 People's Choice Award, co-sponsored by Bow Capital and UC Davis Venture Catalyst.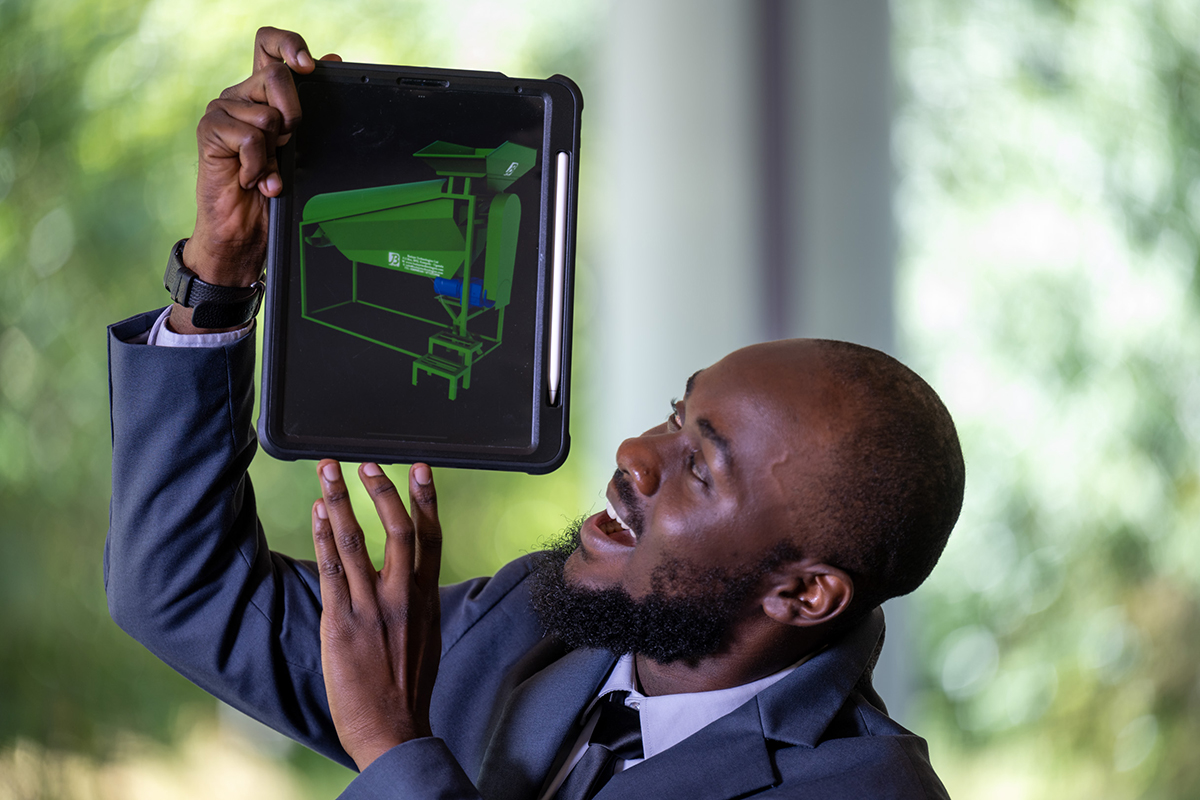 Transforming agriculture in Africa, one machine at a time 
UC Davis biological systems engineering Ph.D. candidate Ismael Mayanja's company Badaye Techologies Ltd. (BTL), earned the $10,000 Food + Agriculture Sector Award — primary sponsor: HM. Clause; supporting sponsor: UC Davis Innovation Institute for Food and Health — and the $10,000 Energy + Sustainability Sector Award, primary sponsor: SMUD and supporting sponsor Reza Bayati, with its flagship product, the SUNSULA. 
The SUNSULA uses rotary sieves to efficiently clean maize in seconds and produce quality grain for safe and longer storage, easy processing into other foods, and healthy consumption. It is customizable, offering smallholders in rural areas a pedal-powered mechanism with low initial and maintenance costs, and urban maize processors a motorized option, available in three sizes.  
The idea for BTL, which Mayanja co-founded with University of Kentucky doctoral student in environmental engineering Isaac Oluk, came to Mayanja when he was completing an internship in eastern Uganda, and observed the laborious, time-consuming processes that smallholder farmers and maize processors used to clean harvested maize grain, with sub-optimal results. 
Knowing there had to be a better, affordable alternative to screening, hand sorting and winnowing the maize, he designed a prototype for a seed cleaner that operates through a simple pedal system and requires no electricity or fuel. 
The team anticipates selling 100 SUNSULA over the next year. In five years BTL plans to expand its product line to include a model that can simultaneously clean seeds of different sizes in addition to maize grain. The startup will use the prize money to provide SUNSULA training and product demonstrations to smallholder farmers in remote areas of Uganda.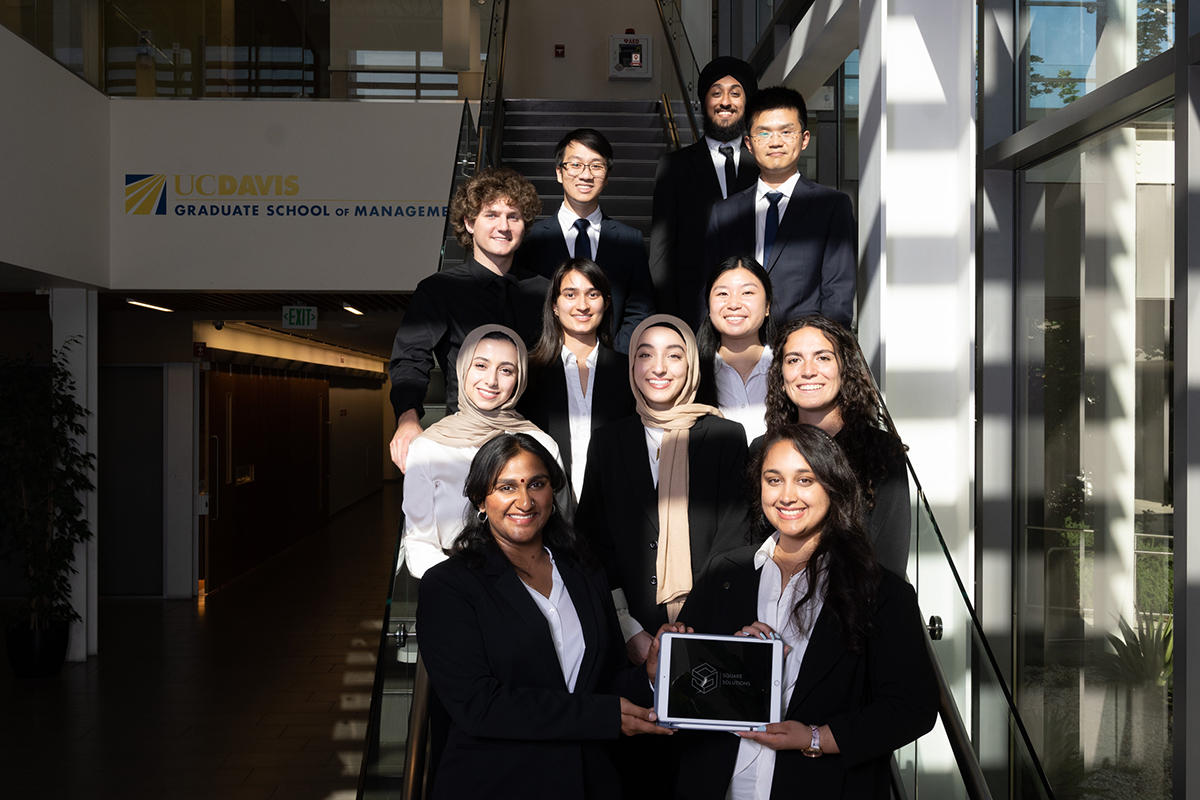 Effortless transportation for ideal cell therapy procedures 
Under the mentorship Professor of Biomedical Engineering Dr. Aijun Wang and teaching assistant, biomedical engineering doctoral candidate Yongheng Wang, a team of 10 UC Davis undergraduates developed Square Solutions, which received the $10,000 Human Health + Industry Sector Award, sponsored by the UC Davis School of Medicine.  
The team first met at an academic quarter-long biomedical engineering immersion program at Aggie Square where a key theme was "the importance of maintaining the relationship between engineering and medicine," said Deesha Patel, a biomedical engineering major and one of the team's co-leads/presidents. 
The students quickly recognized that unreliable transportation between the lab where the cells are produced and the location of a cell therapy procedure had myriad negative impacts and began to discuss the potential for a better way to transport for cell therapies with Dr. Wang and Yongheng Wang. 
Square Solutions' portable cell incubator for researchers, clinics and pharmaceutical companies is equipped with temperature regulation, CO₂ control, humidifiers, UV light for sterility, and portable batteries to maintain cell viability. 
"The prize will allow us to produce a functional prototype within the next year that will help us improve our design and provide potential customers with a physical idea of how our incubator will function," said Patel. "We will use the first prototype to adjust our design for efficiency and manufacturability." 
Square Solutions hopes to file the patent by August and conduct additional studies comparing its product to others in the market.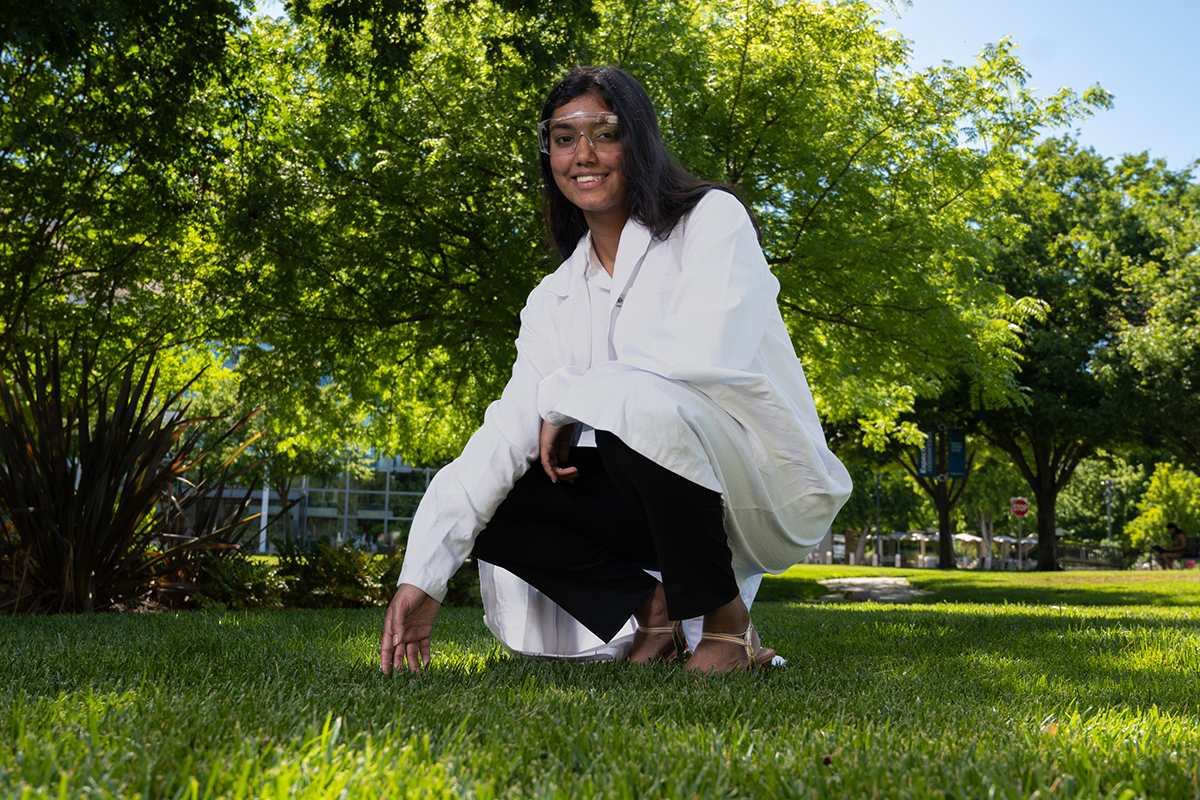 The future of agriculture 
CEAID Tech. won in-kind services at the Life Science Innovation Center in Davis valued at $4,000. The all-UC Davis undergraduate startup, led by co-CEO Meghna De, who is completing a double major in mechanical engineering and aerospace engineering, believes controlled environment agriculture — an advanced, intensive form of agriculture where plants grow in a controlled environment to optimize quality and yield — is the future of combatting the effects of climate change on traditional agriculture. The company is taking CEA to the next level through in-house chemical analysis, optimizing plant quality and yield.   
$92,000 in prizes 
The UC Davis Big Bang!, organized by the Mike and Renee Child Institute for Innovation and Entrepreneurship, has been helping entrepreneurs start or grow business ventures for more than two decades through the competition, workshops, mentoring and networking opportunities. This year the Big Bang! was open to teams with a founder or team lead affiliated with a college or university in California. The prizes are funded by corporate, nonprofit and various other sponsors. 
The annual awards ceremony celebrated the contestants and announced the winners of $80,000 in cash awards and in-kind prizes valued at $12,000 for innovations in food and agriculture, education, energy/sustainability, health and social enterprise.  
Seventeen finalists — out of 52 qualifying teams in this year's competition — pitched their ventures before six judges in an eight-hour marathon judging session. Judges considered the teams' integrated strategy, steps toward implementation and market opportunity to determine prize winners.
Primary Category
Secondary Categories
Tags