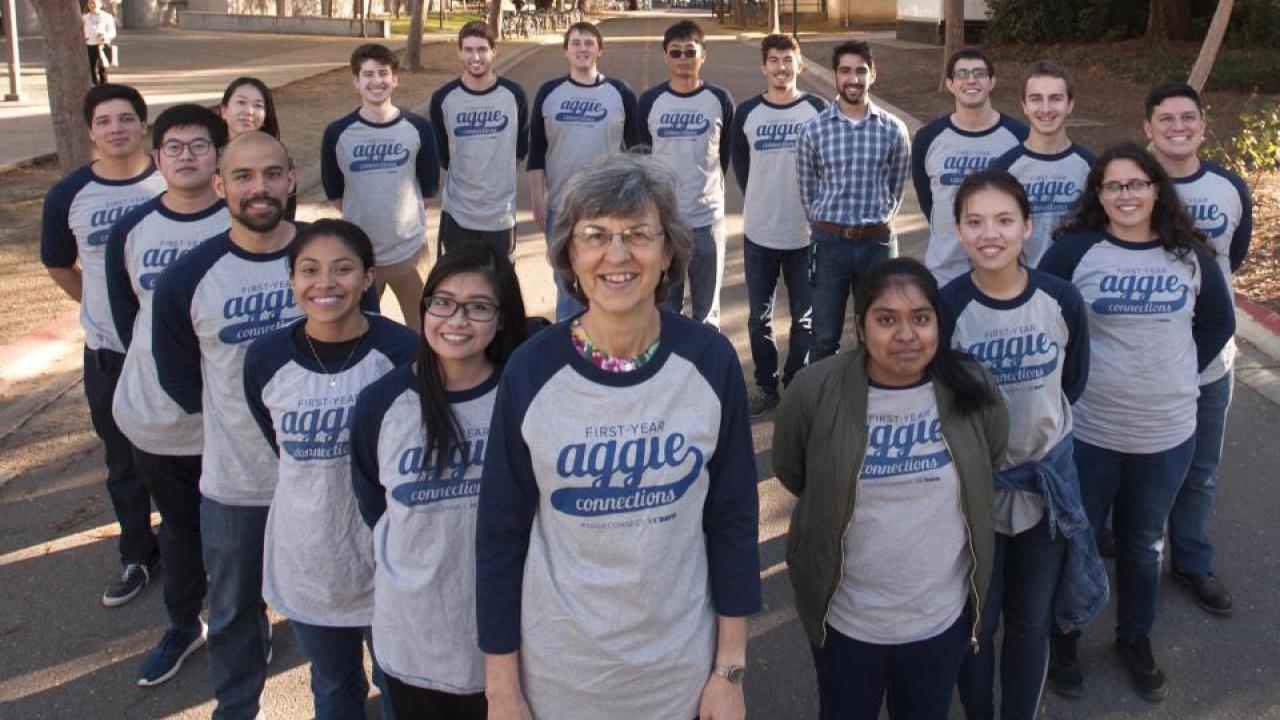 By Trevor Stewart
Mechanical engineering student Eunbee Park '19, computer science and engineering student Max Nedorezov '19 and civil engineering students Claudia Plascencia '19 and Tadewos Getachew '19 are just a few of the students at University of California, Davis, who have the chance to achieve their dreams thanks to the growing AvenueE program.
The program was developed in 2016 by UC Davis Office of the Provost and founding corporate partner, Chevron, in collaboration with the Koret Foundation and Los Rios, Peralta, San Joaquin Delta and Contra Costa Community College districts, to provide a smooth transition from community college to UC Davis for students interested in engineering or computer science.
There are currently 30 students in the AvenueE program, an increase from 20 students in 2017. Of the 2017 cohort, 13 graduated in spring 2019 and the remaining members of the cohort are on track for graduation. Of the 2018 cohort of 30 students, 26 are continuing into their second year.
"AvenueE performs the critically important function of helping talented and motivated transfer students in STEM succeed and complete their undergraduate degree at UC Davis," said Provost and Executive Vice Chancellor Ralph J. Hexter. "The program enhances the university's ability to serve students from all backgrounds — and change lives. In addition, AvenueE
students enrich our community with new perspectives and priorities."
AvenueE helps high-potential, low-resource students achieve their dreams in growing, high-demand fields. First-generation students make up 60 percent of the AvenueE 2018 cohort. Additionally, 66 percent of AvenueE students are from historically underrepresented minorities and 20 percent are female, with many students falling into two or more of these groups. The invited 2019 cohort is 50 percent female, 40 percent underrepresented minorities and 73 percent first generation students.
"There's a very strong need for engineers to solve problems and create innovative solutions to address challenges in our society," said Cynthia Murphy-Ortega, Chevron University Partnership Program manager. "The AvenueE program is one of the engineering pathways programs that Chevron is developing to support diversity and inclusion as well as inspire future engineers."
Building a bridge between community colleges and UC Davis
AvenueE students get a unique opportunity to join an intensive transfer preparatory program prior to entering
their final year at community college. The following summer, the students embark on a two-week summer bridge program prior to beginning their first quarter at UC Davis. During these two weeks, the students are immersed in the Davis area and the UC Davis community as they learn about all the resources available to them.
"The AvenueE program helps the University of California address some of its highest priorities: supporting California community college transfer students, increasing diversity in STEM fields and expanding educational and research opportunity for all of our students," said UC President Janet Napolitano.
The program goes beyond the resources already available to all transfer students through the campus Transfer and Reentry Center, which helps transfer and reentry students connect with campus resources, develop academic skills, find community  and prepare for career or graduate school.
Each AvenueE cohort member receives a scholarly award for the Transfer Bridge summer program, as well as up to $4,000 for the two subsequent years at UC Davis. Students also have the opportunity to attend group outings, social activities, speaker presentations and workshops that provide opportunities to engage in peerto-peer learning, community building and career exploration.
"We are lucky to have such a great program that helps us connect to all the amazing resources UC Davis offers for students," said Park.
The cohort meets weekly to discuss topics or hear a guest speaker, which is coordinated by Nancy Davis, an undergraduate student advisor in the College of Engineering and AvenueE academic advisor.
"My favorite part is seeing how the students grow in confidence," Davis said. "They begin unsure of how they will succeed at UC Davis, then they make their way through class, learn how to create a resume that will help them find an internship or undergraduate research and eventually go on to a meaningful career."
AvenueE students receive intensive personal and professional development coaching to build strong resumes and cover letters and create connections with the Internship and Career Center, where they can identify available opportunities in their field of choice.
Getachew, for example, hopes to do more research in the area of solar energy and attain a graduate degree.
"I want to create new knowledge and do something no one has ever done before," he said. "The AvenueE summer bridge program has introduced me to undergraduate research programs that can help me get started in my path towards attaining a Ph.D."
Category
Tags