James and Penelope Shackelford: The Glass of Wine
On a blind date more than 40 years ago, Penelope and James Shackelford hopped into a friend's Cessna airplane to visit the Italian Swiss Colony Winery in Asti, CA. At the time, they were more focused on the plane ride than the wine, but the trip turned out to be prophetic in more ways than one.
A marriage eventually followed that blind date, and the Shackelfords moved to Davis in 1973, when James started as an assistant professor in the UC Davis College of Engineering and Penelope began work as a curator and gallery owner in Davis. She later became an arts writer reviewing local exhibits and an art critic for the Davis Enterprise.
James, now a distinguished professor emeritus of materials science and engineering, focused his research on glass, in particular understanding how gas atoms permeate glass and what causes glass to crystallize. A beloved professor, he has taught Engineering 45 (Properties of Materials) to thousands of engineering undergraduate students. He received the Outstanding Educator Award from the American Ceramic Society in 1996 and a Distinguished Teaching Award from the UC Davis Academic Senate in 2003.
The couple's complementary expertise and shared pastime of wine touring was the inspiration for a new book, The Glass of Wine: The Science, Technology and Art of Glassware for Transporting and Enjoying Wine.
Despite its ubiquity in our buildings, cars and even cellphones, "People don't think about what a central role glass has in our lives," Penelope said. "You literally look right through it."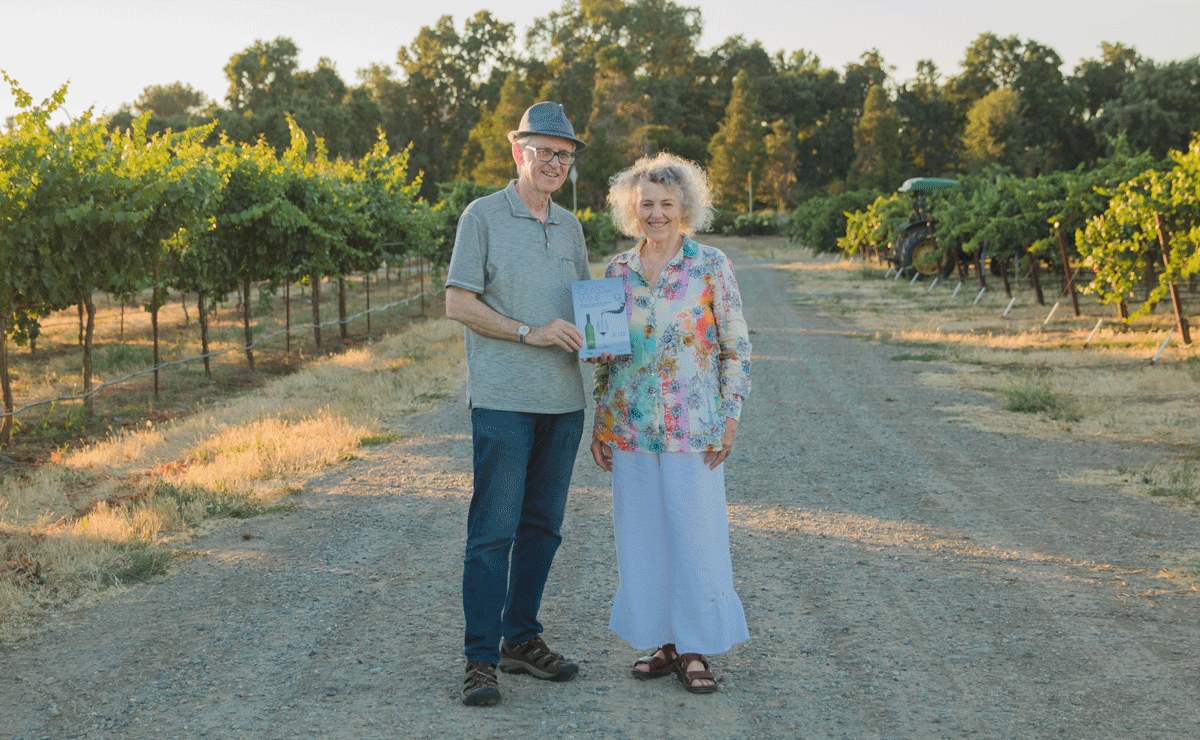 In their book, the Shackelfords discuss the historical, technical and aesthetic reasons glass is the "vessel of choice" for holding, storing and consuming wine. They also discuss the long-standing traditions informing the shapes and sizes of wine bottles and wine glasses and demystify the selection of the "right glass" for red versus white varietals, as well as sparkling and dessert wines.
"We've been to wineries all over the world, from Europe to South America and now China," James said. "There's a real Davis connection in this book because it's the epicenter of wine education in America. In our travels, when we would mention we were from UC Davis, doors would just open."
UC Davis has played a central role in the history of winemaking in California. UC Davis' Department of Viticulture and Enology, established in 1935 after the end of Prohibition, is the only one within the UC system as mandated by the state legislature in 1880, when UC Berkeley was the only UC. Today, UC Davis is a world-leader in the scientific disciplines that impact grape growing and winemaking.
Infusing clarity into a celebrated beverage
In North America, 40 billion glass containers are made for beverages every year, which is 15 percent of the general beverage market. Unlike soft drinks and beer, which are now more commonly consumed in plastic bottles and aluminum cans, nearly 100 percent of wine is sold in glass.
Unlike the crystals in your vase or a Swarovski bracelet, glass is an amorphous, or disordered, material at the atomic scale, which gives it very different properties than ordered materials such as metals.
"Glass is an almost perfect surface for wine," James said. "It's transparent, so you can appreciate the color and clarity of a wine, and it doesn't interact with the wine, which leaves the taste unaltered."
Glass bottles are also recycled easily. However, there is a sustainability issue at play: "The cost of transportation and energy footprint is large," he said. "About a quarter of the energy goes into making the wine itself, but more than 50 percent goes into making the bottles and shipping them."
James notes that in the Champagne region in France, vintners are already taking steps to reduce the carbon footprint of champagne by reducing the thickness of their bottles. "Of course, you can only go so far with reducing the thickness with a pressurized beverage, but it shows what can be done to lower the carbon footprint dramatically."
As for their next adventure in authorship, the Shackelfords hope to tackle other popular beverage—such as sake, beer, or coffee.
"We could call it 'The Glass of Everything Else'," said Penelope, laughing.
The Glass of Wine: The Science, Technology and Art of Glassware for Transporting and Enjoying Wine, was published by John Wiley & Sons and the American Ceramic Society and is available online.
Related: UC Davis Egghead Podcast: A New Book Explores The Glass of Wine
Primary Category
Tags