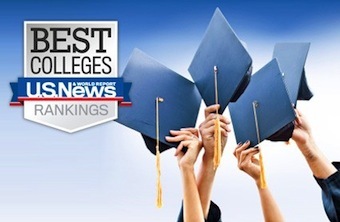 U.S. News & World Report's 2014 rankings of America's Best Colleges were released on September 10, 2013. The overall campus ranking for UC Davis was 39th among both public and private universities and 9th among public schools (tied with UC San Diego). The UC Davis undergraduate engineering ranking is 32nd nationally; tied for 17th among public schools with North Carolina State University and the University of Colorado, Boulder. 
More information is available on the UC Davis website: 
http://news.ucdavis.edu/search/news_detail.lasso?id=10716
Unlike the U.S. News graduate engineering rankings that rely on a number of factors, the undergraduate engineering ranking is solely based on the peer judgments of deans and senior faculty who rate each ABET-accredited program they are familiar with on a scale from 1 (marginal) to 5 (distinguished). This year the College of Engineering's score was 3.4. 
The subspecialties of engineering are also ranked, but only those schools that are nominated by survey participants appear in the ranking of the top programs (20 or so per area). The UC Davis Department of Civil Engineering, which was previously unranked, has tied with North Carolina State University at the 18th among the top 20 nominated institutions. In Biological/Agricultural Engineering, UC Davis remains 7th of 12 institutions nominated. 
Category
Tags