Update on Engineering Student Design Center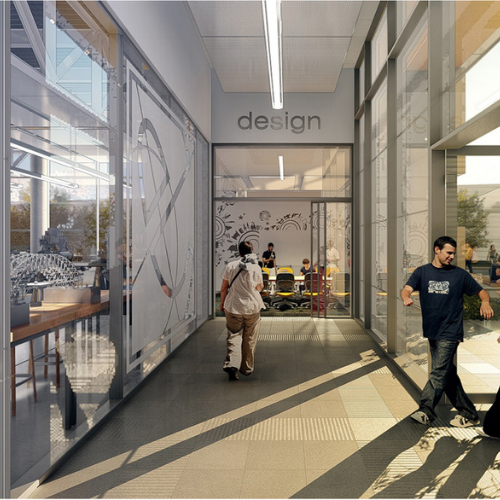 Engineering Student Design Center Expansion Groundbreaking
Join Chancellor May, Dean Curtis, students, alumni, faculty and friends for an online celebration as we break ground on the Engineering Student Design Center expansion on Friday, October 9 at 11:30 a.m.
RSVP to receive Zoom access information for the groundbreaking. Details will be distributed via email in advance of this online event.
To meet the rapid growth demands of our engineering and computer science programs, the new Engineering Student Design Center (ESDC) will include areas to accommodate instruction, student-client collaboration, rapid prototyping and more.
This expansion of the current space from 9,000 sq. ft. to 23,000 sq. ft. will allow many more of our outstanding students to learn engineering design and entrepreneurship in a revitalized space. The new ESDC will also house the Student Startup Center, which is accessible to student entrepreneurs throughout campus. When complete, the center will strengthen UC Davis' position as a world leader in engineering design education.
In April, Lodi, CA-based Diede Construction, Inc. was selected through a competitive bidding process to serve as the contractor for the ESDC renovation. In collaboration with campus' Design Construction Management unit and college faculty and staff, Diede will finalize the design and construction documents this summer and begin demolition in fall quarter to prepare for building in winter 2021.
To oversee existing operations while guiding the ESDC into its next chapter, the college recently hired Jose Mojica as the new ESDC manager. An alumnus of the Department of Biological and Agricultural Engineering, Mojica worked for the Air Quality Group at Crocker Nuclear Lab, where he managed a group of engineers and student assistants that were responsible for maintaining a nationwide network of aerosol samplers for the Environmental Protection Agency. After his time at the Air Quality Group, he worked for DMG MORI Manufacturing USA Inc. in Davis, where he supported the design of automation cells, horizontal machining centers and general machine production lines.
Mojica manages and coordinates the operations of the center, maintains a safe work environment for students to hone their manufacturing skills and supports staff, faculty and competition teams with their design and manufacturing needs. In addition, he will also provide support for the ESDC during the expansion and construction process by advising faculty and staff on the logistics of how to manage the same number of users and classes with less space during this transition period.
"Despite the disruptions we're seeing elsewhere, we've lost no time on this project," said Roland Faller, associate dean for facilities and capital planning and professor of chemical engineering. "With an increased need for our 3-D printers and laser cutters to produce masks and other personal protection equipment needed in the COVID-19 pandemic, we've prioritized our move into temporary swing spaces and kept critical projects moving forward."
The new Engineering Student Design Center will be completed in Fall 2022, with new space to accommodate instruction, student-client collaboration, rapid prototyping and more. Groundbreaking for this landmark new facility will be on October 9, 2020. For more information on naming opportunities and ways to partner, contact Leigh Ann Hartman, lahartman@ucdavis.edu.
Primary Category
Tags