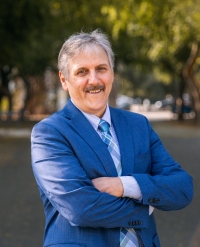 Spring Quarter is underway and I am excited to share more about the impactful initiatives that are ongoing and planned for the future at the College of Engineering.
Our College recently completed a robust strategic research visioning process to identify major challenges facing society and the planet, and for which we intend to make investments in future faculty, infrastructure, partnerships and more. Our intent is to be national leaders in advancing human health, transforming mobility, strengthening climate resilience and revolutionizing energy systems. We will strive to leave no communities behind by developing engineering solutions and accessible technologies that improve the quality of life for all, we will employ intelligent systems and automation through artificial intelligence and machine learning, and we will develop miniaturized technologies at the nano- and micro-scales to address and advance these four research challenges. I look forward to continuing to make significant investments to support our bold, new strategic research vision for our college throughout this year and beyond, and am excited about our continuing efforts to develop a new strategic visions focused on education and community as well.
Our faculty are continuing to make substantial contributions to solving longer-term challenges that affect humankind and the planet. They have forged ahead with research, education and public service, from breaking ground on the new Aggie Square teaching and research facility in Sacramento to keeping food safe and fresh through travel at hypersonic speeds and developing a neural network to identify fake news.
The College of Engineering has also welcomed nine new faculty in the 2021-22 academic year with diverse experience and expertise in teaching, machine learning, security, pavement engineering, quantum computing, optics, food engineering and more. Additionally, we celebrate our faculty, who received various laurels, including four NSF CAREER awards this year. These milestone achievements signify the exceptional talents of our early-career researchers.
Lastly, I am proud that our college continues to be ranked amongst the best public universities in the U.S., specifically in the top 13 percent among public universities surveyed. The college's highest-ranking graduate programs are biological and agricultural engineering and civil engineering, ranking third and eighth among public universities respectively. Computer engineering also saw a significant increase in rank, up ten from 2022. We will continue our cutting-edge research, along with mentorship of both graduate and undergraduate students involved in our research efforts.
In this issue of Engineering Progress, you will read more about some of our student, faculty and alumni accomplishments.
Go Ags!
Richard L. Corsi
Dean, UC Davis College of Engineering