Alumni Spotlight: Deb Frincke, '85, '89, '92
Since her time as a computer science student at UC Davis, Deb Frincke, B.S. '85, M.S. '89, Ph.D. '92 has been at the forefront of cybersecurity as it has become an increasingly important part of modern life. With experience in academia, national laboratories and government—most recently as the Director of Research for the National Security Agency (NSA)—she has made a profound impact on the field through her leadership, mentorship and research.
Frincke developed a knack for leadership and a collaborative spirit at UC Davis. From when she joined as an undergraduate to when she completed her postdoc, she saw computer science transform from a small division in mathematics to a part of electrical engineering to its own department. It showed her how interdisciplinary the field is and how it interacted with these and many other disciplines—something she has taken with her throughout her career.
"UC Davis prepared me through opportunities that were so diverse," she said. "I was taught everything from understanding how to work very nuts-and-bolts issues to learning how to put theory to practice."
She also saw cybersecurity grow at UC Davis and in the world. Her mentor, computer science professor emeritus Karl Levitt, was a trailblazer in the field and developed a lot of techniques that have become widely used. She also worked as a postdoctoral researcher with professor Matt Bishop, a cybersecurity expert who had just joined UC Davis in 1993.
"There weren't many places in the country where you could get that kind of [security] education," she said. "The insights into running a program have served me well in all the of my leadership opportunities."
These opportunities began as a faculty member at the University of Idaho, where she and fellow UC Davis alumnus Jim Alves-Foss spearheaded the cybersecurity program and helped make the university one of the nation's first centers of academic excellence in the field and the first NSA Scholarship for Service school. She then joined Pacific Northwest National Laboratory as their Cybersecurity Chief Scientist, where she started the lab's now flourishing cybersecurity research program from scratch.
Currently, Frincke works as the research director for the NSA. While steering the agency's research direction, she serves on the agency's board of directors, is the agency's science advisor and innovation champion and communicates the agency's research, mission and values to external partners and the general public. She also co-chairs and participates on several governmental committees, including some at the White House.
Her next role will be at Oak Ridge National Laboratory, starting later in spring 2020. As the associate laboratory director for the National Security Science Directorate, she will shape the strategy of the lab's national security sciences.
"As a scientist and as a leader, I'm looking forward to the challenge of a new organization," she said. "I have always enjoyed learning new fields and disciplines to see different ways that the world works."
Frincke encourages current students to pursue computer science and cybersecurity. Experts, she says, can work on anything from public policy to the computing systems themselves, giving them many opportunities to grow personally and shape these fields as they emerge.
"What's beautiful about both computer science and cybersecurity is that these fields affect every aspect of society and there is a place for all perspectives and a deep need for diversity," she said. "Both are fields that shake the world."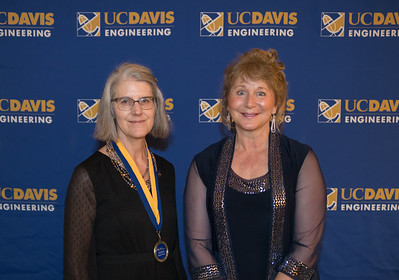 For her accomplishments, Frincke has been recognized as an IEEE senior member, an ACM fellow and a UC Davis College of Engineering Distinguished Engineering Alumni. She was also recently awarded the NSA's Distinguished Service Award and had previously received the U.S. Presidential Rank Award for her impact within government. Outside of work, she is an avid rock climber and advocates the importance of work-life balance.
What she is most proud of, however, is privilege to have worked with diverse and passionate people at every job she's had, and she emphasizes the importance of personal relationships as a worker and a leader.
"I've been so fortunate to work with good people," she said. "Find those people, treasure those people and take care of them, just like people took care of me at UC Davis."
Biography
Deborah Frincke earned her B.S., M.S. and Ph.D. in computer science at UC Davis.  She is currently the Director of Research for the National Security Agency (NSA) and was the first permanent female NSA Research Director. She oversees in-house and externally funded NSA research to support our nation's need for dominance in information assurance. Many of Frincke's projects are classified, but her research focus is broad, covering many topics that primarily involve computer security in addition to artificial intelligence, machine learning, computational neuroscience, cognitive science, psychology, and human-computer interface among others. "Modern leadership in technology requires a holistic approach and UC Davis did a fantastic job in offering me a broad enough (and deep enough) curriculum to help me along the way," said Frincke. Her advice to young alumni or current engineering students is to embrace the diversity of the world and people around you. "Your greatest impact may be in a field that has not yet been invented, to fill a need that is not yet understood. Learn what you can and share generously, yet not naively; remember that whatever you do carries impact and let that embolden you; embrace the diversity of the world (and the people) around you."
Primary Category
Tags