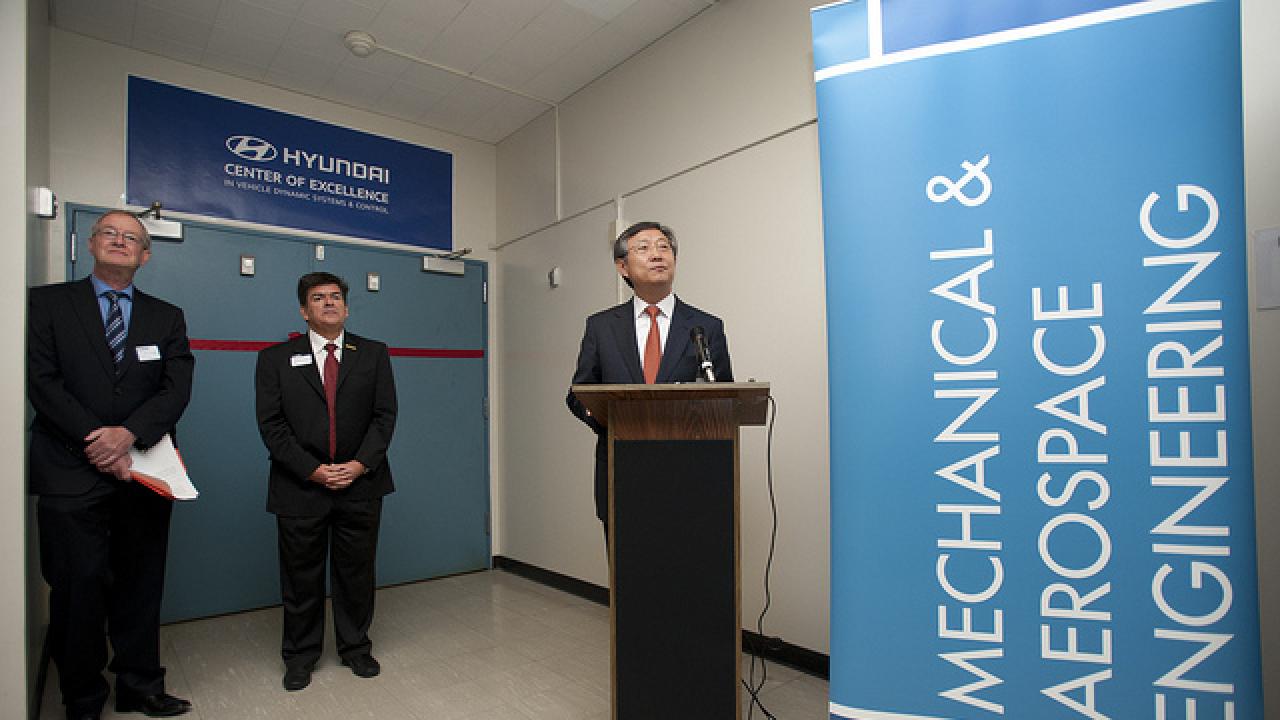 After earning his Ph.D. in engineering under the guidance of UC Davis Professor Emeritus Don Margolis, Woong-chul Yang went to work as a technical assistant at Ford Motor Company in 1986.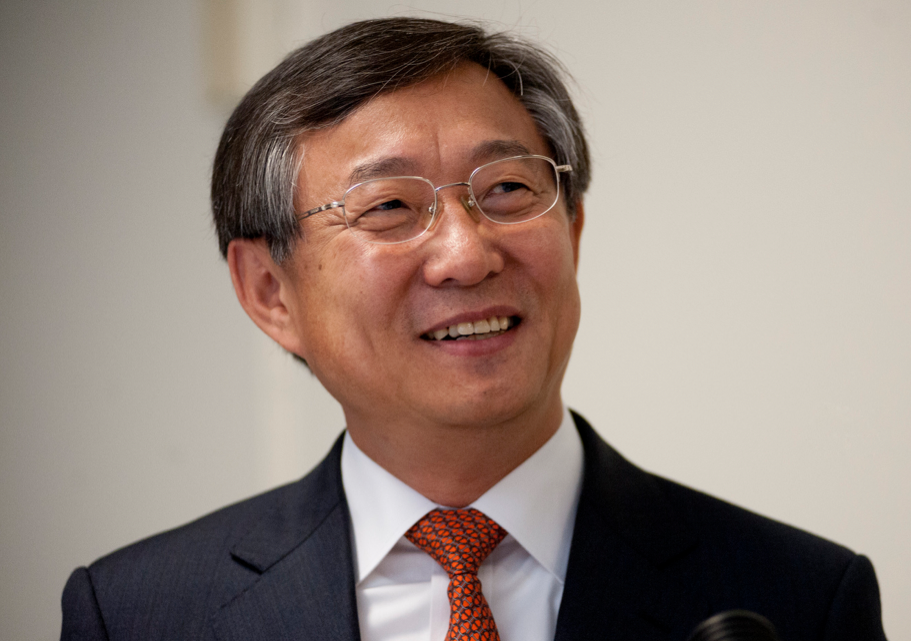 Moving back to South Korea in 2004, Yang became a leader at Hyundai Motor Company in the field of alternative powertrains, including gasoline-electric hybrids and fuel cells. He was instrumental in developing Hyundai's Blue Drive technology centered around a novel space and energy-efficient LiPoly (lithium-ion polymer) battery which is being used in "BlueOn", touted at Korea's first battery electric automobile. The LiPoly battery was also used in the 2011 Hyundai Sonata hybrid.
After its first three months on the market, the 2011 Hyundai Sonata hybrid established itself as the second best selling gas-electric in the United States, trailing only the indomitable Toyota Prius, a position it maintained through the end of 2011. Woongchul Yang and Hyundai went their own direction on hybrid technology by developing original proprietary hybrid architecture to reduce weight and to improve highway fuel economy.
Unlike hybrid systems from Ford and Toyota, the Hyundai system does not use a continuously variable transmission with integrated electric motors and generators. Instead, Hyundai employed its new six-speed automatic transmission with an electric motor that takes the place of the torque converter. What's the difference? It means that Hyundai is trying to address the common complaint that hybrids are boring to drive – and provide credible mileage for city driving conditions while delivering top-tier fuel economy for highway driving.
Woong-chul Yang later became president of the Hyundai Motor Research and Development Center in Namyang, south of Seoul, South Korea.
In 2009, he became vice chairman of Hyundai Motor R&D Center in Namyang and in command of over 10,000 engineers worldwide. Yang was promoted at a critical time as Hyundai sought to become a leader in fuel efficiency. "If we didn't do anything on fuel cells or hybrids, then you may imagine our company just makes reliable cars," Yang says. "We don't want to remain that way. We like to be a technically innovative company."
In 2010, Woong-chul Yang was leading Hyundai-Kia Motors R&D in global competition with Toyota and Ford on plug-in hybrid and fuel cell cars that many believe could be the first full-blown replacement for internal combustion cars.
In late 2011, Hyundai Motor Group unveiled two innovative engines at the company's annual powertrain conference held in Korea. The Gamma 1.6 T-GDI engine and Euro6 R-2.0 diesel engine represented the latest innovations to come from Hyundai's in-house powertrain development program led by Woongchul Yang. The Gamma 1.6 T-GDI engine, which was developed over a period of 52 months and cost $58.9 million (69.5 billion won), achieves the best performance figures in its tough and competitive class. Meeting California's stringent ULEV-2 (Ultra-Low Emission Vehicle) as well as Euro5 standards, the engine also outperforms its rivals. By introducing the Euro6 R-2.0 diesel engine, Hyundai Motor is expected to lead the eco-friendly passenger car diesel engine technology field, satisfying the standards more than two years ahead of their implementation.
"Due to stricter environmental regulations and policies that vary from nation to nation, competition in the development of powertrains and other core technologies is intensifying," said Woong-chul Yang, Hyundai Motor Company vice chairman. "Hyundai Motor will accelerate its efforts to develop future powertrains that feature high-performance and eco-friendly engines and transmissions."
In 2012, Hyundai Motor Group signed a memorandum of understanding (MOU) with four Northern European countries (Norway, Sweden, Denmark and Iceland) to operate a test fleet of Fuel Cell Electric Vehicles (FCEV) in the European market, paving the way to showcase the company's competitiveness in eco-friendly vehicles.
"We look forward to demonstrating our advanced eco-friendly technology in Northern Europe, which has great hydrogen infrastructure," said Woong-chul Yang. "This agreement will be a stepping stone for the Hyundai Motor Group to lead the FCEV market in Europe."
In 2012, Hyundai Motor Company signed a Memorandum of Understanding (MOU) with Intel Korea and C&S Technology, Ltd. to jointly develop solutions that provide both drivers and passengers with enhanced in-vehicle experiences such as location-based and social network services. "The demand for smart cars is on the rise in Korea—a powerful IT country," said Hyundai Vice Chairman Woong-Chul Yang. "Hyundai will develop in-vehicle infotainment systems that incorporate changes in digital lifestyles and maximise customer convenience in cooperation with Intel and C&S Technology."
As a top-tier leader at Hyundai Motor Company, Woong-chul Yang has demonstrated exceptional advancement in his profession and creative problem-solving in the highly competitive global automobile market.
Category
Tags