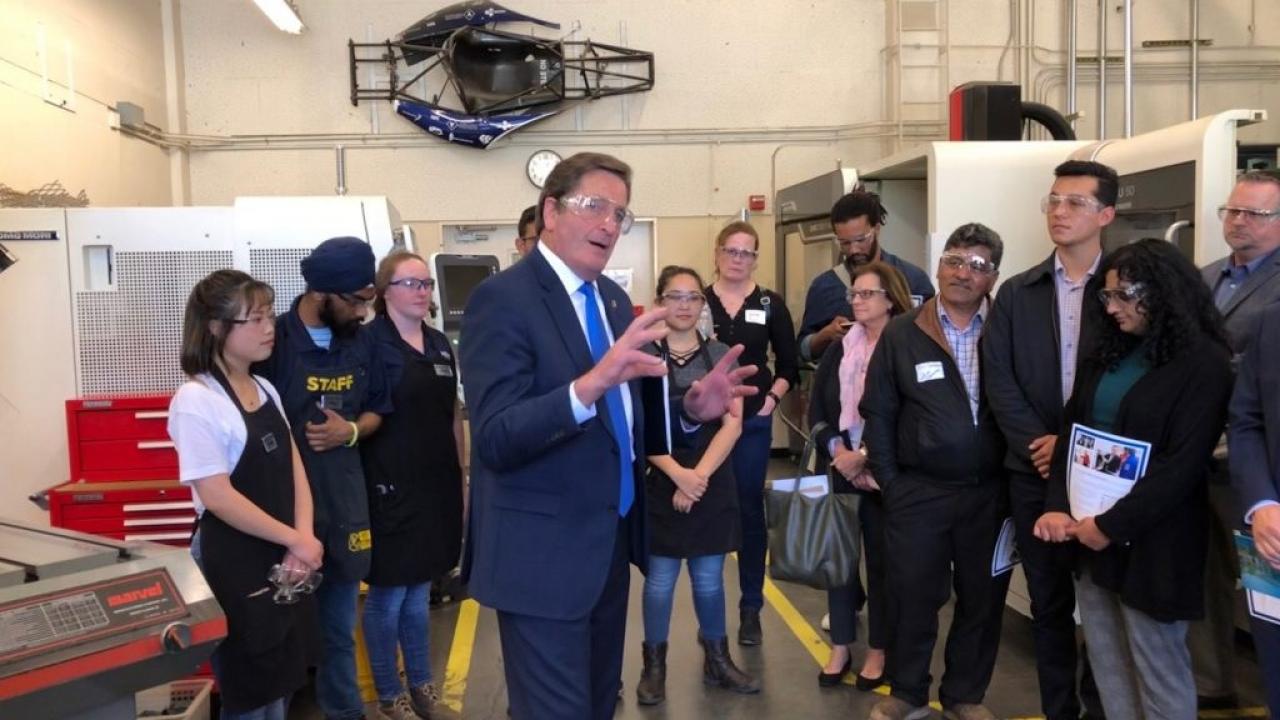 By Aditi Risbud Bartl
On Wednesday, April 17, Congressman John Garamendi (D, CA) and his Manufacturing Advisory Board met at the College of Engineering to discuss strengthening the manufacturing sector through research and discovery.
Garamendi addressed the approximately 50 board members spanning a wide range of manufacturing stakeholders from the region, along with representatives from state and federal policymakers and labor organizations. Leaders from Sunrise Orchards, Farmers Rice Cooperative, Sierra Energy, Solano County's Workforce Development Board, Alliance for American Manufacturing, United Steel Workers, Valley Vision and others were in attendance.
"UC Davis is home to cutting-edge research that has bolstered the American manufacturing industry for decades," Garamendi said. "I want manufacturers from across my large district to have the opportunity to share ideas and information with each other while tapping into the innovative network of faculty and researchers at UC Davis."
Several UC Davis researchers specializing in manufacturing technology and innovation presented during the meeting. Mechanical and aerospace engineering professor Barbara Linke discussed her vision for a "factory of the future." Jason Wolhman, associate vice chancellor for university development shared the unique value of interdisciplinary research teams at UC Davis and creating partnerships between academic researchers and corporations. Ryan Sharp, associate director for economic engagement through the Office of Research's Venture Catalyst group, gave an overview of how campus research and innovation can lead to the creation of startups.
Board members from American River College, California State University-Chico, Sierra College and Woodland Community College contributed to a lively discussion about creating a diverse and inclusive pipeline for engineers at all levels specializing in manufacturing, from the factory to the laboratory.
"UC Davis is a leader in the field of engineering. Robust investments in top-tier education programs, like the engineering program at UC Davis, pay dividends to the local community," Garamendi noted. "Application of practical skills is very attractive to potential employers, and UC Davis' emphasis on cultivating hands-on experience is invaluable for its students. This experience demonstrates to employers that students' classroom skills can be translated into real-world situations. Investing in this means investing in students' futures."
The morning concluded with a tour of the college's Engineering Student Design Center led by Mike Akahori and Sherry Batin.
Category
Tags