Study Finds Corsi-Rosenthal Boxes Reduce Indoor Air Pollutants
A study published by researchers at Brown University and the Silent Spring Institute has found the Corsi-Rosenthal boxes developed by Dean Richard Corsi to be effective at preventing the spread of additional indoor air pollutants. 
A team from Brown University's School of Public Health, School of Engineering, and Silent Spring Institute analyzed boxes installed at the School of Public Health. The results, published in Environmental Science & Technology, found that Corsi-Rosenthal boxes significantly decreased the concentration of PFAS, a type of synthetic chemical found in a range of products including cleaners, textiles and wire insulation, by 40 to 60 percent. Phthalates, commonly found in building materials and personal care products, were reduced by 30 to 60 percent.  
"The Corsi-Rosenthal box was designed to be a simple, cost-effective tool to promote accessible and effective air cleaning during the COVID-19 pandemic," Corsi said. "The fact that the boxes are also effective at filtering out pollutants is a fantastic discovery. I am thrilled that researchers at Brown University and Silent Spring Institute have identified a significant co-benefit of the boxes with respect to reduced exposure to two harmful classes of indoor pollutants, PFAS and phthalates." 
Corsi-Rosenthal boxes can be constructed with MERV-13 filters, duct tape, a 20-inch box fan and a cardboard box. Corsi ideated the boxes in August 2020 as a cost-effective way to perform the same functions as more expensive air purification devices.  
Read the full press release from Brown University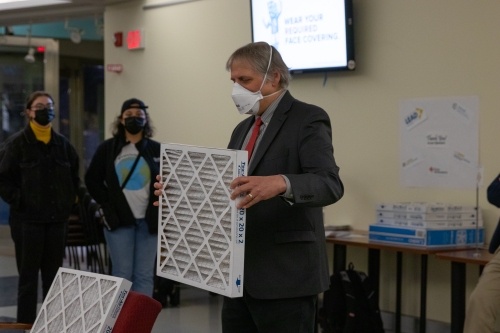 Learn how to build a Corsi-Rosenthal Box
Follow along as Dean Richard L. Corsi, co-inventor, shows you the major components of this device, and how to build one.
Primary Category
Secondary Categories
Tags