EcoCAR EV Challenge
Marks a New Era for UC Davis Engineering
Over the next four years, UC Davis students will be designing the car of the future as part of the EcoCAR Electric Vehicle (EV) Challenge. The competition challenges students to convert a Cadillac LYRIQ EV into an autonomous, next-generation battery-electric vehicle with vehicle-to-everything connectivity so it can interact with devices and the environment. 
Students will gain teamwork, leadership and hands-on automotive engineering experience with a full-scale vehicle that can help them launch their careers. In the process, they will solve technical challenges in mechanical and electrical engineering, computer science, systems architecture and computer vision and sensing. They will also participate in outreach and consider how their designs and EV technology might benefit historically underserved communities.
"The College of Engineering continues to be a leader in responding to challenges that impact society, and by participating in the EcoCAR EV Challenge, our future leaders will work to build innovative solutions to our world's energy and mobility needs," said Dean Richard L. Corsi.
EcoCAR is the latest series in the Department of Energy (DOE) and Argonne National Laboratory's Advanced Vehicle Technology Competition (AVTC), which began in 1988. UC Davis is among 15 universities selected to participate, its first AVTC competition since 2008. The team has an initial $1.2 million combined investment from the DOE, MathWorks and General Motors— who will donate a LYRIQ to each team—as well as the UC Davis Office of Research, Graduate Studies  and the Office of Diversity, Equity and Inclusion, the Institute of Transportation Studies (ITS) and  the mechanical and aerospace engineering (MAE) and computer science (CS) departments. 
The student-run team will be advised by MAE Professor Mike Hill, CS Associate Professor of Teaching Chris Nitta and ITS Plug-in Hybrid & Electric Vehicle Research Center Program Manager Dahlia Garas, and other faculty mentors plan to join the project as it gets underway.
The Flagship of a New Era
EcoCAR is ramping up this fall in preparation for the re-opening of the college's Diane Bryant Engineering Student Design Center (ESDC) after a two-year expansion and renovation. The two are set to grow together and benefit all the projects that call the ESDC home.
As an AVTC program alumnus, Nitta remembers many teammates working on multiple design teams simultaneously, often transferring equipment, techniques and knowledge across projects. The program also brought special equipment to campus that all the student project teams could use. EcoCAR is poised to play a similar role.
"This is something that will help shape that new facility to serve the needs of not just this project, but all of the student projects," said Hill. "Starting a big project like this is going to help us get everything else moving."
EcoCAR is also the perfect opportunity to strengthen collaboration between the college and ITS. ITS is a world-renowned transportation research institute, and while there's always been an overlap with engineering, there haven't been many collaborative projects. With EcoCAR, ITS can leverage its multidisciplinary expertise and industry connections to help student engineers solve real-world problems.
The team also hopes to insert elements of EcoCAR into various parts of the curriculum, either through research course credits or by having students work on EcoCAR in capstone design projects.
EV Technology for All
Addressing diversity, equity and inclusion issues is at the heart of the EcoCAR challenge and UC Davis is uniquely positioned for success because of its campus culture that embraces diversity.
"When you start talking about smart vehicle technologies, it's not just about the powertrain anymore," said Garas. "You have to look at how people use it and we have to consider the audience, adoption and accessibility." This starts with creating a team of diverse students.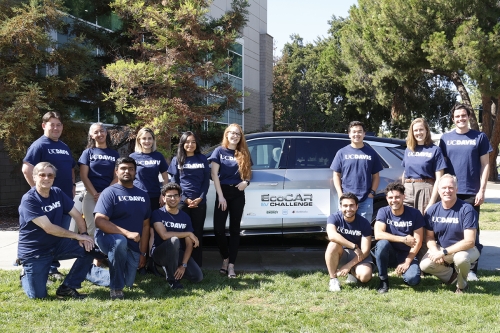 EcoCAR is recruiting from the college's award-winning Leadership in Engineering Advancement, Diversity and Retention (LEADR) and AvenueE programs, which help attract, retain and support engineering students from underrepresented backgrounds. Partnering with Introduction to Engineering Design (ENG 3) to include EcoCAR-related projects is another opportunity to hook students with their first hands-on engineering design experience. 
The team will also fund key undergraduate and graduate student leaders to make sure they can participate.
"Especially for lower-income students, that funding is critical to their involvement," said Garas. "If they need to be working to get by in college and they aren't funded, it's hard to be part of the project."
Next, the team will connect with underserved communities. This could range from using ITS' industry connections, to K-12 outreach, to hosting "roadshows" with the LYRIQ to spark interest in EVs. Hill thinks this is an excellent opportunity to inspire people with UC Davis' research and start important conversations about the use of EV technology. The team also hopes to use its student members to engage community stakeholders.
"I don't think we really know how underserved communities could use EV technology, so we need to get this information from different types of stakeholders and then find ways to serve them in partnership with those communities," said Hill.
Building on History
Though the EcoCAR team is new, it builds upon a long history. UC Davis competed in AVTC competitions between 1992 and 2008 while advised by MAE Professor Emeritus Andy Frank—widely regarded as the grandfather of the plug-in hybrid EV.
Frank's nickname was "Professor Fate," inspired by an ambitious character in The Great Race, and the students took his spirit—and name—with them. "Team Fate" finished first in their class in 1994 and 1995, won the whole competition in 1997 and 2001, received awards for their technical reports four times and racked up awards for teamwork, dynamic handling, powertrain technology, vehicle modeling, telematics and fuel efficiency.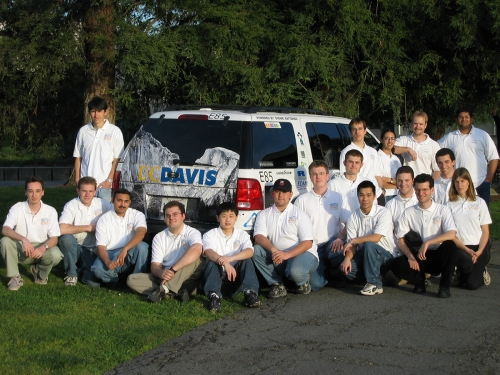 Nitta and Garas were part of Team Fate as students, and many of their teammates have gone on to successful careers in automotive engineering. They hope to bring some of them back to campus as alumni and industry mentors for the EcoCAR team.
"I am personally and professionally indebted to the partnership, collaboration and mentorship of the faculty and students of the UC Davis AVTC programs," said Tom Bradley '00, M.S. '03, now Department Head and Woodward Professor of Systems Engineering at Colorado State University (CSU). "I'm delighted to be able to contribute to the continued excellence of this program in any role, and CSU will actively seek to collaborate, recruit, share educational work products, and safety and design best practices with the UC Davis program."
Though Team Fate disbanded after Frank retired, UC Davis has continued its success in automotive engineering competitions through Formula Racing at UC Davis (FRUCD) since 2009. FRUCD's experience and success in building all-electric race cars is the basis of the new EcoCAR team that looks to continue Team Fate's legacy.
Pressing the Accelerator
EcoCAR has already attracted more than 100 students and held a few introductory meetings to introduce them to the automotive engineering space. The team also recruited two student managers to lead the team's communications and DEI efforts, respectively, who are excited to help establish the program's presence on campus and in the community.
"We're hoping to get as many students involved as possible," said DEI manager and environmental policy analysis and planning major Vincent Colas. "I'm very much looking forward to ensuring that students feel comfortable in the program and excited about it."
UC Davis has already made an early impact by hosting the competition's year one fall workshop from October 7-9, which brought participating teams from across the country to campus to learn more and understand the engineering challenge they face. As the UC Davis team grows, it looks to recruit additional graduate students, faculty, alumni and industry partners, advisors and mentors who can help the team create a new legacy of success.
"We expect it to be a long journey that will hopefully change the lives for the better of the students who participate," said Nitta.
"EcoCAR is all about developing students, turning out great engineers and professionals and enabling them to impact society," said Hill. 
This story was featured in the Fall 2022 issue of Engineering Progress.
Primary Category
Tags