Engineering Student Design Center
The Engineering Student Design Center (ESDC) is a facility within the UC Davis College of Engineering that provides manufacturing education, resources and support for students of every engineering discipline, faculty and staff.
The facilities include the student machine shop and the Specialty CNC machine shop. These spaces offer a wide range of resources including a machine shop, electronics lab, wood shop, additive manufacturing space and many tools such as laser cutters and 3D printers. The space is a safe, supervised environment for students and staff to learn, practice and master hands-on manufacturing and fabrication techniques relevant to their engineering education.
"Engineers need to be able to bridge the idea of something that's on paper into something that is going to be tangible later. They have to be the kind of person that can see the forward vision and if they haven't had the hands-on experience, the ability for them to come into a space like this is invaluable," said Sherry Batin, ESDC development engineer.
The ESDC is beneficial to all of the departments of engineering, as many students from all majors use the facilities for class projects, research, independent study and design competitions with their clubs or organizations.
"We have all kinds of resources, so someone can come in and see that there are other ways to make and design things differently than how they were taught in their particular discipline. I think all majors need that experience to realize they don't have to just think in the ways they were taught, they can see other options that will help them achieve the same goal," said Batin.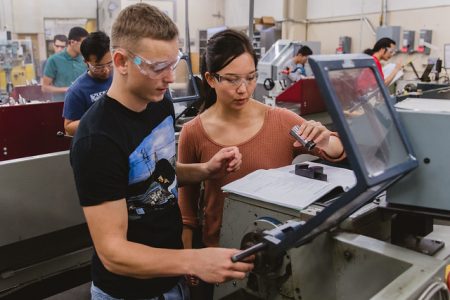 Many successful UC Davis design teams and clubs have relied on the ESDC for its space, resources and materials to work on their projects before the competition. For instance, UC Davis Oneloop, a team founded in 2016 by a group of engineering students at UC Davis in response to SpaceX's announcement of its annual international Hyperloop Competition.
Every year the team fully designs, builds and tests a brand new hyperloop pod for entry into the international Space X competition. This past year was Oneloop's best year yet. After passing the first few phases of the competition, Oneloop was one of 50 teams invited to do a final design review, which is a 145 page extensive document on the whole design of the pod. This was the first year they completed that phase, were accepted into the top 20 and built a fully functional pod that passed over half of the functional testing at Space X.
UC Davis Oneloop is comprised of students studying mechanical engineering, aerospace engineering, electrical and computer engineering, materials science engineering, chemical engineering, biomedical engineering, and other majors outside of the college.
"I think in Engineering when you are trying to make something that hasn't been made before, a big part of it is finding solutions that don't already exist in the world," said Austin Gonzalez, past UC Davis Oneloop captain. "People have already solved a lot of different problems, but they might have been solved in the world of aerospace, but not in the world of chemistry. Getting insight from the students and their professors with different backgrounds is a huge part of our success."
The ESDC was valuable to Oneloop for prototyping, creating mock ups and creating parts using the 3D printers. It was also a space for Oneloop to collaborate and meet at until they were able to get lab space of their own. "The ESDC staff are very helpful and always willing to answer our questions. The students and faculty are very knowledgeable and their doors are always open," said Gonzalez.
The ESDC has three full time staff and 18 student assistants. They assist students and give them the help and advice when needed. "We get a variety of students in here. Some are pretty independent and others need more guidance. Some are timid and you can tell they know the analytics of what they need to make, but they've never had a chance to work hands-on before. We help them break their shell. Everyone comes from different backgrounds and we understand that everyone is learning, so we always give advice in a positive light," said Batin.
Another successful UC Davis design team that frequents the ESDC is UC Davis Formula Racing, an engineering student-led research team that is challenged with designing, building and racing a high-performance electric vehicle that complies with the rules annually released through Society of Automotive Engineers (SAE) to compete in the annual Formula SAE Electric competition. The team is composed of students from a wide ranges of majors including mechanical, aerospace, electrical, computer science and materials engineers.
This past year, the team's racecar, FE6, placed second in endurance, second in cost and fourth overall out of 30 teams at this year's Formula SAE Electric international competition.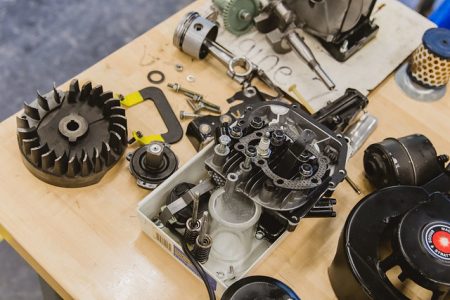 The team feels fortunate to have such an expansive resource accessible to them and is grateful for the ESDC and the staff's support, helpful manufacturing insights and assistance to keep things moving smoothly whenever they can.
"During the year, it would be much, much more difficult to fabricate our cars without the ability to work between classes and on weekends next door to our lab. Testing time later in the year is critical for success at competition and replacement parts can be made more quickly in the ESDC than practically anywhere else. This allows us to identify problems and fix them without significant downtime," said Colton Miles, the team manager.
UC Davis Chem-E-Car also takes advantage of the ESDC's resources. They are similar to a robotics team, but instead of a mechanically/electrically based system, their small, shoe-box sized cars are both fueled and stopped by chemical reactions.
Chem-E-Car competes in regional competitions once a year, where they are given a target distance one hour before competition time. In this hour, they modify the specific power and stopping reactions in hopes of getting as close to the target distance as possible in two minutes or less.
"The ESDC has been essential in allowing us to fabricate our car chassis," said Brandon Burgin, one of the team's advisors. The chassis team works once a week in the ESDC and their time there often increases when testing multiple different proposed designs.
One of the most rewarding parts about working in the ESDC for the staff is seeing the end result of a student's project. They see bits and pieces of the project along the way and have to imagine what the end result is going to be. They also learn from the students as they see what worked and what didn't work and enjoy helping them come up with different solutions.
"Without the ESDC, our team would be extremely limited in terms of manufacturing and educational ability. The ESDC allows us to quickly and economically build our cars, all while teaching future engineers about translating engineering design into practical manufacturing. Opportunities to gain manufacturing knowledge and skills are rare, and something we are thankful the ESDC supports," said Miles.
Primary Category
Tags