Gearing Up for Big Changes
By Trevor Stewart
Creativity needs space, time and the proper tools for an idea to come to fruition. Thanks to a generous $5M gift from John '69 and Mindy Baum, the Engineering Student Design Center (ESDC) will provide an expanded, visionary new space in which students will be able to dive into creative and entrepreneurial ventures.
The ESDC's massive makeover includes a renovation and expansion from its current size of 10,458 square feet to over 21,000 square feet, encompassing the Student Startup Center, which serves as a launching pad for students' entrepreneurial undertakings.
Using a client-focused, project-based approach, students will gain real world experience and business acumen in the ESDC long before graduation, including all phases of the design process from project framing to creating business models.
"It's really important to have that hands-on learning experience," said John, who graduated from the College of Engineering. He received his degree in aeronautical engineering and would later became a commercial airline pilot. "It is a great tool to help students retain the knowledge they learn in the classroom. The promise of experiential learning also helps UC Davis attract top prospective students."
As a student John learned the value of collaborative teamwork, joining in engineering projects with peers to find solutions to mechanical problems.  And as a member of the UC Davis Student Flying Club located at University Airport, John turned his love of aviation into a career, honing his skills and eventually flying commercially for United Airlines.
It was at United where he met his wife, Mindy, a flight attendant at the time. Mindy was excited to provide donor support to John's alma mater, of which he speaks glowingly.
"It really comes down to finding an interest in something you are passionate about, assessing where there is a need and what the benefit would be," Mindy said. "We certainly saw the need to give so that this project could move forward."
"We are so thankful to John and Mindy for their forward-looking vision. This foundational gift is the first big step toward helping our students become the innovators of tomorrow," said Jennifer Sinclair Curtis, dean of the UC Davis College of Engineering. "Coupled with the rigor and technical knowledge provided by our engineering departments, the ESDC will provide a transformative professional experience that will set UC Davis students apart throughout their careers."
Where students discover the power of design
Today, the Engineering Student Design Center enables students from all majors and disciplines to safely use intricate machinery to fuel their creativity. The center has lathes, mills, bandsaws, 3D printers and more. There are four full-time staff members and 12 student assistants in the ESDC, who assist the 8,400 students who come through the door each year.
Unprecedented growth in undergraduate enrollment at UC Davis means the College must be prepared to train students to adapt to all types of technology, whether they are physical or digital. New additions to the ESDC will include instruction/huddle rooms, electronics, additive and subtractive machining, rapid prototyping and more.
Kevin Mclaughlin '19, an ESDC student assistant and mechanical engineering major, said he enjoys being able to help others and experiment with the tools firsthand.
"If you like building Legos, or doing woodworking or metal art, this is the place for you," he said. "There are a lot of great staff members here to help show students how to operate the equipment and teach them new things."
The ESDC student assistant Léa Serarr '20 said she encourages all students to come learn at the ESDC. For her female peers who may be concerned about the male-dominated stereotype of makerspaces and workshops, she wants to assure them that half of the student staff at the ESDC are women.
"A lot of women are intimidated when they walk in and see a lot of men with power tools, but there are more and more women coming in on a regular basis," Serarr said. "All engineering students should come in, no matter their skill level."
Mike Akahori, development engineer and manager of the ESDC, said one of the favorite parts of his job is welcoming new students. He enjoys being able to lend his technical knowledge to their work and inspire them to come back and explore the breadth of the ESDC.
"These students come to college to be engineers, but they may not have had experiential learning until they walk through our doors," Akahori said. "It's an amazing feeling to watch someone uncover their talent for creating things, which we call 'having the knack.' I'm so grateful for the Baum's gift because it will increase the number of students we're able to help."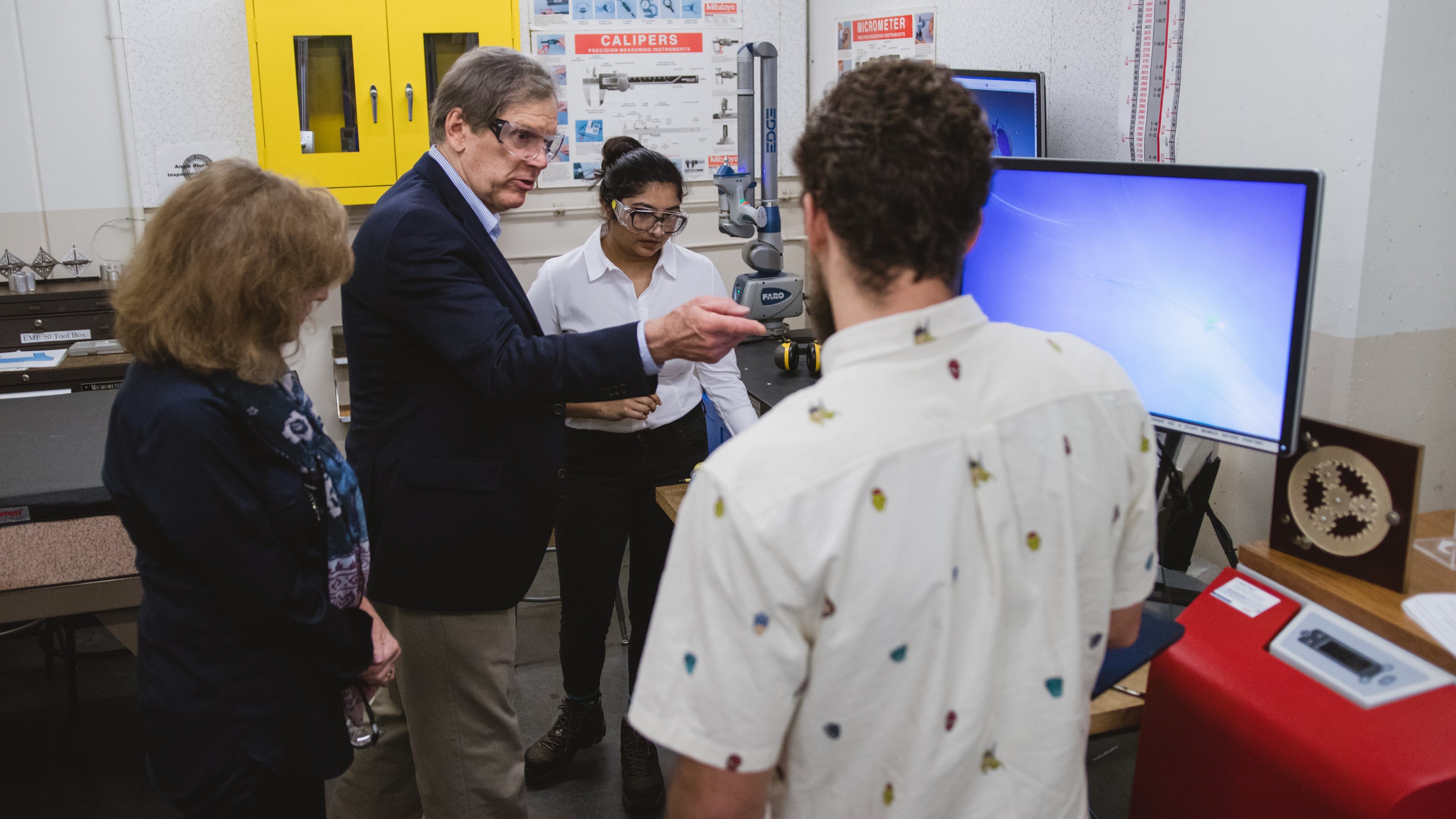 An incubator for student innovation
The Student Startup Center (SSC) exists to help students interested in entrepreneurship –– whether that's launching a company, working for a startup, or navigating the corporate world using startup principles.
"The great thing about working with students is that they have insight into problems that they want to solve, and they're trying to build companies to do just that," said Aaron Anderson, assistant director of the SSC. "There's nothing more exciting than seeing energetic, ambitious students solve problems that sometimes I didn't even realize existed."
The SSC is open to all students, from every major and background. Regardless of where a student is in their entrepreneurial journey, the SSC serves as a resource and a safe place to brainstorm new concepts.
"Entrepreneurs solve big problems," Anderson explained. "And there's no better university on the planet that is more prepared to take advantage of emerging trends than UC Davis, given our location next to the State Capital and expertise in areas such as climate and human and animal medicine."
Anderson added, "The Baums' gift will take the SSC and the entrepreneurial work on campus and scale it in a way like never before."
The perfect partnership
The collaborative nature of the ESDC and SSC helps students learn to work together in teams.
"I have been able to add things to my resume that go beyond the theoretical things we have learned in class," said Gauree Shah '19, an ESDC student assistant and mechanical engineering major. "I have real, tangible proof of the engineering work I've done by working in this space."
John Baum believes this merger is the perfect encapsulation of what UC Davis is –– a genuine community.
"What's happening at UC Davis is so dynamic. This expansion, renovation and merging of the ESDC and the SSC will only enhance our already stellar community," John said. "It's just a thrill for us to be able to support this endeavor. I suggest that if someone has a passion, come visit UC Davis, and you will find something you want to contribute to through philanthropic giving."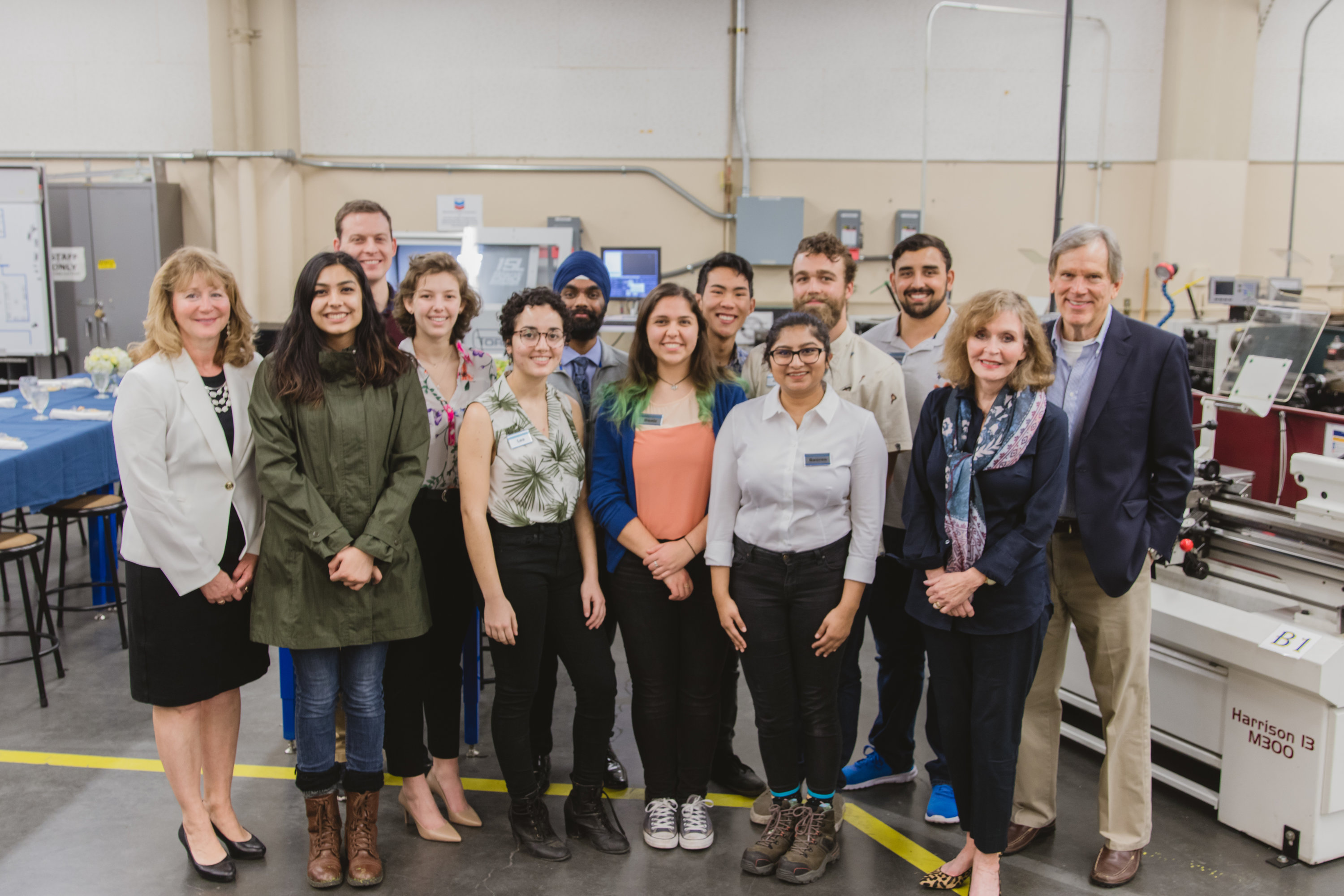 Primary Category
Tags