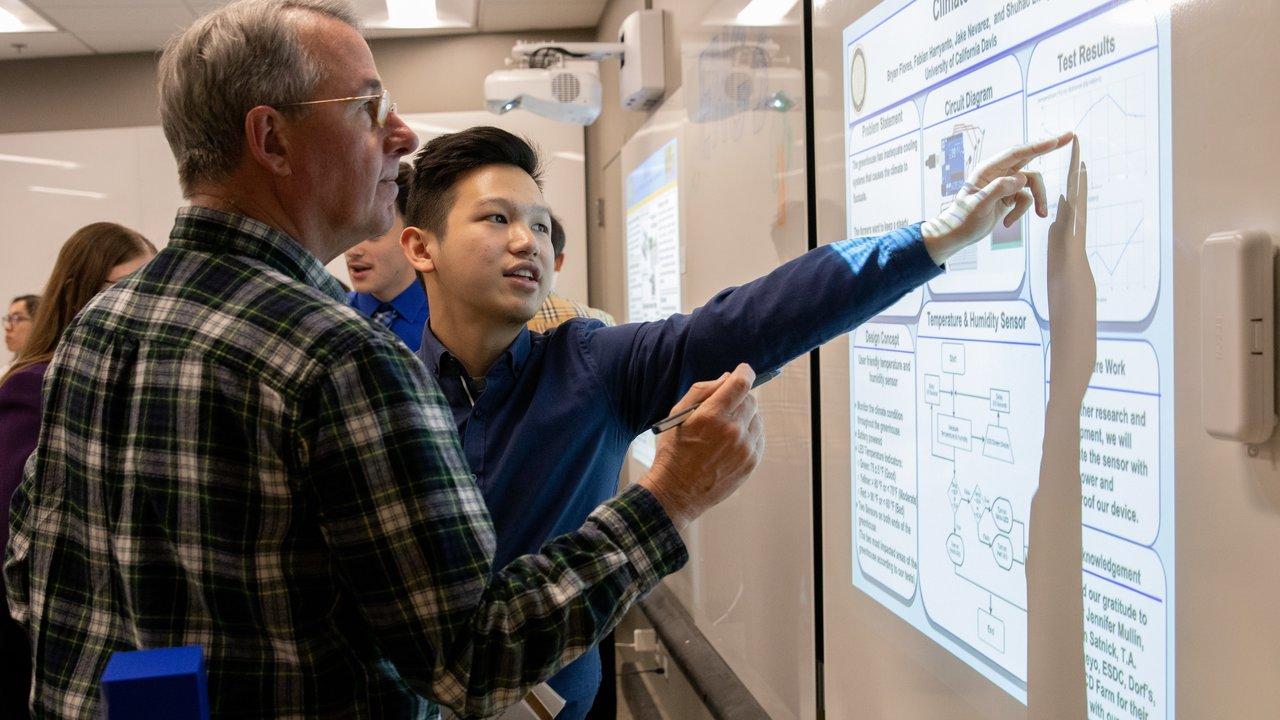 Assistant Professor of Teaching Jennifer Mullin steps into a large room of staff, faculty, alumni, students and industry partners, ready to address them before the quarterly "Introduction to Engineering Design" (ENG 3) Showcase.
In ten weeks, her students have learned how to use microcontrollers and design a prototype for a real-world client while communicating their work to peers and the public. The showcase is their final exam and her audience is there to grade these first-year students on their designs and how well they communicate their ideas.
"I enjoy watching students do something they did not think they could do," Mullin tells them. "Seeing the growth, confidence, collaboration and creativity that they employ at this end-of-the-quarter showcase is really exciting, and I think that will show in their presentations."
After the presentation, the evaluators are led to the Kemper Hall lobby, where they are greeted by students who flag them down, hoping for another chance to talk about their designs. Since evaluators come from all different backgrounds, it gives students a great opportunity to present their technical work to a wide range of people.
"ENG 3 so different from any other engineering class," says electrical engineering master's student and teaching assistant Alicia Alare. "It gives students real-world skills that no other engineering class does in terms of projects, execution, design iteration and communication."
Engineering crash course
Ten weeks earlier, the class began by learning how to use Arduino and Raspberry Pi's—electronic platforms used in engineering projects across disciplines. At the same time, students visited clients like the UC Davis Student Farm or the Betty Irene Moore School of Nursing to learn about specific problems they can help solve. Examples include controlling pests at the farm or easing communication between patients and caretakers at the nursing school's Family Caregiving Institute.
For many, ENG 3 is a rare opportunity for undergraduates to design and build something for a client early in their college careers.
"This is the first class where I built my own circuit and programmed anything more than, 'hello world,'" said mechanical engineering major Tara Soudbakhsh. "It's definitely one of the best starter classes to take to see if engineering is something you want to do for a career."
Part of what makes ENG 3 unique is that it's first and foremost a communications class. All the communications assignments are specific to the types of assignments engineers might have in the workplace, and students are graded mainly on how they communicate their ideas through oral presentations, reports and posters throughout the quarter.
For some, the challenge is learning how to communicate the technical concepts they already have experience with. For others, the class is an introduction to the hands-on side of engineering.
Second-year mechanical engineering major Ruby Houchens fell into the former category. She started with no engineering experience and got research positions in two different labs within a year through her experience and networking. She now uses her skillset to develop a special helmet for astronauts.
"I had no Arduino experience before ENG 3—it was my first time even touching the equipment," she said. "I owe so much to that class and professor Mullin."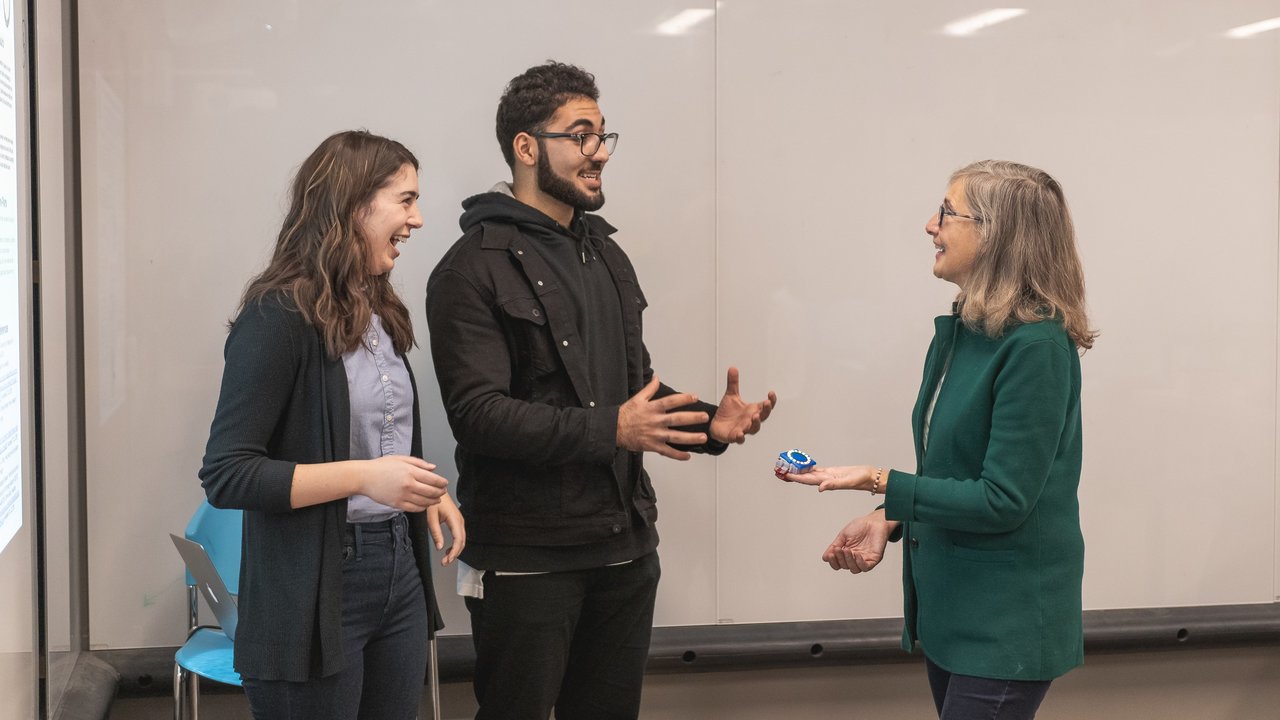 Thinking like designers
ENG 3 began in early 2017 as an experimental open-ended design class. Mullin took it over in fall 2017 and has since transformed it into one of the college's most popular offerings. The class has grown from 50 to 200 students with nine teaching assistants (TAs) who bring new ideas and a new dynamic every quarter.
Teaching the class is a full-time job and then some. Mullin delivers two lectures and visits nine "open studio" sessions in the Dorf Design and Communications Classroom in Kemper Hall each week, all while coordinating with her TAs to prepare teaching plans and adjust the class based on student feedback.
"We think like designers now," she said. "We have a lot of ideas, we try a lot of things and then we shift if it doesn't work."
These TAs are critical to the success of the class, they go above and beyond to support students through the design process, to collaborate and also work across disciplines.
 "It's pretty rewarding to see how much the students improve over the quarter," said biological systems engineering Ph.D. student and TA Amber Chou. "At first, they have no background in engineering, and then as we give them feedback, we see them grow as engineers."
This maturity is clear to anyone attending the showcase. The students meticulously walk evaluators through their project, start with the basic problem, explain their design, how it works and the choices they made. They then show off their prototype and go through both its limitations and where they would take it in the future.
"I love the energy that comes from students once they've gone through the process," said Jim Muck of the UC Davis Student Farm. "It's clear they've worked hard on their designs and are really enthusiastic about them."
Though most designs are early-stage prototypes, Muck has still deployed multiple devices on the farm, including a gnat trap that automatically replaces sticky paper and a portable sensor for tractor driving.
"You would think that after working with the same clients for two years, they would've done it all, but the student ingenuity is amazing," said Mullin. "It's really fun to watch."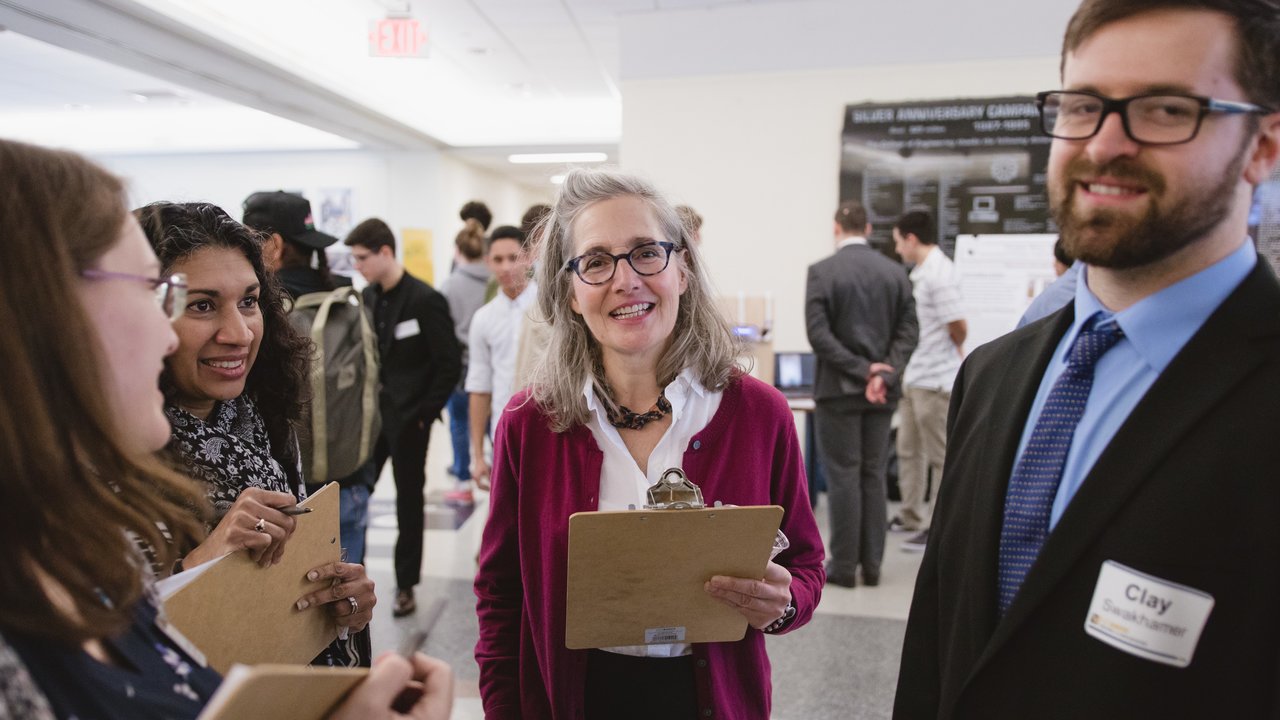 Giving back
For some students, their relationship with the ENG 3 doesn't end with the quarter. Electrical engineering major and former student Nathan Pak returned as a TA and Soudbakhsh serves as an advisor, helping Mullin and her TAs collect feedback and make the class better. She and others have also returned to deliver lectures to the class about undergraduate research and design teams.
As the class continues to evolve and grow, Mullin plans to involve more clients with wider applications to prepare students for and careers in industry with a positive, supportive and educational environment.
"ENG 3 is unlike any other class UC Davis has to offer," said Soudbakhsh. "This is a straight line between school and industry experience in the rawest form."
Category
Tags