Jennifer Sinclair Curtis Named Dean of UC Davis Engineering
DAVIS, CA­­­; July 8, 2015–Jennifer Sinclair Curtis has been named as the Dean of the UC Davis College of Engineering effective October 19, 2015.  Curtis currently serves as the Associate Dean for Research and Facilities at the University of Florida's College of Engineering.  She will replace Interim Dean Jean VanderGheynst who graciously agreed to serve effective July 1, 2015, in the wake of former Dean Enrique Lavernia's appointment as the Provost and Executive Vice Chancellor at UC Irvine.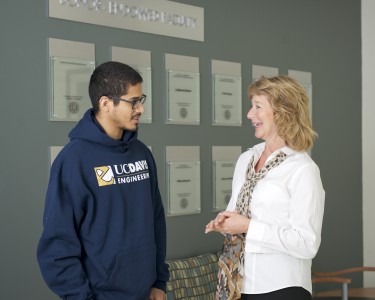 Curtis emerged from an outstanding pool of candidates resulting from a national search to fill this critically important role in the College.  In announcing Curtis' appointment, Chancellor Linda P.B. Katehi and Provost Ralph Hexter indicated their gratification that the prominence and stature of engineering at UC Davis drew interest from many accomplished academic leaders. They added that Curtis is a leader who will build upon the already impressive trajectory of the College of Engineering and move it forward on all fronts.
In her role as the Associate Dean for Research at the University of Florida, Curtis supports faculty and researchers in developing and maintaining research programs, including promoting interdisciplinary research, working with research sponsors and funding agencies, coordinating the college's research institutes and ensuring regulatory compliance.  Curtis also served as Director of the Florida Energy Systems Consortium, which promotes collaboration between Florida's public universities to conduct research, education and commercialization in energy technology and as the Chair of Chemical Engineering. Before joining the College of Engineering at the University of Florida, Curtis served as the Head of the Department of Freshman Engineering and Associate Dean for Undergraduate Education at Purdue University.
Curtis' research focuses on the flow behavior of particles, with applications ranging from food processing, pharmaceutical manufacture, and the aerospace, energy and mining industries to natural processes such as debris flows and sediments. Her work has made important contributions to understanding how fluids and solid particles behave together.
Curtis earned her bachelor of science in chemical engineering from Purdue University and her master's and Ph.D. from Princeton University. She has served on the faculty at Lafayette College, Carnegie Mellon University, the University of Arizona and Purdue University, in addition to visiting professorships at the University of Minnesota; and at Monash University and the University of New South Wales in Australia.
She is a Fellow of the American Association for the Advancement of Science, the American Institute of Chemical Engineers, and the American Society for Engineering Education and has served on numerous national advisory boards and committees, including currently co-chairing the National Academies Chemical Science Roundtable.
Primary Category
Tags