Alumni Spotlight: Robert Kiss, '84
Among his accomplishments over a 27-year career in the biotechnology industry, Robert Kiss has helped develop and manufacture multiple biotherapeutics, including Herceptin® for the treatment of breast cancer and Rituxan® for lymphoma. In 2019 Kiss, who spent 24 years at Genentech, was elected to the National Academy of Engineering for "contributions to mammalian cell culture and microbial processes that produce recombinant proteins and antibodies."
Now the Vice President of Process and Analytical Development for Sutro Biopharma, he earned his bachelor's degree from UC Davis and a master's and Ph.D. from the Massachusetts Institute of Technology, all in chemical engineering. He and his wife, Linda, live in California.
Q: You have said that there are three main pillars of your career. Please describe them.
A: I work with recombinant cells that have been engineered to produce a specific protein product, or drug.
Pillar one involves figuring out how to make these proteins and control their quality in a very complicated process that involves growing living cells and getting these cells to do things they may not want to do. It takes a lot to control the production process so that you consistently get the same product quality.
Pillar two involves preventing contamination. Since these drugs are made in living systems, there's a chance that the process could be overtaken by another organism, like a virus. And when such contamination happens in a pharmaceutical process it's very costly [to correct] and it prevents products from being available to patients.
I spent a good portion of my career developing methods to prevent this. I'm very proud of that work because it helped not only Genentech, but the industry as a whole. We shared our knowledge so that every biotech company can prevent these types of contaminations.
Pillar three involves industrializing a technology, or scaling up the manufacturing process to make enough of a product to bring it to market. That's what I'm involved in now with Sutro. I'm applying what I've learned about scaling up processes, about transferring them from one manufacturing site to another, to a new technology.
Q: Describe a project that was particularly fun to work on.
A: Probably the most fun I had was working on the startup of Genentech's manufacturing facility in Vacaville, California. I helped design the facility and my team was an integral part of getting the plant up and running. Of course, there were problems. It took longer than anyone had thought it would take to successfully make batches in the facility, but we did it. And in the end, we made great strides for the company in terms of being able to transfer these complicated bioprocesses to another site.
Q: Who at UC Davis had the most impact on your career?
A: Pieter Stroeve. He's the professor who, when I told him I was thinking about going to graduate school, said, "you need to apply to MIT." He was very clear about that. My experiences at UC Davis and MIT enabled my career.
Q: How did UC Davis prepare you for your career?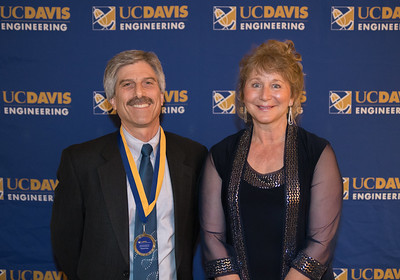 A: When I arrived at MIT, I realized how well-prepared I was compared to many of my classmates, and that was directly due to the program at UC Davis.
That's part of why I've stayed connected to UC Davis. For example, I'm on the advisory board for the Department of Chemical Engineering, and last year, Sutro sponsored a project through the biochemical engineering senior design class.
Over my career I've hired, managed, and mentored probably over 100 chemical engineers, and interacted with many more at companies around the world. And UC Davis chemical engineers are top notch. It's a testament to the department and to the faculty.
Biography
Robert (Bob) Kiss graduated with a B.S. in Chemical Engineering in 1984 from UC Davis and received both his M.S. and his Ph.D. in Chemical Engineering in 1987 and 1991 from the Massachusetts Institute of Technology. He is currently VP at Sutro Biopharma, a company that is working to commercialize a new technology for biotherapeutics manufacturing based on cell-free protein synthesis.  Although he has been in industry throughout his career, he has published over 22 journal publications, two book chapters, and one granted patent, sharing his extensive knowledge and experience in bioprocess development, biologics manufacturing and technology transfer with the engineering community. He was also elected to the National Academy of Engineering (NAE) in February as one of the academy's 86 new members. Kiss felt better prepared than other students when he started graduate school and is thankful for his undergraduate experience. "The UC Davis College of Engineering is an amazing school, and part of an amazing UC Davis campus and experience. It wasn't until years later, of course, that I realized this, but I say it to anyone who will listen!" said Kiss.
Primary Category
Tags