Aman Ganapathy Awarded 2023 M.S. Ghausi Medal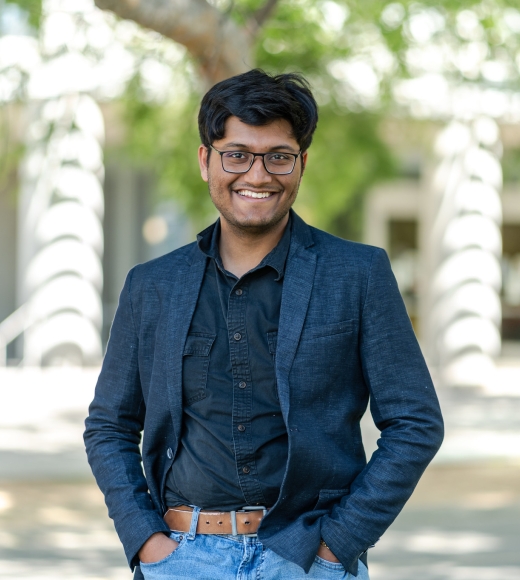 Aman Ganapathy '23, computer science and engineering, was motivated from a young age to pursue engineering to make the world a better place. 
A gene that contributes to hearing loss and inherited over generations in Ganapathy's family has rendered many of his relatives incapable of hearing. 
"Much of my childhood was shaped by my proximity to my family's struggles," he said. "And by the overarching question of what could I do to make the world more accessible for families like mine."
The recipient of the 2023 M.S. Ghausi Medal, the highest undergraduate student honor awarded by the College of Engineering, Ganapathy now carries that desire to make the world a better place through engineering in memory of his friend, Karim Abou Najm. 
"He pushed me to be a better version of myself every day and helped me find things in myself I didn't know were there," Ganapathy said. "I think about him every day."
"Impatience is a virtue" was a phrase Najm was fond of saying. 
"He was never thinking about staying inside the box, he'd always just go for it," Ganapathy said. "Sometimes it's important to get out of your own head and just push through. That's what I've been trying to do more often. I'm trying to take his lessons to heart and trying, just like he was, to not be intimidated by challenges but to be excited by them."
It was in the spirit of helping others and tackling challenges that spurred Ganapathy to join the Speech Neuroengineering and Cybernetics Laboratory. There, he was the team lead on the Cochlearity project, designing an adaptive hearing aid that would still work effectively in dynamic and noisy environments. Traditional hearing aids do not give the wearer the ability to choose what sounds to focus on. 
Specifically, Ganapathy developed the selective amplification algorithm that minimized the latency and memory cost of the device. He also worked on developing the pipeline that allowed sound processed by the hearing aid to be transcribed to text and displayed as subtitles in augmented reality. 
"Aman is one of the most exceptional UC Davis undergraduates I've met," said Lee Miller, professor of neurobiology, physiology and behavior and Ganapathy's lab supervisor. 
He was awarded the Provost's Undergraduate Fellowship for his research and presented at the annual Undergraduate Research Conference, an experience that further bolstered his passion for research seeing the diversity of projects being worked on at UC Davis.
Ganapathy also volunteered with Project RISHI, eventually becoming the Director of Initiatives. A campus organization, the group's work centers on developing sustainable infrastructure projects to assist underprivileged groups in India. For his work with Project RISHI, Ganapathy was awarded the Internship and Career Center Community Service Award in two consecutive years. 
In addition to his research and volunteer accolades, Ganapathy will graduate with a GPA over 3.9 and received Dean's List honors from 2019-2022.
After graduation, Ganapathy will continue his education and pursue a Master's of Computer Science at UCLA, though hasn't chosen a specialization yet.
One thing he is certain about is his continued pursuit of engineering for the greater good - both for his family as well as Najm's memory.
"I think it's very easy when you hit a roadblock or when you're struggling to think 'well, this isn't for me'," Ganapathy said. "I felt that as well initially, I struggled with my first class in programming. And I questioned whether I made the right choice. I think it's fair to say at this point that I did, but it's because I pushed through it."
Primary Category
Secondary Categories
Tags