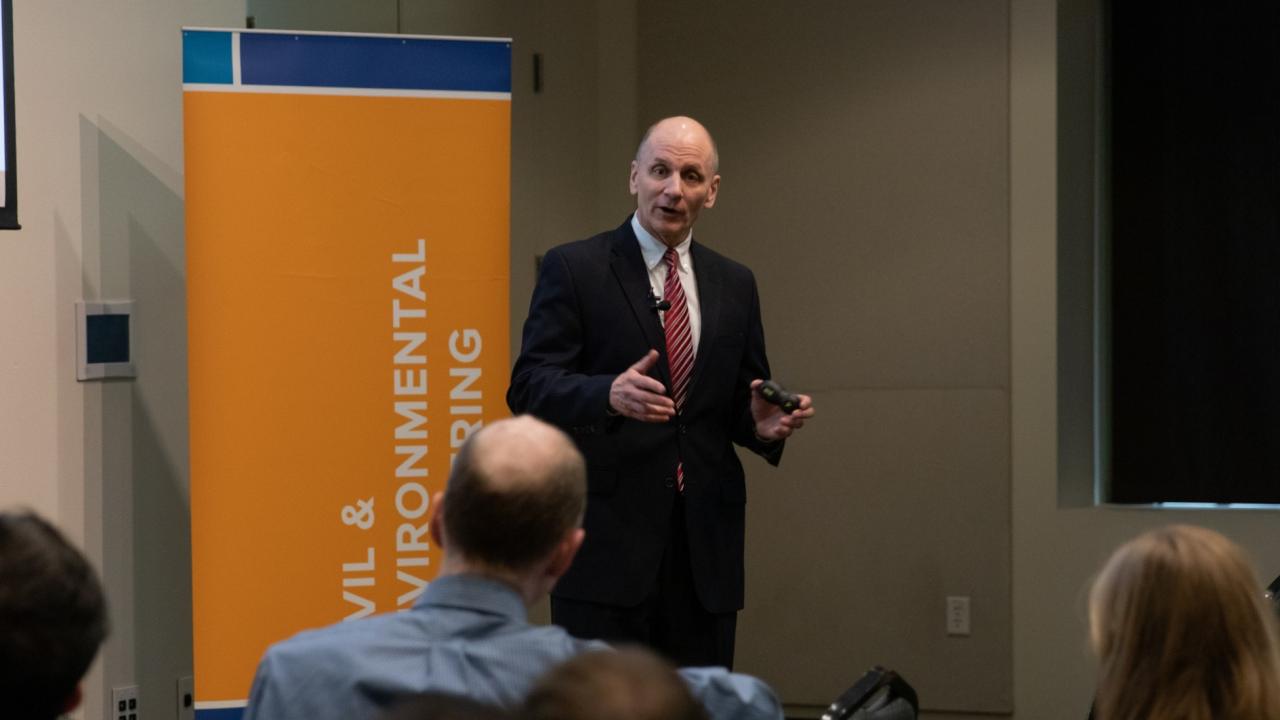 Dr. David Dzombak, Hamerschlag Professor and Department Head of Civil and Environmental Engineering at Carnegie Mellon University spoke at this quarter's College of Engineering Distinguished Lecture on Thursday, January 24. He delivered his lecture in the Student Community Center to a full room of faculty, staff, undergraduates and graduate students all interested in the nation's vast and varying water landscape.
Dzombak and his recently graduated Ph.D. student, Kerim Dickson, studied interbasin transfers (IBTs) in the United States, when and why they were built and their role in mitigating risk in counties with high water supply risk.
Dzombak and Dickson's study was the first inventory of IBTs in the U.S. since the mid-1980s. Using better technology for identifying and assessing IBTs, he and Dickson found 2,161 IBTs across the U.S. – more than five times the numbers of IBTs previously identified – and sampled five percent of them to study more closely. They found that though IBTs across the nation were built for varying reasons, the four most common were commercial shipping and navigation, drainage and flood management, municipal and industrial water use and water use for agriculture.
To investigate the role of IBTs in addressing water supply risk, Dzombak and Dickson developed an index to measure water risk across the U.S., drawing from two existing studies. Their index uses current and projected numbers on water use and demand to determine the risk on a county-by-county basis.
California has the most at-risk counties of any state, with much of the west also having areas of need. While the counties are still at risk, the presence of IBTs like the California State Water Project, which moves water from Northern California down the Central Valley and to Southern California, helps mitigate it.
The IBT inventory was published in the Journal of the American Water Resources Association in 2017, and the study of the drivers of IBT development will be published there this year. The water risk analysis is currently under review.
Dzombak was eager to share the study not only in California, which emerged as a focal point of the study, but also at UC Davis, where he has several personal connections. He worked with College of Engineering Dean Jennifer Sinclair Curtis at Carnegie Mellon in the early 1990s, he knew late civil engineering Professor Melvin Ramey, a Carnegie Mellon alum who served on his department's Advisory Board in the 1990s, and he served with Professor Thomas Young on the Science Advisory Board of the U.S. Environmental Protection Agency.
"I've felt the strength of the University of California, Davis for years from afar and from interacting with my colleagues at conferences," he said. "I now get to see it in person."
The event was well-attended by faculty and students and concluded with a reception on the balcony of the Student Community Center.
The College of Engineering's quarterly Distinguished Lecture Series is an opportunity to bring academic and industry experts to the college to interact and engage with faculty and students. The College's next Distinguished Lecture will feature Stanford University's Mechanical Engineering Professor Allison Okamura on April 15.
Related: Winter 2019 Distinguished Lecture Photos
Category
Tags