Dr. Jovana Veselinović Receives the 2022 Zuhair A. Munir Award
In five years in the chemical engineering graduate program at UC Davis, Dr. Jovana Veselinović conducted groundbreaking interdisciplinary work on using nanoporous gold to detect biomarkers of disease while falling in love with Davis. She is this year's recipient of the College of Engineering's Zuhair A. Munir Award for best doctoral dissertation.
The Zuhair A. Munir Award was established in 1999 in honor of Distinguished Professor Emeritus Zuhair Munir, who served as the College of Engineering's associate dean for graduate studies for 20 years and dean from 2000-2002.
Veselinović received her Ph.D. in chemical engineering under the mentorship of Electrical and Computer Engineering Associate Professor Erkin Şeker. She is the third straight chemical engineer to receive the honor, following Drs. Jennifer Nill in 2020 and Sima Asadi in 2021.
"It's very exciting and it's something that I'm going to treasure," she said. "It's a good wrap-up to the work I have done and it is a nice ending to a chapter of my life that I really enjoyed."
Nanoporous Gold as a Biosensor
Veselinović's dissertation, "Nanoporous Gold Biosensors for Electrochemical Detection of Nucleic Acids," focused on optimizing nanoporous gold to detect nucleic acids as a biomarkers for pathogenic disease.
The synthetic detection system is a monolayer—only a few molecules thick—designed to detect and capture biomarkers and DNA specific to particular diseases. To optimize the biosensor's performance, Veselinović ran tests with different samples and tweaked the design to allow for the most efficient embedding of the detection layer in the nanoporous gold structure .
"Imagine nanoporous gold as a gold sponge with all these pores," she said. "I worked to optimize the process of putting the detection layer on top of the material so it would take full advantage of its high surface area for biosensing purposes."    
Her dissertation adds to a growing body of research on nanoporous gold, its unique properties and its potential in drug delivery, disease diagnosis and biomedical engineering. If successful, the detection system can help researchers find and treat diseases faster, which will improve patient outcomes.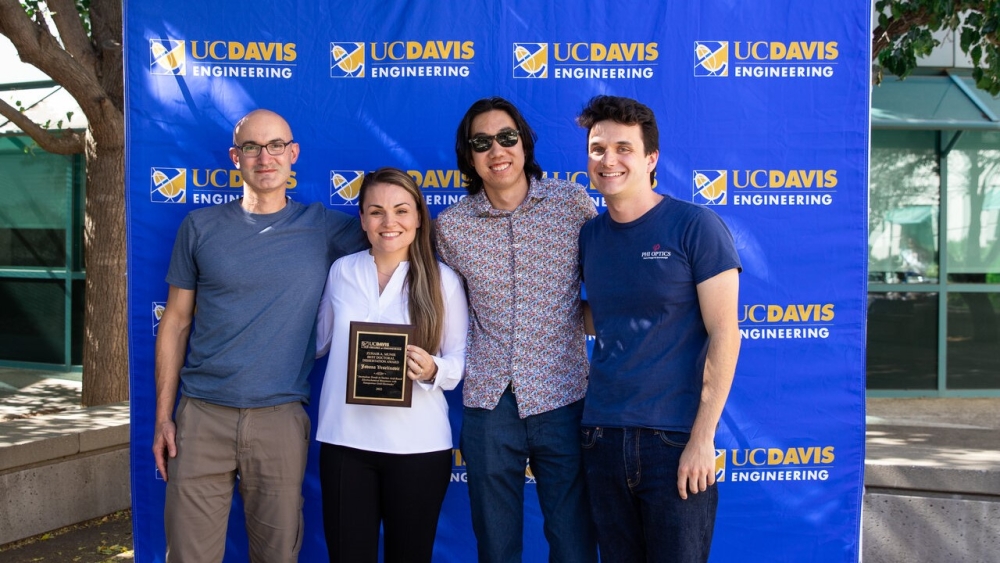 Finding a Home
Veselinović always excelled in chemistry and physics and was inspired to pursue her education in the U.S. by her teachers at United World College in Mostar, Bosnia. She earned her B.S. in chemical engineering at MIT and joined UC Davis in 2015 after three years in the biotech industry.
As she returned to school, she felt that her professors always wanted her to learn. Şeker, her advisor, was especially supportive, sponsoring her to attend numerous conferences and nominating her for multiple awards, honors and opportunities while being there when she needed guidance.
"I really enjoyed having a mentor like Professor Şeker who knew how much to be there for me," she said. "He gives you just enough support and direction and lets you grow from there."
Şeker also made collaborative research easy. Not only did the lab have a strong sense of community, but also thanks to his connections, she was also easily able to work with researchers across the college and in Veterinary Medicine, Biological Sciences and the School of Medicine. She also feels this interdisciplinary spirit is a product of the diversity of campus.
"UC Davis has a very diverse student body and it gave me the opportunity to meet and collaborate with people from different professional and cultural backgrounds," she said. "It was a great learning experience for me to see people coming from different backgrounds address their adversities and progress at different rates, but still reach their goals."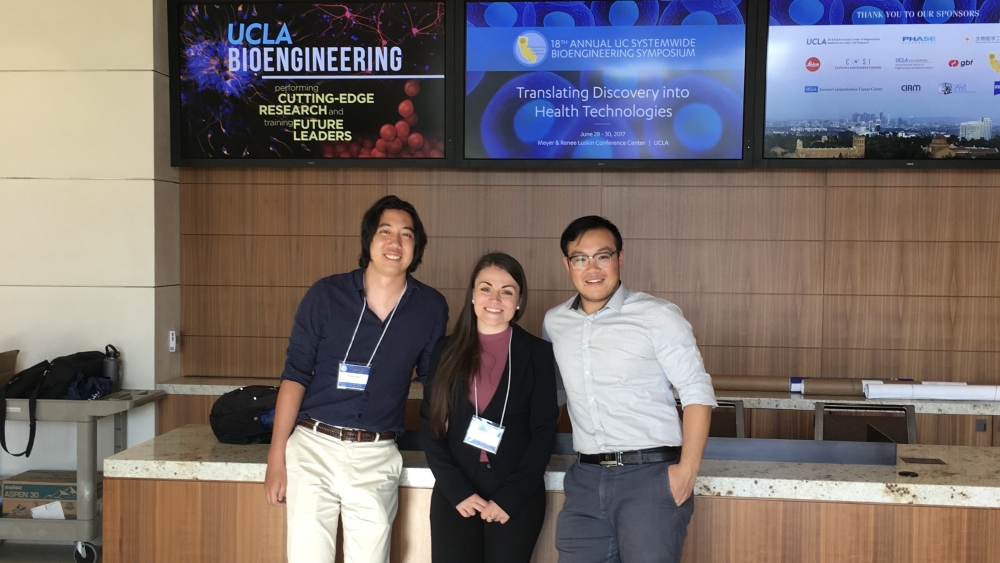 Becoming a Leader
Veselinović was inspired by how much of UC Davis is student-led and it gave her unique opportunities to grow personally and professionally. One of her favorite experiences was e working as a fitness instructor at the Activities and Recreation Center, something she had always wanted to do. She also worked as a teaching assistant for the popular Design of Coffee course (ECH 1), where she met with two undergraduate chemical engineers—Suzan AlMashtoub and Sachit Nagella—who became her research team in the lab.
"It was a great experience being their mentor for two years," she said. "Thanks to their hard work and commitment, we were able to quickly generate data, make important findings and publish research that we are all proud of."
Veselinović now works at Becton, Dickinson and Co., a biotech company in Silicon Valley. As a senior process engineer, she uses a lot of the same optimization methods she did at UC Davis to develop magnetic beads for the company's single-cell analysis system. She looks to continue her industry career in R&D and eventually move into more senior leadership roles while drawing on the background and experience UC Davis gave her.
"I feel so lucky to have spent my five years [in graduate school] here," she said. "I love Davis for all that it allowed me to experience, but primarily because it allowed me to grow as a researcher, a mentor and a person."
Primary Category
Secondary Categories
Tags