Elissa Roeser Named Executive Assistant Dean for Administration and Finance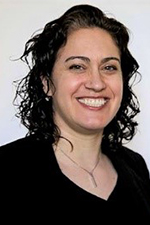 Elissa Roeser has been named the new executive assistant dean for administration and finance for the College of Engineering, effective July 1.
Roeser has close to 21 years of experience in the University of California system and is currently the Assistant Dean, Chief of Staff in the UC Davis School of Medicine (SOM) Office of the Dean. In this role, Roeser is a strategic and business planning partner to the dean, providing guidance and oversight on high-priority leadership initiatives. Before joining UC Davis, Roeser spent 18 years at the University of California, San Francisco (UCSF) in financial and administrative leadership roles overseeing clinical, research and educational programs.
"I am confident that Elissa will be an excellent leader in the College of Engineering," said Dean Richard Corsi. "Elissa has significant management experience, successfully advanced strategic initiatives and demonstrated effective leadership through change, whether it be the disruptions associated with COVID-19 or financial system changes."
Roeser looks forward to coming aboard.
"I am extremely honored to be joining the College of Engineering," she said. "I look forward to supporting our students, faculty and staff as they work to make a positive difference in the world."
Jessie Catacutan is retiring as executive assistant dean on July 19 and will ensure a smooth transition with training and support during Roeser's first few weeks.
Tags