Engineering Alums Build New Technology for Sustainable Plastics
by Bonnie Dickson
When John Bissell and Ryan Smith were seniors at UC Davis in 2008, civil and environmental engineering professor Frank Loge encouraged them to participate in the U.S. Environmental Protection Agency's People, Prosperity and the Planet competition. Their team's research project, which turned sewage into biodegradable plastic using microbes and fermentation, won first prize.
Inspired by the potential to develop and market more environmentally-conscious products from organic waste, chemical engineers Bissell, Smith and their classmates licensed a piece of technology from UC Davis and started their own company, Micromidas, now called Origin Materials.
Today, Origin has raised more than $90 million in capital and has successfully developed several patented chemical synthesis technologies to convert renewable materials such as cardboard, sawdust and wood chips into commodity chemicals used to manufacture the world's plastics. In late 2017, Bissell and Smith began scaling-up Origin's operations with the goal of introducing bio-based plastics to the global consumer market by 2020.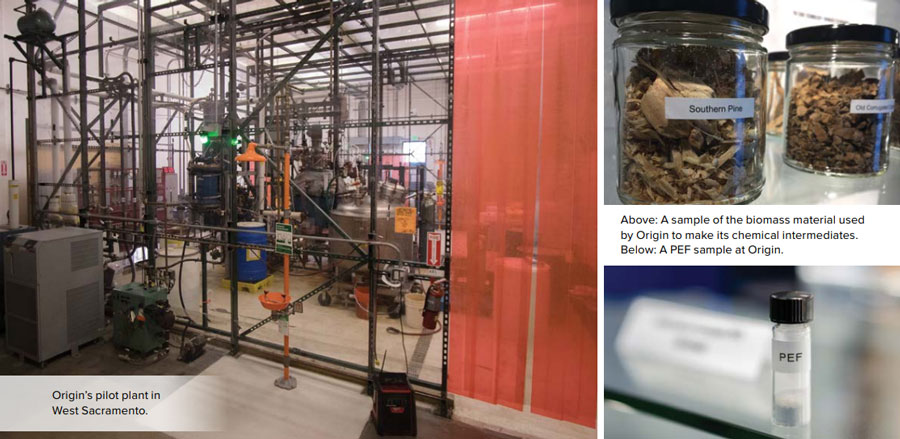 Tackling the World's Plastic Problem
At a pilot chemical plant in West Sacramento, Bissell, Origin's chief executive officer, holds a small glass vial filled with a bright, white powder. The powder is polyethylene furanoate, or PEF, a high-performance polymer made from wood waste and other completely renewable biomass materials.
"You never see PEF this white," Bissell says. "One of our flagship products goes into this."
PEF is a renewable, sustainable substitute for polyethylene terephthalate, or PET. Traditional PET is one of the most important commodity chemicals in the world due to its versatility in manufacturing, especially synthetic polymers, or plastics, used for things like single-use plastic water bottles.
The PEF plastic products created from Origin's chemicals have the same look and feel as petroleum-based PET plastics, but are made from 100 percent renewable source materials and are biodegradable.
The vast majority of traditional PET plastics are derived from non-renewable fossil fuels and do not break down naturally in the environment. This means that most of the plastics humankind has ever made still exist in some form today, often as plastic waste and pollution.
Origin is far from being the only chemical company to successfully convert biomass into useful chemical compounds to make PEF. They are, however, the first chemical company to simplify the chemical conversion process into a single step. This translates directly to cost, says Smith, Origin's chief technology officer.
"It's a blockbuster chemical technology," he adds. "What really attracted us to developing this technology is the idea that in a single step, you can take something like wood chips, put it into our reaction system, and out of that system have single, isolated, chemical intermediates."
These chemical intermediates can be used to make new polymers, surfactants and carbon blacks – materials like PEF – that are used to manufacture a wide range of consumer products. This includes clothing, food storage containers, plastic water and soda bottles and more.
Bissell characterizes Origin's simplified chemical technologies as new, economic, fundamental building blocks for the chemical industry.
"If you introduce something that is characteristically different and also highly sustainable, you dramatically increase the number of options that people have to make new materials and products," Bissell says.

Reaching the Global Market
The success of Origin's chemical technologies at their pilot plant recently attracted the attention of industry giants Nestlé and Danone, the world's two largest bottled water companies.
In 2017, the three companies announced a research and development partnership to develop a commercial-scale process to produce plastic bottles that are 75 percent bio-PET by 2020 and 100 percent bio-PET by 2022. The partnership between Origin, Nestle and Danone aims to replace the world's traditional fossil materials with bio-based plastics that are not only better for the planet, but more economic to produce.
"We're poised to change the way that the chemical and materials industry source their materials to make a significant number of important products," Smith says.
These important products include anything that uses plastics – from single-use plastic bottles to food and product packaging.
Once Origin's technology is successfully developed at a commercial scale, the company will make it accessible for the entire chemical and materials industry.
"We think aligning big, forward-thinking customers with new technology is a really powerful combination," Bissell says of Origin's business approach.
Construction of a demonstration plant is currently underway in Canada and is slated for completion in early 2019. The demonstration plant will produce 15,000 tons of raw materials each year, roughly equal to 100 rail cars of material. The commercial scale operations will be 20 times larger than the demonstration scale plant.
But building a chemical company from the ground up is not a trivial undertaking. The world is much different today compared to a century ago when the oldest titans of the chemical industry were founded, Bissell explains.
"A lot of the classical mechanisms used to govern, manage and grow the infrastructure of the company, may not make the most sense anymore," he says. "We don't necessarily have these constraints. We can build better and more efficiently."
UC Davis Roots
When Bissell and Smith graduated from UC Davis, they had a business idea and a lead on a promising chemical technology. Nine years later, their chemical startup company is poised to change the global chemical commodity market.
Despite the company's global ambition, Origin remains firmly rooted in Northern California.
"As a company, we believe in Sacramento in a big way," Bissell says. "We also believe that UC Davis provides a great foundation as an academic institution for the area."
Bissell says the company's proximity to the state capital is ideal for continued research and development of Origin's technologies, citing the region's expertise in environmental research and policy and UC Davis' expertise in food and agriculture, sustainability and biotechnology.
Bissell and Smith say building and maintaining relationships with peers and faculty from UC Davis has also been critical for the growth of their company. When Origin was first formed, the company relied on the facilities, instruments and experts at UC Davis and the College of Engineering to develop some of its early technologies.
"We've always been close to the university, broadly speaking, especially when we were first starting out," Bissell says.
Origin's founders also say they were inspired by the Graduate School of Management's business boot camps and competitions like "Big Bang!," which provides workshops, mentorship, financing guidance and networking opportunities to accelerate commercialization and advance the startup process.
Bissell is a graduate of the UC Davis Green Technology Entrepreneurship Academy, which is now part of the Mike and Renee Child Family Institute for Innovation and Entrepreneurship at GSM. The course helped Bissell and his early partners develop a viable business plan and learn how to secure venture capital.
Reflecting on their journey since graduating, Bissell and Smith say starting out with a clear value proposition and building and maintaining relationships is key for aspiring entrepreneurs.
"It's important to figure out, not just how to use your skills, but also how to direct them towards something that the world needs," Bissell says. "We've created something that combines economics, performance and sustainability. For us, that's a big win."
This story was featured on the cover of the winter 2018 edition of Engineering Progress. 
Primary Category
Tags