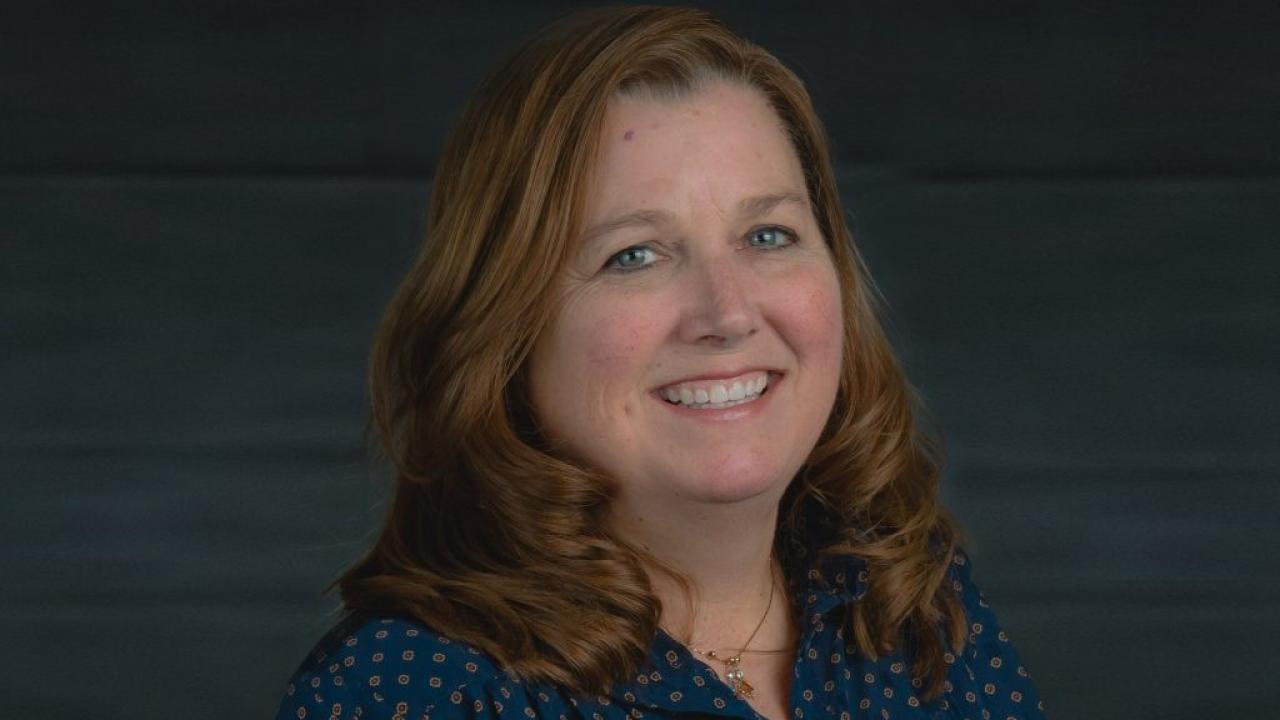 By Bonnie Dickson
The College of Engineering's Center for Nano and Micro Manufacturing (CNM2) is a shared research facility that includes a roughly 10,000 square foot cleanroom for micro and nano-fabrication and novel, scalable research and technology development. The campus and College of Engineering have made significant investments in CNM2 in recent years and staff members like Paula Lee are key to the evolution and success of these shared facilities.
Paula joined the College of Engineering nearly four years ago, after 25 years with the UC Davis Veterinary Medical Teaching Hospital. Now, Paula is a research administrator II who supports all administrative aspects of the CNM2. This includes managing the facility's student staff, compiling monthly billing statements for users and processing all new CNM2 users.
In this edition of the College of Engineering's Staff Spotlight, Paula shares what a typical day on the job looks like (spoiler – there's no such thing as a "typical" day) and talks about her love for animals.
Tell us about your path to UC Davis.
Out of high school, I earned my associate degree and achieved my animal health technician license from Yuba College. Shortly after graduation, my first career possession was working at a private veterinary clinic in Woodland. I then transferred to UC Davis and started working at the Veterinary Medical Teaching Hospital. While working there for 25 years, I did various tasks from admitting and discharging patients, to general animal care and support. 10 years ago my path took a left turn when I started working in the financial service department.  I maintained that job until I came to the College of Engineering, which I am happy to say will be four years in May 2019.
Describe a typical day on the job.
It varies from day to day and usually includes supporting the UC Davis staff, students and faculty along with external users in one way or another.
The beginning of the month is my most hectic time due to billing. This task requires obtaining data from various sources and compiling the information to process interdepartmental bills along with vendor invoices. On average we usually have about 40-50 users per month representing 19 PI's and a number of outside industrial companies.
My biggest challenge in working for CNM2 is the constant rotation of cleanroom users. With each graduation or new professor, it usually means several new members will be requesting access to the cleanroom. In order to become a member, they must complete several guidelines and requirements before they gain access to the facility. This process starts when I provide a safety test, activate entrance access, computer program activation and finishing up with a cleanroom orientation. The entire process can take several hours and includes going into the cleanroom.  
Another part of my job is managing our three students.  I organize their schedules (which changes quarterly) and keep them busy with designated tasks. Their jobs include a daily walk though, inventory, waste disposal and designated equipment responsibilities. The student position also includes weekend shifts, and if the students are not available, the staff picks up the load, including me.
Lastly, did you know that CNM2 has at least 100 pieces of equipment? As the cleanroom asset representative, I maintain our inventory and work to assure that any all new equipment or disposed equipment is properly identified and added or removed from our inventory. 
What do you like most about your job?
The variation. That fact every day can be different is appealing to me. You can come to work thinking you will be working on one task, and before you know it, you are working on a separate task.  Secondly, and honestly most important, is the fact that I really like the people I work with. On the books, I guess I am considered the "support staff," but technically we all support each other. Yes, they count on me for a few things but in reality I think I count on them more. I think of it this way, "I am only one piece of the puzzle, and they are all the other pieces, so together we all make the entire picture of CNM2.
Tell us something that most people do not know about you.
I grew up on a farm in Woodland. We raised mainly raised sheep, but occasionally we raised pigs to show at the Yolo County 4-H Spring Show. This is youth program for kids between 9-18 years and a lot like FFA (Future Farmers of America) in high school.
When my kids were younger, I was their 4-H swine leader for six years. Each year I would help over twenty children understand what characteristics it took to choosing a pig, along with how to raise them and ultimately how show them. A day after the show, the kids would sell their project and do the whole process all over again the following year.
If you could have one superpower, what would it be and why?
It would be the ability to fly so I could visit my children and their spouses who live out of state. My daughter is in nursing school in Sioux Falls, South Dakota and son is a teacher in Reno, Nevada.
Paula Lee is located in the CNM2 Offices in Kemper Hall 1209. Do you know of a staff member who we should feature in our next Staff Spotlight? Let us know.
Category
Tags