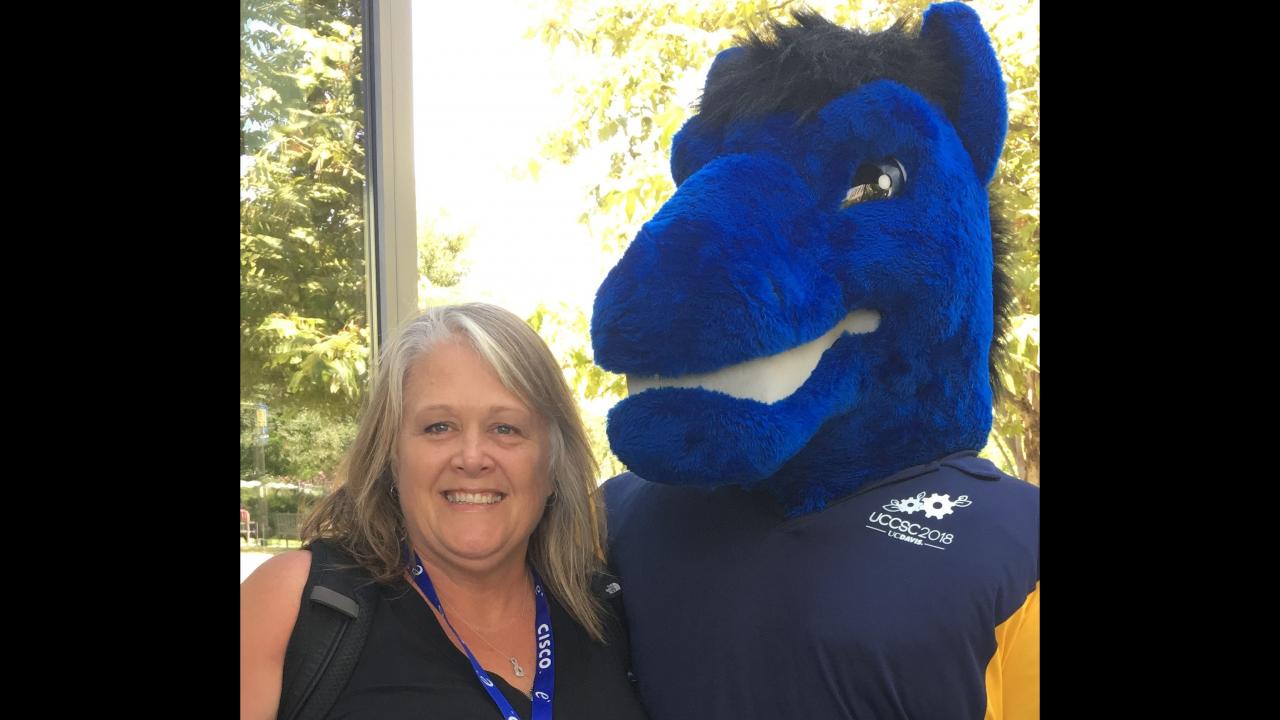 The College of Engineering's IT Shared Services' mission states, "COE IT strives to provide highly competent service and support to the COE community. To achieve that mission we explore the frontiers of technology and education; deliver solutions that our community can leverage and build upon; respect the independence and creativity of our IT staff and customers; and openly share knowledge and results."
Heidi has been at UC Davis in the College of Engineering for nearly 40 years. She started out in the Department of Civil and Environmental Engineering doing administrative work, began taking computer programming classes and in 2013, became a programmer for the college's IT Shared Services. Currently, Heidi is their systems administrator and after many years of service, she is preparing to retire this June.
In this edition of the College of Engineering's Staff Spotlight, Heidi shares what being a part of UC Davis has meant to her and what her plans are after retirement.
Tell us about your path to UC Davis.
I grew up in Dixon. In high school, no one talked to me about going to college. It was a very blue collar town and college wasn't an option for most of the kids there. Before finishing high school, I started working at an office that weighed trucks. I was the weighmaster and was responsible for certifying the weight of the truck. If the loaded truck was overweight, they would get a ticket. That business was going under, so I had to look for another job. I was told to look at UC Davis and I started there two weeks later. It was pretty much the most entry level position on campus at that time. I was hired to copy and mimeograph reports, class assignments and exams and I would also sort and deliver mail.
How has UC Davis changed over the years, since you started to now?
UC Davis has changed tremendously since I started in the early 80's. The campus was much smaller, and the amount of students attending Davis has almost doubled since then. The library addition, Kemper, Ghausi and Giedt Hall were not here and people could park behind Walker Hall. Technology has also changed how we do work. For example, when I first started here, there was no Banner system. The students would have to line up to add and drop classes, and sometimes they would be lined up around the building. Students would bring these little cards in with the class info on them. If there was room we add them to the list and sign the card. If not, we put them on a waiting list. Everything was done by hand.
Describe a typical day on the job as a systems administrator.
My job can be very different day to day, but I am always learning new technologies since things change constantly. My typical day is about the priority project. I start by checking my email and if there are no requests I work on the priority project of the day. Lately, it has been moving our WordPress servers to the new server. As I move each site, I watch the load of the server for any issues. Also, I am helping with the SiteFarm conversion for the department websites. I do a lot of the backend support, such as creating the templates for the new sites, adding users, registering and associating the domains, setting up Google Analytics, and creating customize content and views. 
What has been your favorite thing about working at UC Davis?
My favorite thing about working at UC Davis is when I can spend a few minutes helping someone with an issue. It makes me feel useful to solve their roadblock and it feels good to see them happy and relieved. I'll miss being a part of the university. I have always felt very proud to work here. 
What are your plans after you retire?
My husband and I have a lot of plans. We love to be outdoors and we own a cabin in Truckee at the west end of Donner Lake, so we will be spending a lot of time there. We will go to Blues Tuesdays at Squaw Valley and ski at North Star. The Pacific Crest Trail is just above us on Donner Pass Road, so we've talked about being trail angels. I also like anything creative, so I will take a lot of art classes and work on my photography.
We also plan to travel and have made a bucket list of trips. Our first trip is to Africa in December. My daughter is in the Peace Corps in Lesotho Africa, so my son, daughter, husband and I will all meet in Cape Town, South Africa.  We will be going on a safari in Kruger National Park, a helicopter ride over Victoria Falls, and even diving in shark cages (my kids and husband's idea). I can't wait to see this amazing country and meet the people.
Anything else you would like to share?
UC Davis has been a wonderful place to work. I came from a very small town and a family that didn't go to college. By working here, I was able to see all that an education has to offer. I have worked with people from all over the world, who I now consider my friends. This has influenced me as a person and a parent. My daughter Hannah completed a degree from Boise State in economics and is now in the Peace Corps in Lesotho Africa. My son Jake is going to UCLA working on a degree in economics and plans to study abroad next fall. When my daughter was asked how she came to the idea of going into the Peace Corps, she said it was because I would tell her about the opportunities students had at UC Davis.  I told her about the graduate students that came back from the Peace Corps and Engineers without Borders – I believe those stories inspired her. I am grateful that UC Davis has not only opened the world for me, but also opened the world for my family.
Category
Tags