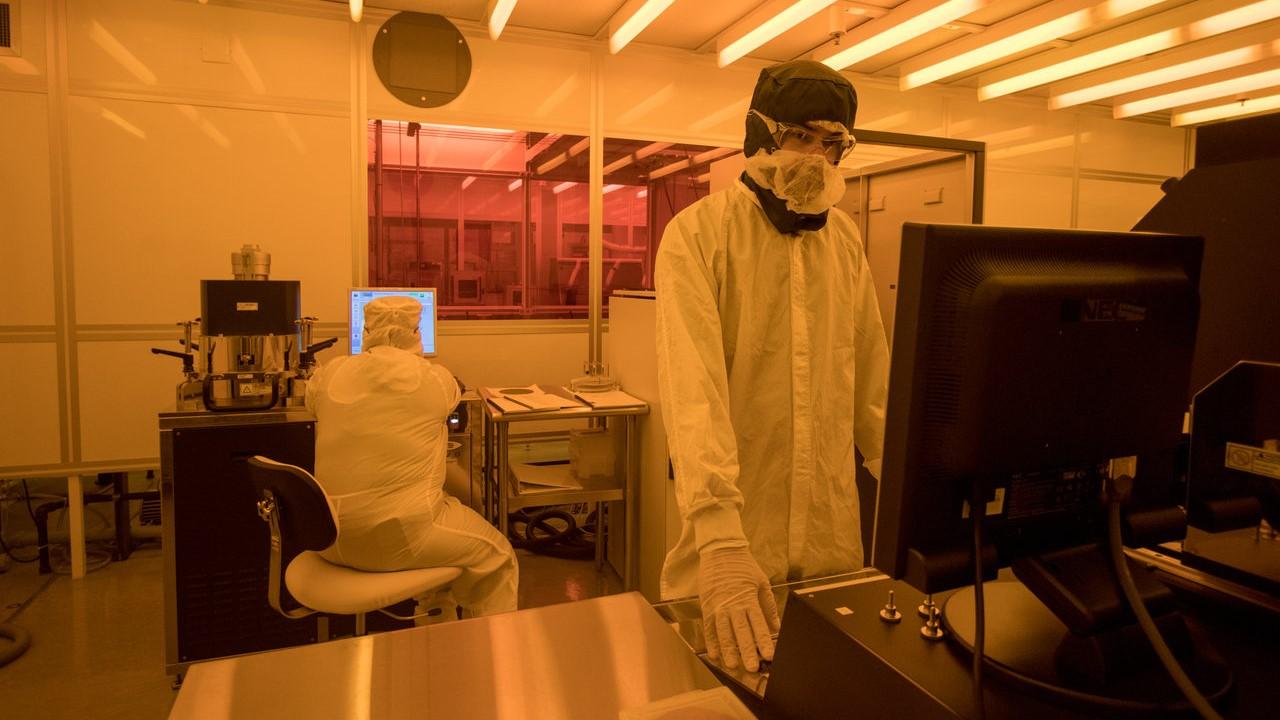 If you go through the heavy double doors at the end of the hallway in Kemper Hall, you'll find several tinted windows looking out into lab spaces full of researchers conducting experiments. Welcome to the UC Davis Center for Nano-MicroManufacturing, known as CNM2.
The facility, home to a 10,000 square foot cleanroom, is UC Davis' hub for nano- and micro-fabrication. With state-of-the-art equipment for techniques such as photolithography, electron beam lithography, dry etching, thin film deposition, thermal processing, characterization and more, the facility serves scientists and engineers across the university, as well as industry and other institutions.
"My goal is to solidify CNM2 as an integral part of the local academic and industrial research community, and provide that community with what they need in terms of micro and nanofabrication," said facility manager Ryan Anderson. "Anyone and everyone whose research has these needs is welcome here."
These tools enable researchers to build semiconductor devices, optical electronics, neural connections and microelectromechanical systems (MEMS) to study everything from quantum communication to microfluidics and develop devices that may one day turn into commercial products.
"We train our members to operate equipment independently and safely, and we provide user specific process guidance where needed to ensure that our members achieve their goals," said Anderson. "Our staff works hard to make sure all CNM2 equipment is operating properly with minimal down time so it is available 24/7."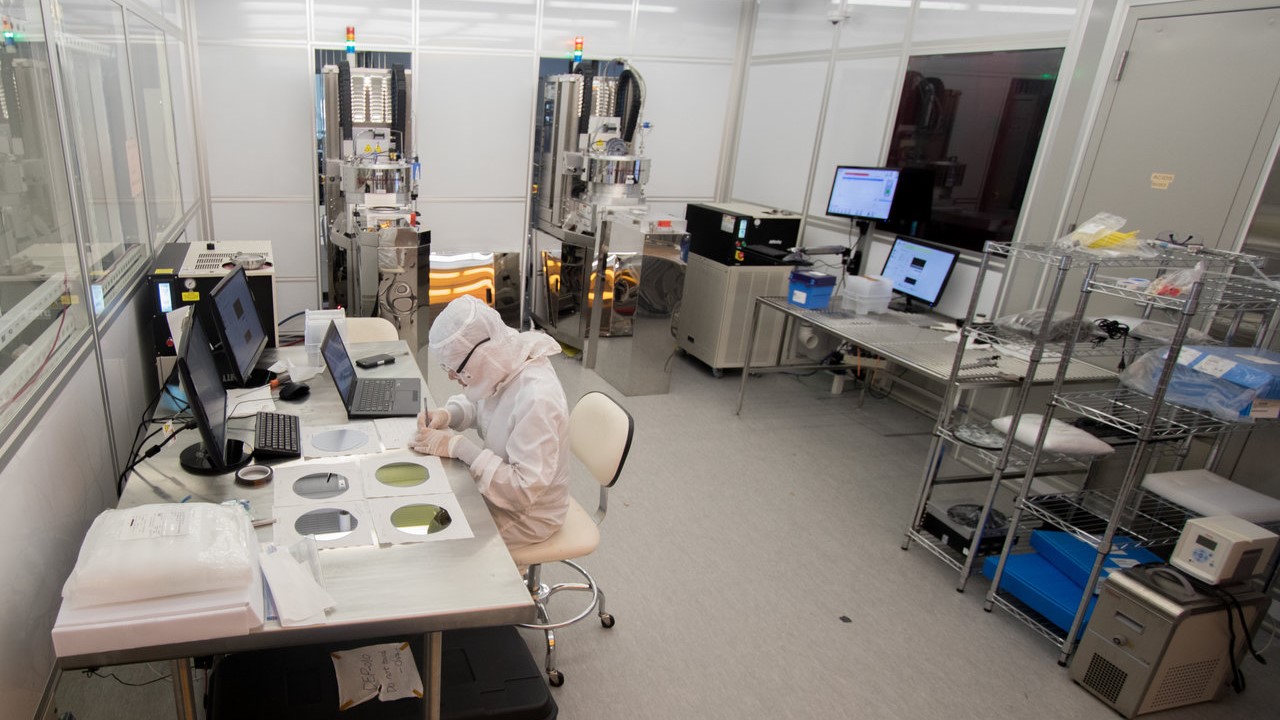 Serving the Community
Though CNM2 opened in 1994, the facility received a multimillion-dollar overhaul from 2016-2018, when new instruments were brought in, along with new toxic gas handling and monitoring systems to serve them.
CNM2 is in a unique position to serve its user base. Having the facility on campus is crucial for researchers at UC Davis, who have traditionally had to travel to the Bay Area to complete their experiments. This is both costly and time-consuming.
"If we want to be leaders in this type of research, we need to offer state-of-the-art nanofabrication abilities on-site," said Anderson. "We have new capabilities formerly not available on campus, along with a friendly customer service-oriented staff. CNM2 has entered an exciting new period in its long history."
Because of its unique position and competitive user rates, CNM2 has started becoming a best-kept secret. Users have come from UCLA, the University of Nevada-Reno and UCSD, along with multiple companies in Northern California. Regardless of where they are from, Anderson and his staff promise to work with them to help achieve their nano and micro-fabrication goals.
Anderson, a UC Davis alumnus who holds a B.S. in applied physics, joined at the end of the renovation in early 2018 and has been the driving force behind this new era. He leads a team of engineers who not only maintain the equipment and train users, but also offer support during experiments. This involves guidance on which parameters to use on which machine and what direction to take projects.
"I really like the cleanroom staff," said electrical and computer engineering Ph.D. student Sridhar Majety. "They're very helpful and thorough in what they do. It's good to have someone who has an overview of the tool or the equipment to point you in the right direction."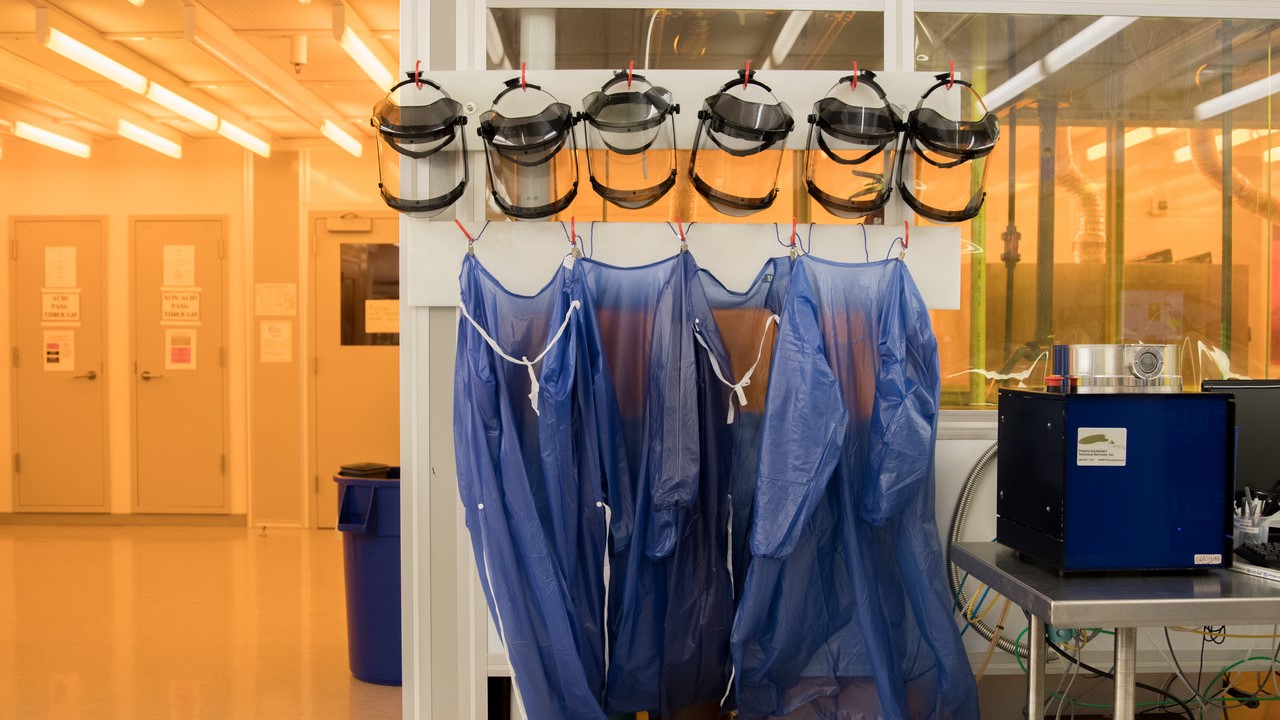 Keeping the Cleanroom Clean
CNM2's cleanroom gets its name because it's designed to be an ultra-low airborne particle environment. This protects materials and devices that are smaller than the average dust particle from being contaminated or destroyed by airborne particulates. Since human hair, skin and clothing constantly shed particles, entering the facility requires extensive preparation.
Users enter a dressing room through a coded door that they have to cover their shoes to go through. Once there, they must put on a hairnet, face mask and safety glasses, as well as a hood, full-body lab coat, foot covers that extend to the shin and two pairs of gloves for extra safety. Only then are they allowed to walk through two more doors to access the cleanroom.
Once inside, even more measures are taken to ensure safety of both the users and their samples.
The back room, where most of the recent renovation took place, safely stores hazardous gases and distributes these gases to process equipment across the facility. These systems work with sensors across CNM2 to detect potential leaks and hazards efficiently and effectively.
Two rooms are designed for photolithography, which means they have tinted yellow lights instead of the typical fluorescents. These yellow lights protect photo-sensitive polymers, used to transfer nanoscale patterns to substrates, from being overexposed by standard overhead fluorescent light.
"They're very particular about their safety and training," said industry user and alumna Daniela Fredrick. "That's huge for me, since I need that cleanroom to be at that level they say it's going to be to minimize contamination of my wafers."
For those interested in learning more, monthly tours of the CNM2 facilities are open to the community.
"The cleanroom is a unique resource on campus," said mechanical and aerospace engineering professor and chair Cristina Davis. "Under Ryan Anderson's leadership, CNM2 is poised to move forward into the next decade with new tools, new processes and expanded capabilities."
Category
Tags