Sandia National Laboratories Honors Students for Innovative Monitor
The Sandia Engineering Design Award celebrates biomedical engineering student team's first-of-its-kind monitor to track intracranial pressure
Biomedical engineering seniors at the University of California, Davis, have received the 2023 Sandia Engineering Design Award for a capstone project that may transform how doctors treat elevated intracranial pressure, a severe condition where pressure continues to develop in someone's head due to a tumor, brain infection or neurological injury. 
The award celebrates outstanding projects that support Sandia National Laboratories' national security mission or one of the National Academy of Engineering's 14 grand challenges of engineering, which range from enhancing virtual reality to advancing personalized learning. 
This year's winning team addresses the grand challenge of health informatics with a non-invasive monitor that supplies highly accurate data about the pressure inside a patient's head. 
Their achievement marks the second consecutive year that a team of biomedical engineers has earned the recognition of Sandia National Laboratories, which sponsors and issues the award at the annual Engineering Design Showcase, a culminating event for students in the College of Engineering to present their senior design projects to the public. 
"I think one thing about our projects is that they make real clinical impacts because they come from real clinical situations," said Xianglong Wang, an assistant professor of teaching and an advisor to the winning team. "Another is that our students are very dedicated to converting their ideas into engineering solutions and making these solutions work." 
Taking the Pressure Off Doctors and Patients 
The current gold standard for monitoring elevated intracranial pressure, or ICP,  is inserting a catheter into the head following a craniectomy or removing a portion of the skull. 
While the method is efficient, the invasive nature of the catheter leaves patients susceptible to complications like an infection of the nervous system. The physician's only alternative is a risk assessment by pressing on the patient's scalp to see if parts are too soft or too firm.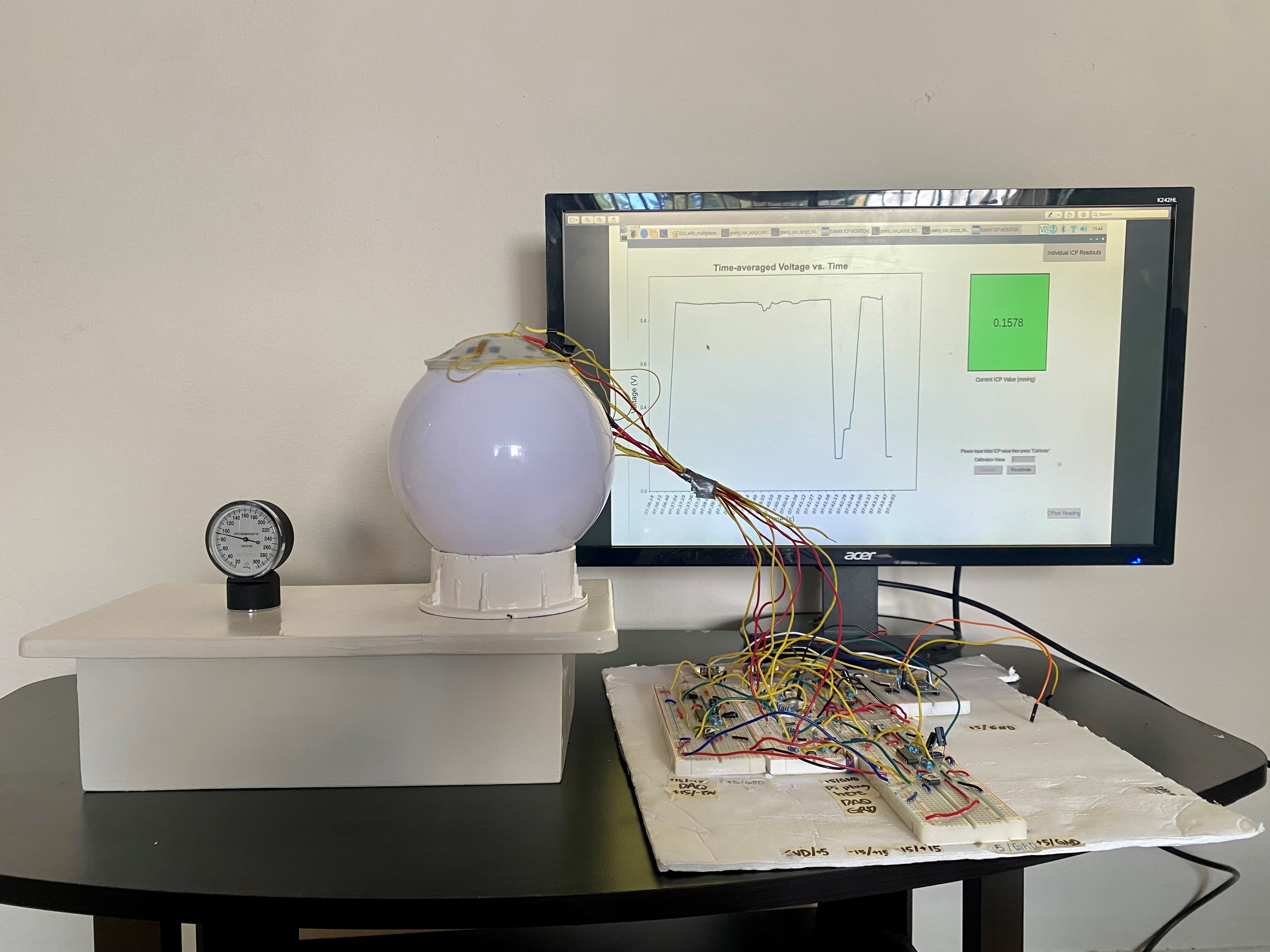 With this challenge in mind, the Clinical and Translational Science Center at UC Davis Health, working with Associate Professor of Teaching Jennifer Choi, called for a design that could improve the care process for ICP. Students Grace Baird, Avinash Rajamani, Madison Feaver, Isha Bhagavatula and Xuanbei Pan gladly accepted that call as their capstone design project. 
Throughout their senior year, they worked together to ideate, refine and prototype GAMIX. GAMIX is a mesh monitor that fits onto the craniectomy flap, or the part of the skin left without the skull after surgery, to track the amount of pressure in someone's head. 
The design uses six strain gauges, or electrical sensors that output different voltages when stretched, compressed, or angled up or down, to capture data about deformation in various parts of the flap. With this data, the monitor creates an average of deformation to infer the amount of pressure on the brain without introducing any health risks to the patient, unlike the catheter. 
If approved by the Food and Drug Administration, GAMIX would be the world's first non-invasive monitor for increased intracranial pressure.  
It Takes a Dedicated Team  
When asked what set the GAMIX team apart from other finalists for the award, Wang did not hesitate to respond. 
"It's their dedication. That's the team that put so much time into making sure that their product is successful." 
Wang explained their dedication through their openness to the design process, refining their idea several times throughout the year and working through several iterations to create the best prototype. 
Another element he highlighted was their commitment to collaboration with one another, their clients at UC Davis Health and their teaching assistants, Brian Huo and Anna Knapp. This spirit of collaboration is perhaps best understood through the project's title.  
"GAMIX is an acronym for all of our names — Grace, Avinash, Madison, Isha and Xuanbei," Bhagavatula said. "I think it started out as a kind of lighthearted way to name our senior design project, but it also reflects our team dynamic, where everyone was an equal contributor to our senior design project. I honestly don't think our project would have been as successful without everyone bringing their unique skills to make it happen." 
Beyond the award, Wang believes GAMIX's success is a much broader sign of things to come in engineering. 
"Looking at the latest generation of biomedical engineers and the future, we have a lot of things to be hopeful about." 
Primary Category
Secondary Categories
Tags