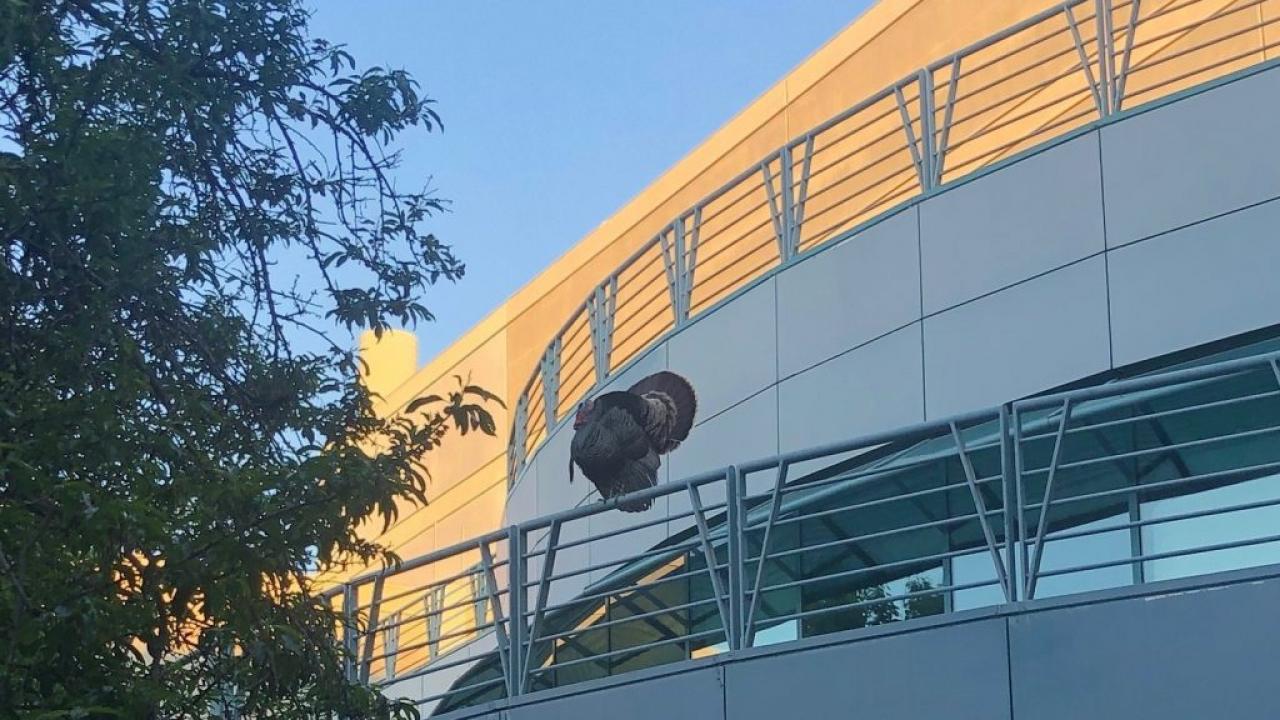 Since campus has moved to suspended operations, everyone is working hard to keep things running smoothly for the students and each other. Whether it's connecting with colleagues and faculty virtually more than ever before, or seeing close to no one in our engineering buildings, work looks a lot different for all of us as College of Engineering staff.
In this edition of the College of Engineering's Staff Spotlight, we hear from David Griffiths, Melanie Christensen, Jason Sison and Brigitta Schumacher-Bradley about their experiences working from home and maintaining our facilities on campus.
What does a typical day look like for you now?
David Griffiths, Facilities Project Manager:
My day at work is very different now since the shelter in place began. I start my day by walking all floors of Academic Surge, Ghausi Hall, Bainer Hall and Kemper Hall to make sure everything is in order and functioning correctly. I check on certain rooms and laboratories and provide updates. After walking the buildings, I start answering emails, which have greatly increased because people working off campus need answers that they cannot easily get while not on site. I have also noticed an increase in meetings for this same reason. Of course these meetings are all on Zoom!
Campus is now a lonely place. You may see one or two people in some buildings and absolutely none in others. The turkeys and ducks seem to be coming further and further into the heart of campus and the turkeys seem to be trying to take over Kemper Hall and Academic Surge!
Melanie Christensen, Academic Personnel Analyst:
My typical day is filled with policy and procedure questions, faculty reviews and leaves, process analysis, improvement, documentation and adding functionality to our academic personnel database.  I think I actually connect more often with our faculty and department staff now than I did when I came to campus to work.  Zoom has become an integral part of everyday life. 
Aside from discovering that our unit functions well remotely, there have been other positives to this new reality. I am taking more time to connect with family and friends, especially those living in other parts of the country harder hit by COVID-19, and we all plan to continue to do so once the pandemic subsides. My garden is flourishing and my cat is thrilled that I am home and wondering when I plan to leave so that she can sleep.
Jason Sison, Undergraduate Student Advisor, Computer Science:
Having been both a college student and a student services professional for many years at different institutions, I've always been aware that the main challenges to online learning and working remotely are ultimately self-discipline and time management. Knowing this, my first priority once campus suspended operations was to rearrange one of the spare rooms in my house into a dedicated office space that was both functional and a mental stand-in as my physical workspace that I would "report to" during work hours. There are, of course, still some distractions present, but building a set work routine around a dedicated space has definitely helped my focus and made it easier to get things done during my normal hours.
Brigitta Schumacher-Bradley, Distance Learning Coordinator
I run the distance learning program where students take graduate-level engineering classes remotely from Lawrence Livermore National Laboratory. Normally, I'm in the distance learning classroom in Bainer a lot and I have a team of six students who record the classes, which is more intensive because they have to follow the faculty around the room with the camera. Now I work directly with faculty to make sure all of the distance learning classes are recorded and running smoothly. Sometimes faculty forget to hit "record" at the beginning or after their break, or they don't always know if they have a squealing microphone or need to move their document camera slightly, so I message them behind the scenes. 
I have been going to campus on Thursdays because some of the seminar speakers prefer to use the distance learning classroom in person for recording. We have masks and Lysol wipes and the place is a ghost town and I only see a few people throughout the day. Parking is easy —EXCEPT for the turkeys who chase me when I get out of my car! They have become even bolder!
How has the transition to "suspended operations" been for you and your team?
David Griffiths, Facilities Project Manager:
Projects are difficult to keep on track right now because most departments that we work with are down to skeleton crews, so changing duration schedules is often required. Managing the receiving department with reduced staff also takes a great deal of effort from facilities as well. Having a business continuity plan already in place has been a huge benefit.
Jason Sison, Undergraduate Student Advisor, Computer Science:
The move to suspended operations actually came at a somewhat bad time, as we had just added two new advisors to our team who are brand new to the UC system. Despite that setback, our manager Meshell Louderman went above and beyond, giving us all of the tools and resources we needed to be fully functional remotely. As a result, training has been able to continue relatively well and the new CS advising team has been able to take care of business as usual, while also bonding as a team of coworkers and friends.
Brigitta Schumacher-Bradley, Distance Learning Coordinator
Previously, we recorded the classes for our students at Livermore, so distance learning is not new to them. Usually I have a team of student employees who record these classes with our specialized camera equipment, but now most classes are being taught at professors' homes and being recorded on Zoom. I get more immediate interaction with faculty and students through Zoom at the beginning or end of class or with chat when working from home. The "we're all learning this together" spirit has been nice. 
What are you looking forward to the most about returning to campus once the shelter in place order lifts?
David Griffiths, Facilities Project Manager:
I look forward to seeing everyone. We work in a great place with a lot of positive people and I miss the energy the campus has when everyone is here.  
Melanie Christensen, Academic Personnel Analyst:
One of the parts of campus work life that I miss most is taking my twice-daily walk. I am most looking forward to resuming this and working with my colleagues and friends in person. I am thankful every day that I work for the university and admire that we as a community have been able to adapt so quickly to these challenging times. 
Category