Student Startup Center: Inspiring Undergraduate Innovators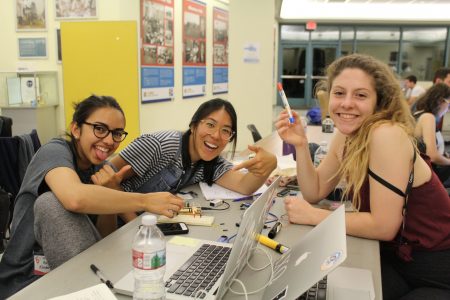 The UC Davis Student Startup Center (SSC) is designed to provide all UC Davis students with an opportunity to experience the entrepreneurial process while developing, refining and prototyping their ideas for technology startups. The center was established by the UC Davis College of Engineering but is open to all majors, students and faculty.
The SSC's primary focus is on undergraduate students and aims to make the world a better place through innovative startups. The center provides resources, programs, coursework and networking to support their needs.
"When I came here there were other entrepreneurial groups on campus but historically, those organizations were focused on graduate students and faculty. We saw a gap in services provided to a core group of entrepreneurs here – undergrads. There are 30,000 of them on campus, they have the freshest perspective and are most likely to come up with creative solutions. Our focus is providing resources to those students," said Liz Tang, Director of the Student Startup Center.
The SSC also differentiates itself from other entrepreneurial places on campus with the physical space that is available to all students and student teams to work on their projects. They have open hours where all of their prototyping equipment, including 3D printers, a CNC machine, a 3D laser printer, electronics kits, virtual and augmented reality headsets and more are available at no cost.
One of the main components of the SSC is its in-class curriculum. Because there is no business major or entrepreneurship minor on campus for undergraduate students, the SSC offers a certificate in entrepreneurship for students who complete the two courses taught by the center's directors, some additional elective courses and a practicum experience.
"The interest in the SSC may have always been there, but over the years the quality of the teams has improved because we are doing a better job of  networking, bringing students together and we've grown to the point where if someone comes in and says they need help with something we are able to point them in the right direction immediately," said Tang.
Aside from offering curriculum, space and the different prototyping tools, the SSC hosts pitches and popcorn nights every week, which is open to all students to come and evaluate different pitches. They also offer PLASMA, a 12-week accelerator program for students who have found product-market fit and want to pursue their startup. Ten top teams with undergraduate founders are chosen for this selective program. The teams work through 12 weeks of intense mentorship as a cohort. At the end of the program, real investors are invited to learn about those teams' products in their early stages at Demo Day.
"We want to always have something going on, so that students are coming in and meeting other founders or even a potential co-founder for their startup," said Tang.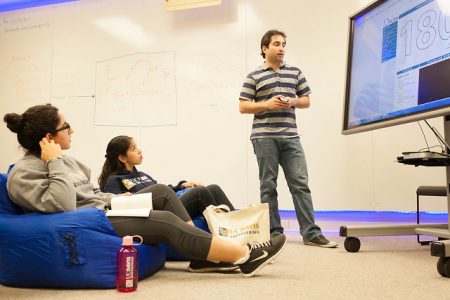 This year the SSC plans to offer an additional course and provide more mentor engagement by bringing someone in each week to engage with the students.
The SSC also wants to attract even more undergraduate students from across all disciplines and see more teams applying to PLASMA, so they are going to start a mini challenge series where they partner with clubs and other departments on campus and give them the resources to help their students form teams and solve problems using design thinking in a way that is marketable in the world.
"One of our most exciting teams, JAPA, came from my first class in 2016. It started with six guys who didn't know each other, but quickly formed a team and decided that they all hated campus parking. At the end of the course they knew they wanted to take it further and continued working with the Student Startup Center. Three years later they have an extremely robust data system for parking lot managers that recently launched at UC Berkeley and have started their expansion to other UCs," said Tang. "This is just one example of student success that comes from this center."
"The Student Startup Center is JAPA's first home. Not only did we start our company there, but we leveraged the Center's resources to further our business and get exposed to a larger audience. If it wasn't for the SSC, we never would have been able to turn our idea into a real business so quickly," added Mat Magno, founder of JAPA.
Primary Category
Tags