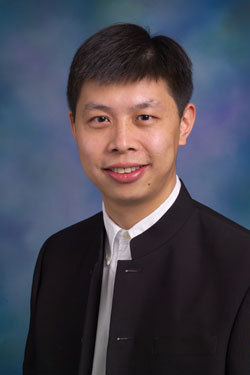 Representative Jerry McNerney (D-CA9) highlighted the research of UC Davis Professor Tingrui Pan on the floor of the U.S. House of Representatives on July 19. 
An assistant professor in the Department of Biomedical Engineering and director of the Micro-Nano Innovations Laboratory, Pan and members of his research team recently developed an essentially waterproof fabric which, when worn, removes sweat while remaining dry and "breathable." 
This work came to the attention of Representative McNerney, who represents the 9th District communities of Stockton, East Contra Costa County and surrounding towns. Representative McNerney has a PhD in math, and he helped develop wind turbines prior to his Congressional service; he remains strongly interested in scientific breakthroughs. 
By longtime consent of the members of the U.S. House of Representatives, a legislative day — following the daily prayer, the Pledge of Allegiance, and approval of the previous day's House Journal — often begins with up to a dozen 60-second informal speeches known as "one minutes." Representatives sign up for these short speeches on a first come/first served basis, and they can discuss essentially anything: from Congressional business — announcing a new bill, explaining an upcoming floor amendment — to expressing an opinion about local, national or international events. Speakers also might deliver a eulogy or a tribute to specific individuals or organizations in their congressional district. 
Representative McNerney takes these opportunities, every two or three weeks, to highlight various math or science developments, by way of demonstrating the ongoing need for federal funding to support such discoveries and advances. 
At 6:13 a.m. (PST) Friday, July 19, his comments included the following: 
Mr. Speaker, I rise today to bring your attention to the development of an exciting new fabric that recently was created by biomedical engineers at UC Davis: a fabric that drives moisture away. Two graduate students — Siyuan Xing and Jia Jiang — at the Micro-Nano Innovations Laboratory led by Professor Tingrui Pan, with the financial support of the National Science Foundation, developed a textile that stays dry by forming moisture into droplets that drain away by attaching a network of water-attracting threads to water-repellent fabric. 
This project is likely to be developed into materials that will help our firefighters and troops stay cool while in the field, or help astronauts conserve precious liquids while in space. 
I'm proud to support federal funding for scientific research, and I urge my colleagues to do the same. 
Representative McNerney is one of very few members of the House of Representatives to use these "one minutes" in such a fashion, and he's certainly the only member to do so on a regular basis. 
More info: 
Representative Jerry McNerney (D-CA9) 
Video of Rep. McNerney's Comments 
Non-wetting fabric drains sweat 
Tingrui Pan 
Category
Tags