Professor Ralph Aldredge Receives VentureWell Foundation Grant
Grant will fund expanded outreach to foster entrepreneurship among under-represented students
Quick Summary
Associate Dean for Undergraduate Studies Ralph Aldredge receives a Course & Program Grant from VentureWell for equipping underrepresented student entrepreneurs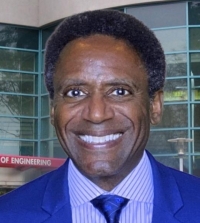 Associate Dean for Undergraduate Studies in the College of Engineering and Professor of Mechanical and Aerospace Engineering at UC Davis, Ralph Aldredge, received a Course & Program Grant from the VentureWell Foundation. The grant will support targeted outreach to introduce underrepresented undergraduate students to entrepreneurship at the Student Startup Center. The grant will also expand efforts to promote interdisciplinary student entrepreneurial teams led by members of underrepresented groups. Students will work as teams to address social and environmental challenges through entrepreneurship. Dawn McGee, administrator of the Student Startup Center, will lead the outreach and engagement efforts.
Committed to Innovative Research and DEI
One of 14 grant recipients chosen through a competitive national review process, Aldredge has shown a long-term commitment to innovative research and diversity, equity and inclusion. His engineering interests include combustion, heat transfer, biofluid dynamics, and forensic science.
Aldredge has served as chair of the Academic Senate Committee on Admissions and Enrollment and chair of the UC system-wide Board of Admissions and Relations with Schools. In addition, he played an integral role in designing the system-wide and UC Davis holistic-review undergraduate-admissions policies, which increase diversity, equity and inclusion through comprehensive review. Aldredge is also the faculty advisor to UC Davis' Black Engineering Association.
Resourcing Diverse Entrepreneurs to Create Social Change
Aldredge is excited by VentureWell's goals and looks forward to achieving their shared mission. "We are very grateful for the VentureWell Course & Program Grant, which will allow us to expose under-represented undergraduate students to the entrepreneurial mindset and the use of entrepreneurship as a tool to address some of the world's greatest societal challenges!"
More about VentureWell's Course & Program Grants 
VentureWell's Course & Program Grants help faculty and staff at institutions across the country develop or sustain courses and programs that encourage STEM innovation. VentureWell receives funding from a variety of sources, including The Lemelson Foundation, as well as from the National Science Foundation, the United States Department of State, the United States Agency for International Development, the Bill & Melinda Gates Foundation, and many others. According to VentureWell, they 'envision a world in which science and technology innovators have the support, training, and access to networks and resources they need to solve the world's most difficult problems.'
Primary Category
Secondary Categories
Tags