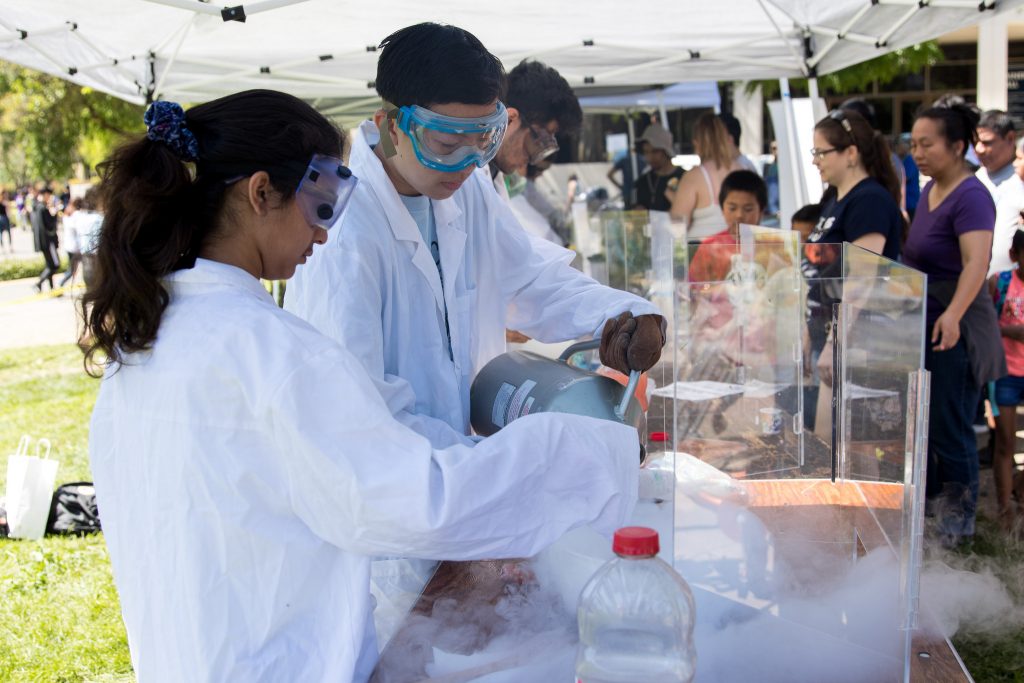 Picnic Day is a longstanding UC Davis tradition to showcase the great breadth and excellence of all that UC Davis brings to the community of Davis and beyond. This year, the College of Engineering's students, faculty and staff will host interactive events across Kemper Hall, Bainer Hall, Academic Surge and in the Sciences Lecture Hall on Saturday, April 13.
This year's theme, "Adventure Awaits," was chosen by the Picnic Day Board of Directors to represent the adventure that every past, current and future UC Davis student experiences as they pursue their academic and personal goals throughout their college years. The theme also embodies what visitors can expect when they attend Picnic Day - exploration, opportunity and discovery! The complete schedule for Picnic Day 2019 will be available online in April.
Follow us on Instagram, Twitter, and Facebook for live updates from students, faculty and staff on Saturday, April 13.
Give Day
For the third year in a row, Picnic Day also coincides with UC Davis Give Day. Alumni and friends are encouraged to donate to the College of Engineering on Give Day.
Class Reunions
UC Davis College of Engineering welcomes Alumni Aggie Engineers back to campus for Picnic Day to celebration excellence in engineering and milestone anniversaries for the classes of 1964, '69, '74, '79, '84, '89, '94, '99, '04, '09 and '14. Stop by for a special alumni gift and goodies! Class reunion photos will take place at 11:45 a.m.
Contact Molly Bechtel, Outreach and Engagement Coordinator, at mmbechtel@ucdavis.edu or (530) 400-3213 for more information.
College of Engineering Schedule of Events
Robotics and Makespace
Bainer Hall Lobby 9:30 a.m. – 3:30 p.m.
Come to build, make, play, program, and control your own robotics systems using Linkbot developed by UC Davis C-STEM Center and Barobo, Inc. Create robots of your imagination!
Engineering Alumni Lounge
Kemper Hall 1131 10 a.m. – 2 p.m.
Relax and recharge with fellow engineering alumni, family members, and friends. Fill up your water bottle, charge your phone, and more to beat busy on Picnic Day.
Liquid Nitrogen Sorbert
Jungerman Hall 10 a.m. – 2 p.m.
What boils at -320°F and is cold enough to burn? Liquid nitrogen, of course! If you would like to see this incredible chemical phenomenon and better yet, eat it, come on down to try our Liquid Nitrogen Sorbet!
Interactive Electronic Exhibits with IEEE and EE-Emerge
Kemper Hall Lobby 10 a.m. – 2 p.m.
See the mysterious 2D Surface! Challenge a friend to color light challenge! Play the infinity Rubik Cube! Watch water defy gravity at the Time Fountain!
Engineering Student Design Center Open House
Bainer Hall 1220-1230 10 a.m. – 2 p.m.
The Engineering Student Design Center (ESDC) is where an engineering student gets to saw, cut, drill, turn, mill, weld, and 3D-print their ideas. We are located in 1220 Bainer Hall on the north side of Bainer Hall. Stop by and check us out.
Smart, Safe, and Environment-Friendly Farming
Bainer Hall 1330 10 a.m. – 2 p.m.
Discover the latest technology and engineering solutions for a safe, productive, efficient, and environment-friendly agriculture.
Shaking and Moving the Earth with Civil Engineers
Ghausi Hall Lobby 10 a.m. – 2 p.m.
Build K'nex structures and test them under earthquake conditions; create an earthquake; sculpt mountains and break dams without augmented reality sandbox.
Chemical Engineering Alumni Barbecue
Crocker Nuclear Laboratory Lawn 10 a.m. – 2 p.m.
The CHMS Departments welcomes graduates to annual Alumni BBQ! This is an opportunity for Alumni to reconnect, network, and socialize with peers.
Silly Putty Kids Craft
Bainer Hall, East Lawn 10 a.m. – 2 p.m.
Join the AIChE community in a craft for the whole family! We will be creating silly putty out of borax and Elmer's glue! Don't miss out!
Flight Simulator and Aerospace Displays
Academic Surge 1113 10 a.m. – 2 p.m.
Visit the HRVIP Lab to fly an aircraft simulator and view aerospace displays!
Laser Maze
Kemper Hall 1003 10 a.m. – 3 p.m.
Navigate your way through a maze made entirely of laser beams. Sure to be a popular attraction, get there early to avoid long lines!
Rube Goldberg Demos from Theta Tau
Giedt Hall 1002 10 a.m. – 3 p.m.
Are you interested in intricate ways to get things done? Come see a Rube Goldberg machine in action and maybe even make one for yourself!
NATCAR
Outside of Bainer Hall 10 a.m. – 5 p.m.
Check out this Autonomous Car exhibit.
Materials Magic Show – SPACE IS LIMITED
Sciences Lecture Hall 123 11-11:30 a.m., 12-12:30 p.m. and 1-1:30 p.m. 
Join the Material Advantage Student Chapter as they bring you on a Incredibles-themed journey through the wonderful world of materials science! Three shows consisting of various audience-friendly demonstrations will take place at 11am, 12pm, and 1pm.
College of Engineering Alumni and Prospective Student Drop-In
Bainer Hall, North Lawn 12-2 p.m.
Visit the College of Engineering outside of the Engineering Student Design Center. Meet the Dean, grab some swag, and learn more about how Aggie Engineers are changing the world.
Tour of Terrors
Kemper Hall 1127 12 p.m., 12:40 p.m., 1:50 p.m. and 2:30 p.m. 
Brave your way through hair-raising scenes of health horrors. Watch BME save the day. Ticket distribution: 10:30 AM at 1127 Kemper.