Aggie Engineers Design a Pathway to Mars
When NASA's Perseverence rover approached Mars on February 18, 2021, UC Davis mechanical and aerospace engineering (MAE) alumna Jessica Samuels '99 and Sara Langberg '16 watched particularly closely to see their hard work pay off. Perseverance, the largest and most advanced Mars rover to date, will explore the existence of water, launch history's first extraterrestrial helicopter and serve as the first leg of a mission to collect Martian rock and soil samples and bring them to Earth.
Samuels is a principal systems engineer at NASA's Jet Propulsion Laboratory (JPL). For Perseverance, she led the teams behind the sampling and catching system, the spacecraft flight systems engineering development and surface operations. She was thrilled to see the landing video Perseverance recorded, which proved these systems she spent years designing, testing, refining and integrating did indeed work as they should.
"It's a real treat to get to develop these operations," said Samuels. "It's also really rewarding to go through the whole life cycle of the project and then feed our lessons learned back into future operations."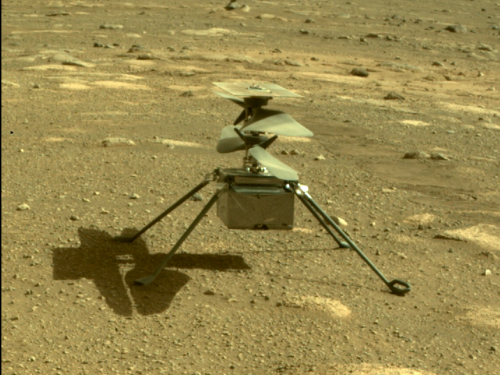 Langberg was excited to see Perseverance's precious cargo—the Ingenuity helicopter she built as an aeromechanical engineer at AeroVironment—survive to make the first powered flight on another planet. Ingenuity opens the door for larger and more complex helicopters that can explore greater distances and more difficult terrains on Mars.
"I'm honored and humbled to be a part of it," said Langberg. "Hardware that I designed and built with my own hands is going to touch the surface of Mars and that's just mind-boggling."
Though Samuels and Langberg contributed to Perseverance in different ways and took different paths to the project, their stories both started as MAE undergraduate students at UC Davis.
The Power of Teamwork
Samuels' first engineering team experience was through Aerobrick, a competition team that designs, builds and tests small remote-controlled aircraft. Though she learned a lot from her classes, her experiences with these design projects inspired her the most.
"I can't express enough that you have to be hands-on [in engineering]," she said. "You have to feel it, see it and know physically how things work in order to apply it."
Aerobrick was where she developed her teamwork skills and learned how to communicate with teammates across disciplines and specialties.
"UC Davis provided a lot of opportunities for getting hands-on building experience," she said. "Working together to build something is where you really see if you understood what you were learning."
Teamwork is critical for her role at JPL, as she coordinates with the mission's engineering and science teams to define the capabilities each instrument needs to do its job, support the other instruments and operate safely and effectively. Now that Perseverance is on the ground, she'll continue working with her fellow engineers and the science team as they test all the components during commissioning.
"As systems engineers, we like to think of ourselves as the glue of this spacecraft—defining all the interconnections, communications and the type of information needed to operate the spacecraft," she said. "We have these high-level requirements of collecting samples and being able to live and drive 20 km for one Martian year, but we're the ones who figure out what it means to actually be able to do that."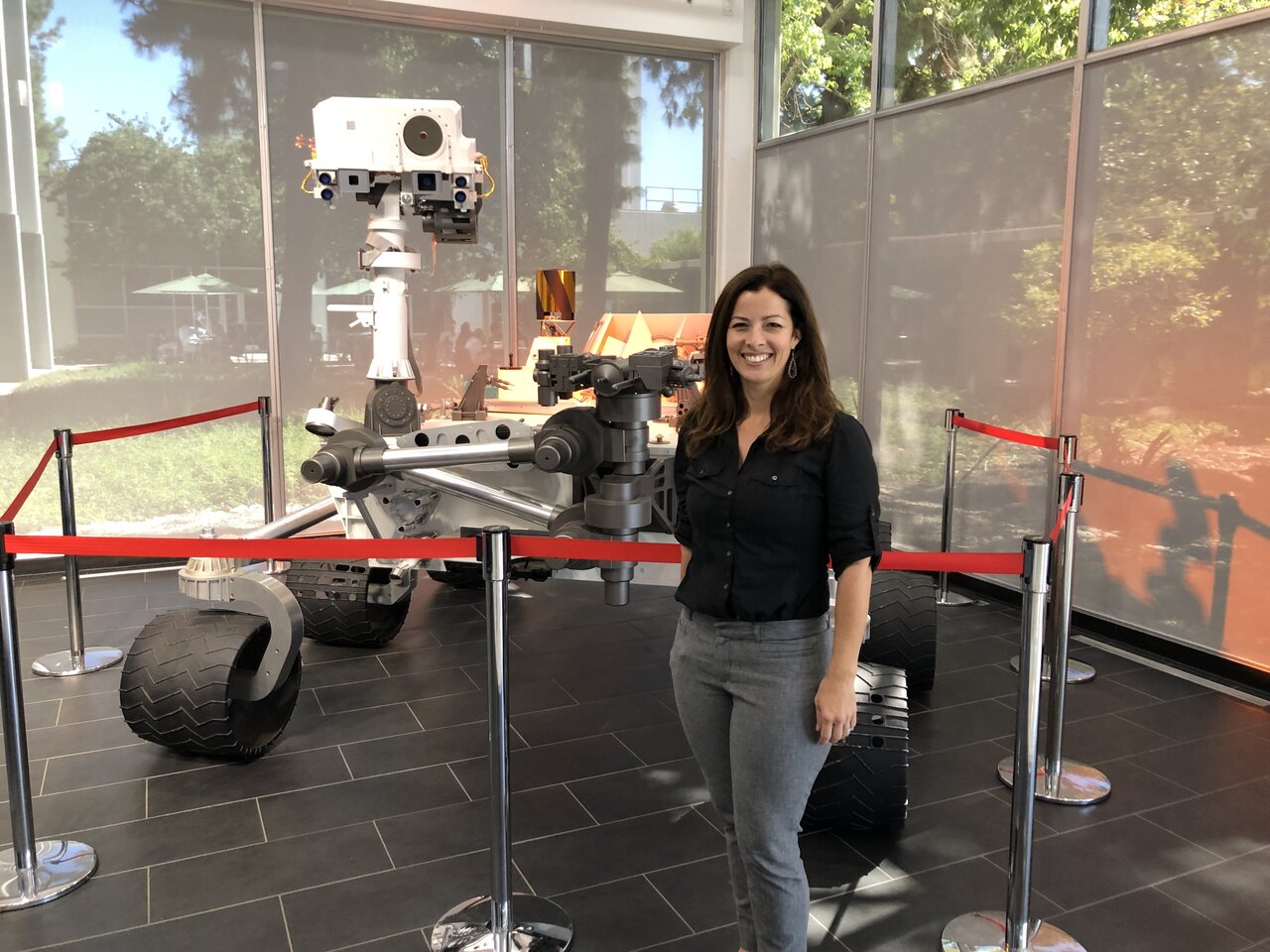 One of Langberg's formative experiences at UC Davis was working as an undergraduate researcher in MAE professor Steve Robinson's lab. Robinson, a former astronaut, inspired her with the world of possibilities in aerospace engineering. She also learned to work with others while working on a project to design and test a flow control system with intelligent vortex generators.
"Professor Robinson is a huge mentor for me," she said. "He really made me passionate about learning, asking questions and thinking critically. I'd always been interested in aerospace, but he really got me excited about what's possible."
This curiosity, passion for aerospace and love of hands-on projects continue to compel her at AeroVironment.
"I still feel very much like I'm in that learning environment at UC Davis," she said. "I'm still building things, I'm constantly asking questions about the systems I'm working on and I'm learning new skills every day. Having that curiosity and passion for trying things feeds well into a program like Ingenuity."
From Shop Assistants to Aerospace Engineers
Samuels and Langberg both worked as student assistants in the campus machine shop, now known Engineering Student Design Center (ESDC) and each cite it as a huge influence in their careers.
Langberg loved working with the ESDC staff and her fellow student assistants as she was introduced to hands-on learning and prototyping. Her ESDC experience also fostered her love of mechanical systems.
"I loved every minute of it," she said. "Working with the shop staff was a lot of fun and it taught me how to look at things from a manufacturing standpoint and learn different ways of building things. That hands-on building experience in the ESDC was priceless and what really enabled me to excel."
She uses these skills every day at AeroVironment. Every part of Ingenuity needed to be optimized specifically for this project, so Langberg did a lot of rapid R&D prototyping, mostly on the helicopter's landing gear. She describes her routine as "build it, test it, see what works; learn fast, fail fast, make it better and try again."
"There's no textbook to tell you how to design a helicopter for Mars," she said. "Our biggest challenge was the 'unknown unknowns'—things that we didn't know that we would need to expect and design for."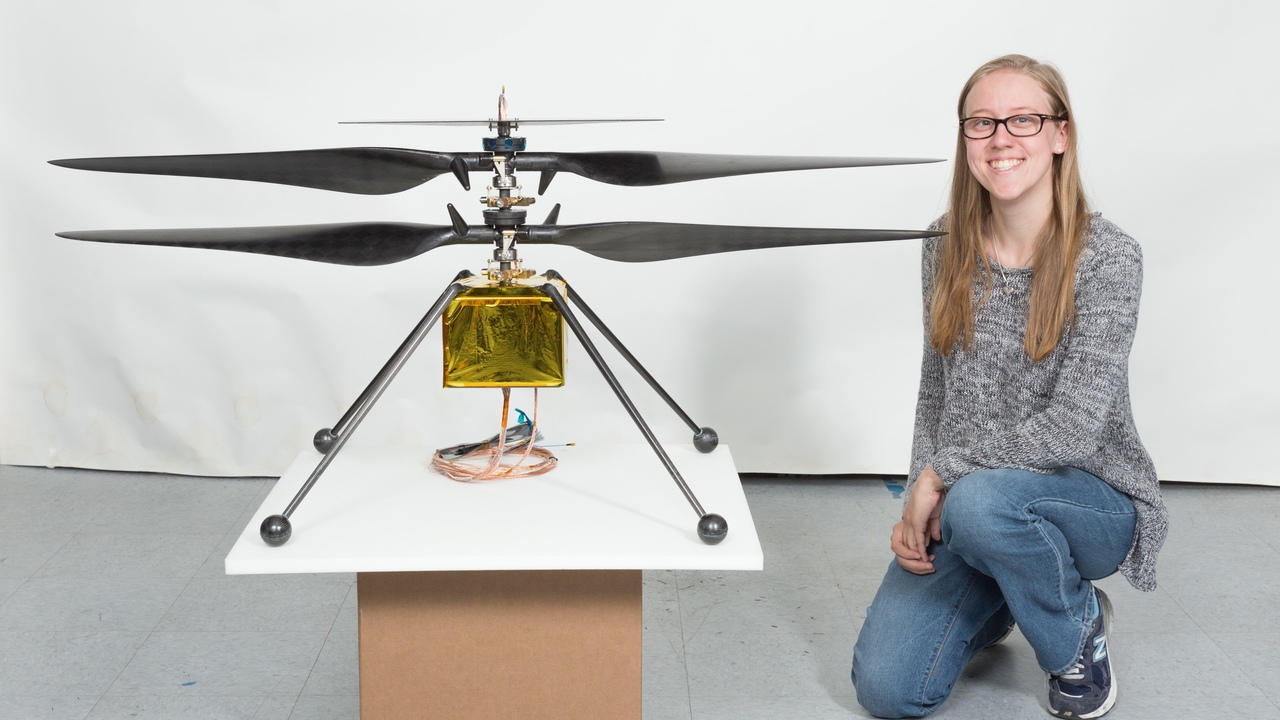 Samuels remembers the culture of openness and learning she found at the ESDC, and how comfortable she felt asking questions to the staff, or her professors. She said that same culture permeated the college and fondly remembers visiting open-door labs in Bainer Hall and Kemper Hall simply because she was interested in what was going on.
"That created a culture that I could bring to the workplace," she said. "It's important not to be afraid to ask if you don't know something, because there will always be things that you don't know. The whole point is to continue to learn."
These are concepts Samuels plans to use in the next phase of the project, both in leading the surface operations team and in thinking about the next phase of the project to bring the Martian samples home.
"One of the perks of the job is that we get to give back by sharing what we do and inspiring the next group to come work with us," she said. "Especially with our next leg of this mission, we need people to help us get these samples home."
This story was featured in the Spring 2021 issue of Engineering Progress.
Primary Category
Tags