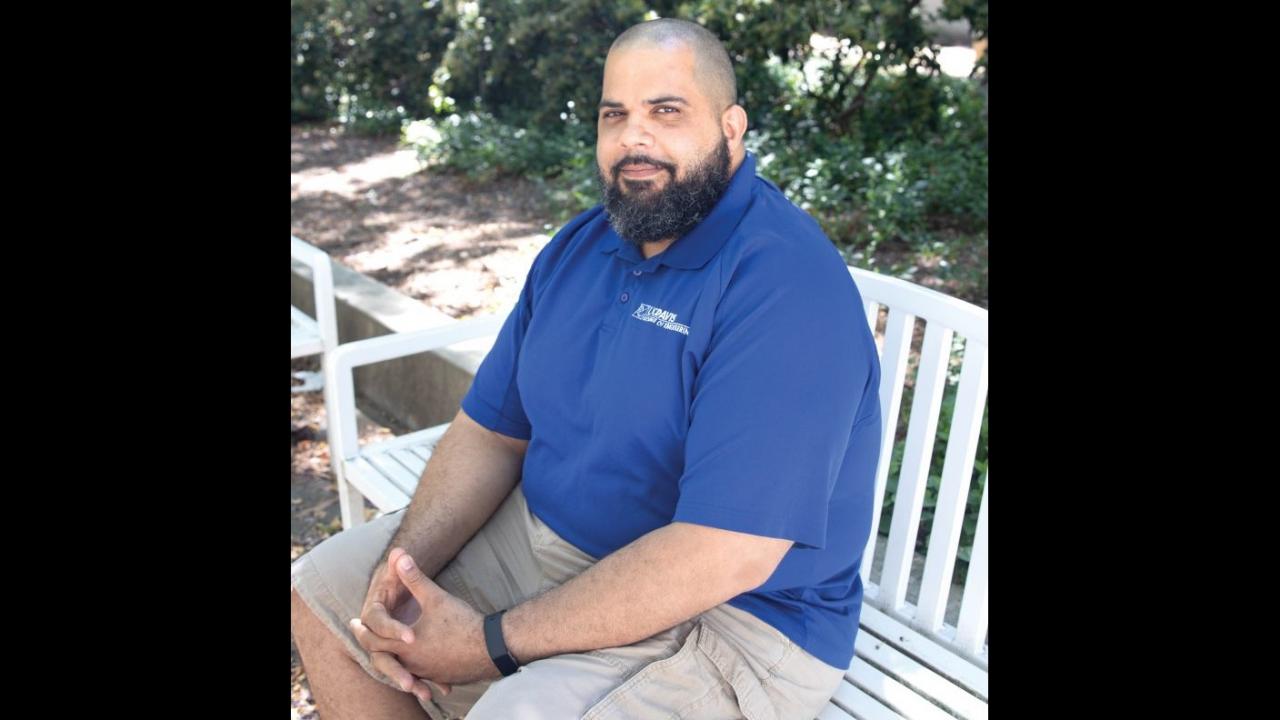 By Brady Oppenheim
Go to any UC Davis College of Engineering event and you're likely to see Dean Bunn. Mentoring students at campus computer programming and robotics contests, greeting families at Move-In Weekend or just tweeting pictures about his daily UC Davis adventures, Bunn's warm, welcoming and well-known presence is part of the fabric of the college and university. A UC Davis employee since 2003, he lives the university's Principles of Community each and every day, wherever he is.
"I'm here to help everyone succeed," he said. "It's not just a job to me—it's all about the happy!"
Here to help everyone
The Bay Area native, veteran, husband and father of three began his teamwork-centric tech career in the Army, where he served six years in locations including the Middle East, Washington and Germany while at the same time working on his kinesiology/physical-education bachelor's degree through Hayward's California State University, East Bay.
"I did mobile communications support for all of our units, working out of the backs of Army trucks," he said. "While I was in Saudi Arabia—where I served twice—the Army would fly in professors so we could start or continue our college educations. I would say to my fellow soldiers, 'I've got to go—I've got a final!'"
He brought his Army-strong dedication, education and teamwork to UC Davis 16 years ago, moving from the UC Davis Chancellor's Office, where he provided tech support to smaller affiliated units, to the College of Biological Sciences, where he worked in tandem with the Information and Education Technology department to provide programming services for campus clientele, to—now—the College of Engineering, where he's been since 2013.
As an application developer and all-around tech guru, he helps solve programming and information problems for all those who come his way. And those who typically show up in Bunn's warm and comfortable Academic Surge office arrive in the midst of a massive crisis: lost data; missing files; information needed yesterday.
Recent major tech projects Bunn's been proud to program include data-crunching for the UC Davis Tahoe Environmental Research Center's studies on Lake Tahoe's health, and creating searchable student segments for potential Aggie employers. But, here to help everyone, Bunn's ready to take on seemingly small things that mean a big deal to the people they affect. Eschewing the tech-speak and explaining issues in everyday language, he engages all students, staff, researchers and faculty—regardless of background—in becoming their own problem-solvers.
"We're a very diverse team here in the College of Engineering—we all work together as a group," said Bunn. "There are no silos: All races, nationalities, genders are all welcome both in our team and in the people we serve." 
A life of engagement
Even outside of UC Davis, diversity, inclusion and engagement inform Bunn's life. As president of his local PTA, he ensures all of the children and families of Tafoya Elementary—an 82-percent minority-majority campus—feel welcomed and valued in their school community.
"I love to participate in Career Days and other family and student events, both at the elementary school and at the university. I want to help the next generation of kids—including black and brown kids—who want to code have a positive experience. I'm glad to be able to help our community, wherever I am," he said.
Category
Tags