Engineering AvenueE
Five years of guiding community college students to success at the UC Davis College of Engineering
AvenueE is a program within the College of Engineering that is designed to help community college transfer students smoothly transition to UC Davis, and ultimately, a career in engineering or computer science.
"We believe deeply in our students' intellect and capacity, and sometimes they just need a little bit of help to realize their potential," said Yesenia Cervantes-Tucker, director of AvenueE. "We believe that cultivating a diverse STEM workforce is possible, and programs like AvenueE are making a difference in this space."
The program, which launched in 2017, works to recruit, retain and graduate a diverse population of undergraduate students who go on to successful careers in industry. Originally the program included cohorts of 20 students from Los Rios, Peralta, San Joaquin Delta and Contra Costa Community College districts. The program has now grown to take 60 newly admitted UC Davis students each year from community colleges throughout the country.
Students accepted into AvenueE start by participating in a two-week summer session called the Bridge Program before the beginning of the school year. There they learn about valuable campus resources and meet with university staff and faculty. They also hear from industry professionals who share personal tips for future career success.
"AvenueE helped me connect with my peers, some of whom are now good friends of mine. From the beginning, that offered a sense of security and confidence that eased my transition to the new, fast-paced environment at UC Davis," said current AvenueE student from the Department of Civil and Environmental Engineering Nadiyah Helal '23.
Once the academic year begins, students enrolled in AvenueE have access to individualized tutoring, workshops and professional development opportunities. The program connects students with faculty or AvenueE alumni mentors who can answer questions about UC Davis, as well as professional mentors who share insight about careers in industry. The program also has financial awards and exposes students to various financial assistance options to help pay for tuition and other expenses.
The goal of this holistic support is to help students thrive during their undergraduate experience, as well as prepare them for internships, jobs and graduate school.
"We're proud of the connection that we've developed with our students," said Cervantes-Tucker. "And that they see us as a resource—whether they have questions about opportunities on campus or need advice on how to apply for an internship or are just going through a difficult time that they know that we are here to help them be successful with their degree."
A huge contributing factor to the success of the program has been the support from individual and corporate partners, according to Cervantes-Tucker. Chevron was a founding corporate partner of AvenueE providing financial support of programs and students awards. Since then, numerous other partners have lended support, including the Koret Foundation, U.S. Bank and AT&T, UC Davis Office of the Provost, STEM Strategies, UC Davis Division of Student Affairs, as well as dozens of individuals.
These partners are invaluable, according to Cervantes-Tucker, because they serve as mentors, participate in workshops, help implement activities, and create opportunities for students to gain access to internships and jobs. They also serve as thought partners on the AvenueE advisory board and contribute financially to the program.
The success in the College of Engineering has also inspired other STEM-related colleges and schools within UC Davis to create similar programs to help with diversity, equity, and inclusion. AvenueM is a similar program within the School of Medicine and AvenueB is geared toward helping students in the College of Biological Sciences.
"We all know there is a need to increase diversity in the workforce, especially in the STEM fields," Cervantes-Tucker said. "These programs help students think about the possibility of a career in engineering and connect them with a community that is here to help them be successful as they challenge themselves and earn a college degree."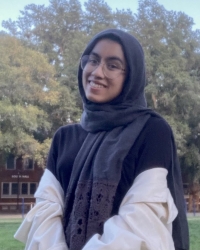 Nadiyah Helal '23 
Civil Engineering
Nadiyah Helal is passionate about climate action. So it is probably no surprise she felt drawn to UC Davis, which has been consistently ranked the number one school in the U.S. for sustainability. Once here, she felt very supported by the community, including AvenueE, which exposed her to a myriad of resources.
Helal has not wasted any time getting involved. She is currently a sustainability intern at TRC Companies, a Climate Action Fellow with the UC Office of the President and UC Davis Health Sustainability, a Millennium Fellow with the United Nations Academic Impact and a project lead with the UC Davis student chapter of Engineers Without Borders, on top of working on two projects as an undergraduate student researcher.
"As transfer students, we face some disadvantages because we have less time to make connections and discover opportunities," Helal said. "We have to learn everything quickly. But with AvenueE's help, I obtained a research position to study a topic I am excited about, starting from my very first quarter."
Justin Asahan '23 
Aerospace Engineering, Materials Science
As soon as Justin Asahan transferred into UC Davis after four years at community college he felt supported by AvenueE. The program gave him financial support and a sense of community.
"It was great to have a peer group assigned to me before I even started classes, so I felt like I was already at a head start," Asahan said. "We planned classes together, formed a study group, and I knew I could reach out to them anytime."
Asahan also appreciated how AvenueE connected him with peers who participated in AvenueE the year before. They lent him advice on everything from which professors to take classes with to good spots to eat. Asahan said he can hardly wait until he graduates; not just so he can pursue graduate school, but also so he can give back "to the community that built him up" and help future cohorts of AvenueE students.
"It's really easy for you to get lost along the way when you transfer," he said. "AvenueE helped me stay on track and made me feel like a true student where I could stay at Davis."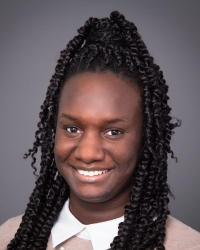 Shanice Blake '21 
Biomedical Engineering
Shanice Blake is accustomed to change. At 15 years old, she moved to the United States from Jamaica. So, when it came to transferring to UC Davis, Blake thought it would be easy.
"Transferring was hard. Everyone tells you it's going to be hard, but you don't really know until you are in it," said Blake, adding how difficult the academic rigor of a quarter system was for her.
Fortunately, she had AvenueE.
"That community was so beneficial because we got to meet two weeks before school started and know that when we started school that we already had friends," Blake said. "It helped me navigate transferring, which can be difficult and stressful."
Through the program she also spoke with industry professionals about their biomedical engineering careers. Now, as a quality control engineer at biomedical company Abbott, Blake comes back to UC Davis and shares advice with current AvenueE students.
"I didn't see a lot of people like me in school when I was growing up. I feel like I want to give back and be a mentor for others who look like me," she said, "So sharing what I know with AvenueE students was definitely a fullcircle moment."
This story was featured in the Fall 2022 issue of Engineering Progress.
Primary Category
Secondary Categories
Tags