The Engineering Student Startup Center was launched with a ceremony that took place from 3 to 6 p.m. Friday, Oct. 11, 2013, in the lobby of UC Davis' Ghausi Hall. The event was organized jointly by the UC Davis College of Engineering and BetaVersity, a company that specializes in designing and building entrepreneurial prototyping spaces for the education community.
The keynote speaker was Tina Seelig, executive director of the Stanford Technology Ventures Program, the entrepreneurship center at Stanford University's School of Engineering. The program also included presentations by Enrique J. Lavernia, Dean of the UC Davis College of Engineering; Bruce White, director of the UC Davis Engineering Translational Technology Center (ETTC); Andrew Hargadon, director of the UC Davis Child Family Institute for Innovation and Entrepreneurship; Natalie Qabazard, president of the Engineering and Technology Entrepreneurship Club (E-TEC); and Lucas Arzola, founder and CEO of BetaVersity.
Following the dedication, guests were invited to tour the 543-sq. ft. ESSC facilities in 2060 Academic Surge, which have been designed — via gentle lighting, "creator-friendly" colors and adjustable furniture — to encourage student inspiration. The equipment includes materials and software for the creation of prototypes; a CubeX Trio color 3D printer, for generating physical prototypes; a Next Engine 3D scanner for digitizing 3D models; and a ShopBot CNC device for the milling and machining of plastics, wood and aluminum.
The Engineering Student Startup Center will be staffed by part-time students, with consulting support from BetaVersity.
ESSC Challenges Students With 'Hackathon'
Following its Oct. 11 dedication, the Engineering Student Startup Center made its official debut with a pair of one-day "Hackathon" sessions on Saturday and Sunday, Oct. 12-13, 2013. The events drew roughly 125 students, all of whom participated in creative exercises and equipment demos, and conducted mentorship chats via ESSC's SMART Board.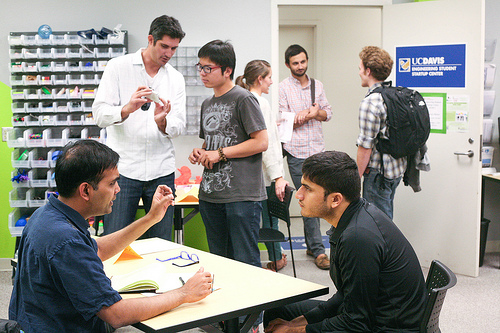 The guest mentors were Leticia Britos Cavagnaro, associate director of the National Center for Engineering Pathways to Innovation (Epicenter); and Humera Fasihuddin, manager of student programming at the nonprofit National Collegiate Inventors and Innovators Alliance (NCIIA), which supports, trains and funds student entrepreneurs.
Hackathon participants formed teams that proposed — and then attempted to solve — "problems" of particular interest to students (who represent a large pool of potential customers). Each team left the facility to interview campus students, to best determine how a given problem should be addressed, and whether a proposed solution needed to be tweaked. The teams then returned to the ESSC to fully define the problems and then prototype solutions.
One such "problem," which proved quite popular with students, concerned a frequent issue faced by users of UC Davis' Shields Library. Students often wish to leave for a brief time — to make a phone call, use the restroom or get something to eat — and it can be extremely impractical to gather and carry what could be a table-laden quantity of study materials. The Hackathon team proposed a device that could be built into the Shields study tables, which would allow for the safe, lockable storage of research materials during such absences.
"Many of the ideas generated were as clever as their proposed solutions," observed ESSC manager Lucas Arzola, "and that was just during a single weekend. Imagine what such student teams could accomplish during an entire academic year!"
Category
Tags