Graduate Student Spotlight: Meera
Ph.D. Student, Department of Materials Science and Engineering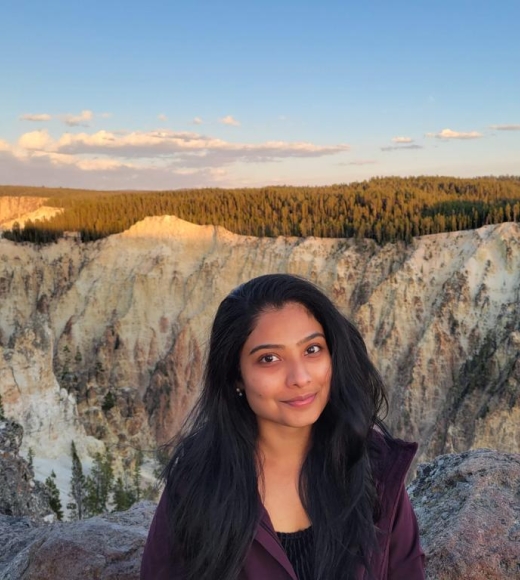 This spotlight is a part of our 2023 International Women's Day Feature.
What inspired you to study engineering? Describe your path to graduate studies at UC Davis. 
I absolutely love working with my hands and the satisfaction that comes from seeing tangible results. I have always found great joy in solving puzzles and overcoming challenges. My academic journey began with undergraduate and master's degrees in physics. During my master's program, I was fortunate enough to secure the Indian Academy of Sciences summer fellowship that allowed me to work in a full-fledged experimental lab for the first time. Over the course of my fellowship, I assisted in developing photocatalysts that could degrade harmful industrial dyes mixed in water which could potentially be used to clean polluted water bodies. I quickly discovered my passion for experimental science and the thrill of seeing real-time results and the impact they can have on improving the world around us. While completing my master's thesis, I focused on magnetism and spintronics where I cherished the opportunity to apply the concepts I had learned in class to real-life scenarios. I realized how fundamental scientific research has huge implications in improving technology and the economy. This experience cemented my desire to pursue a career in research and development. My Ph.D. has been truly challenging, and although setbacks and negative results can be discouraging, my love for research and the joy it brings motivates me to be persistent. I am thrilled to be on this journey and grateful for the opportunities that have allowed me to pursue my dreams. 
Highlight your current research. What do you love about it, why are you excited, and how do you stay motivated? 
My Ph.D. thesis is mainly focused on studying the structure of silicate glasses under extreme conditions. Although silicate glasses are a common material, they hold significant importance in military and space applications as they are widely used in the manufacturing of shuttle and aircraft windows. In such applications, they can undergo high-energy ballistic impacts characterized by high pressures, temperatures, and strain rates, resulting in severe damage. To assess and reduce the risk of damage and structural failure, the behavior of glass under such extreme conditions must be accurately studied. Understanding the behavior of various silicate glasses under dynamic compression would allow us to not only predict their behavior under high energy impacts but will also allow us to work towards a composition and network structure that can best sustain impacts without significant loss in transparency and strength. In our studies, high-powered lasers are used to shock compress the silicate glasses to extremely high pressure-temperature states and X-rays of exceptionally high brilliance from synchrotrons and XFELs are used to study the structure.  
I am also currently working as a doctoral fellow at the Advanced Light Source (ALS, LBL) to study the evolution of magnetic and electronic ordering in highly correlated oxide system over Insulator to Metal Transition (IMT). With this study we hope to better understand the fundamental mechanism underlying IMT. One of the things I cherish most about my Ph.D. experience is the opportunity to work hands-on at synchrotron & XFEL beamlines as well as to collaborate with and learn from remarkable researchers who inspire me. Although I have faced a few setbacks and encountered poor datasets during my experiments, I am lucky to have an incredibly supportive advisor and colleagues who never fail to help me get back on track. 
The 2023 International Women's Day theme is #EmbraceEquity. How do you embrace equity in the engineering field? 
As a woman and a first-generation graduate student from a middle-class family, I have had to overcome several obstacles while trying to pursue a career in academia. Growing up, I often had to fight for opportunities that were not readily available to me, particularly when compared to my male counterparts. Fortunately, I had mentors who helped me recognize and secure the opportunities around me. I believe that equity is more than just creating an inclusive environment where everyone has an equal chance to succeed. It's about valuing and celebrating each individual's unique perspective. During my Ph.D. journey, I had the privilege of meeting people from diverse backgrounds with unique perspectives. Their resilience, self-confidence and bravery inspired me to be a better version of myself. I trust that by embracing and respecting each other's perspectives, we can foster new and innovative ideas in every field. As we move forward, it's crucial that we continue to prioritize equity and strive towards creating a more equitable world that empowers everyone, regardless of their background. I hope to use the skills I have learned during my Ph.D. to support and encourage students from diverse backgrounds in achieving their career aspirations to the best of my ability. 
Primary Category
Tags