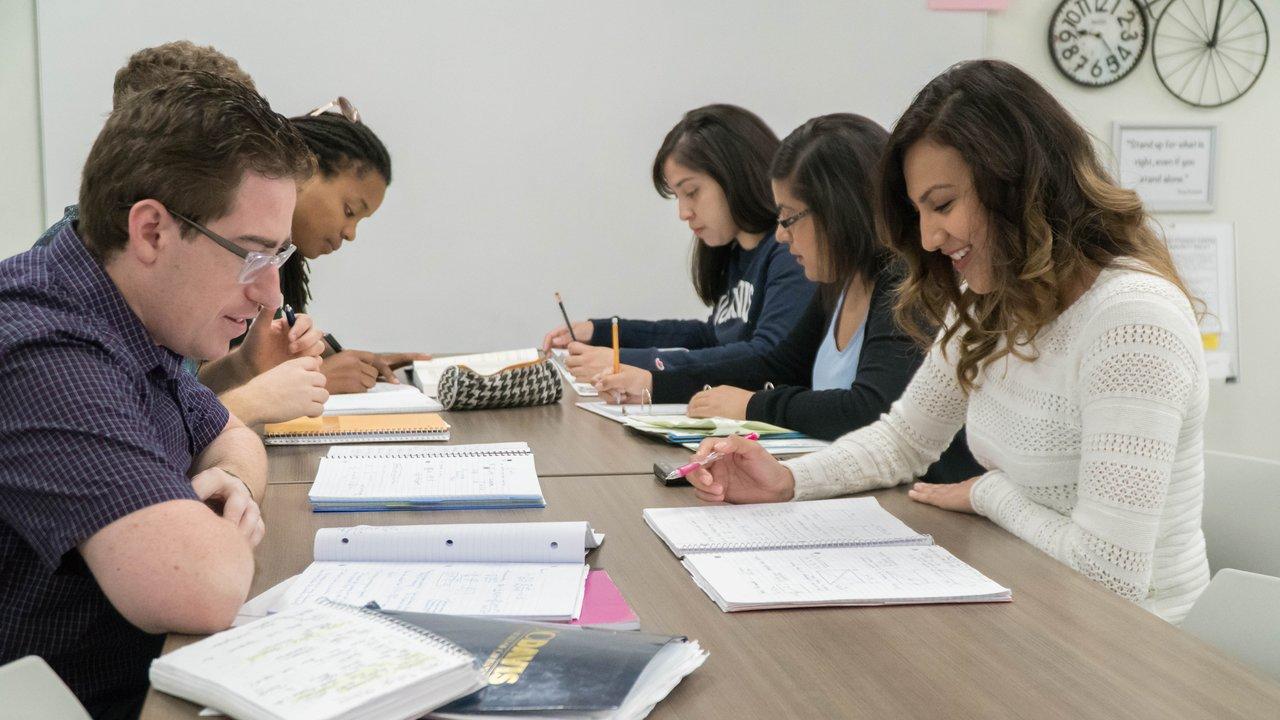 The LEADR Student Center is open to any student who supports diversity and inclusion in the field of engineering, and who shares a willingness to create a welcoming environment for all students. This dedicated study space allows students to study individually or in groups. Engineering community building is also encouraged, so that (for example) first-year students can benefit from the experiences of juniors and seniors. Highlights include a media-scape feature and mobile white boards intended to support study groups and team projects.
The Chevron Corporation sponsors the LEADR Student Center (aka "The Center") with additional contributions from the AT&T, Boeing Company, Cisco Systems, Northrop Grumman Corporation, and Union Pacific. The Center represents the first industry investment at UC Davis devoted to student retention, including that of first-generation students and students from historically underserved backgrounds in engineering. These industry leaders — and many others — recognize the value of increasing the diversity of the recruitment pool, and of being able to fill entry-level jobs with the best and brightest university graduates.
Located in Room 1050 Kemper Hall, the Student Center is open during the academic year Mondays-Thursdays from 9:00AM-8:00PM and on Fridays from 9:00AM-4:00PM. During the summer, the Student Center is open Mondays-Fridays from 9:00AM-5:00PM.
LEADR Program
The goal of the Leadership in Engineering Advancement, Diversity and Retention (LEADR) Program is to recruit, retain, and graduate, a diverse student population from the College of Engineering. The program also offers academic advising – LEADR students must meet with their program advisor on a quarterly basis for the first two years of school and attend weekly, or bi-weekly meetings with their peers to explore the diverse field of engineering. Tutoring, workshops, leadership skills, professional development, and graduate school preparation are supported via the involvement of numerous other campus units:
The Educational Opportunity Program(EOP)/Summer Transitional Enrichment Program (STEP)
The Student Academic Success Center
 The Center for Leadership Learning
 The Internship and Career Center
 The McNair Scholars Program
 UC LEADS
 The Undergraduate Research Center
 Mathematics Engineering Science Achievement (MESA)
Additional engagement is provided via input from diversity clubs within the College of Engineering, including the American Indian Scientists and Engineers Society, the Black Engineers Association, the Chicano and Latino Engineers and Scientist's Society, the Society for Women Engineers and the Pilipinx American Scientists and Engineers Society.
The UC Davis College of Engineering has long been dedicated to the goal of fostering a vibrant community of learning and scholarship. Diversity enhances this goal through the contribution of different voices and experiences to innovation, engineering problem solving, and the application of solutions in an increasingly complex society. Through "the Center", all students are encouraged to work outside their familiar environments, while developing an appreciation for the perspectives and life experiences of their student peers.
For more information on LEADR or the Student Center, please contact:
Tanya Whitlow, LEADR Program Director @ tculliverwhitlow@ucdavis.edu
Laura Hackett, LEADR Program Advisor @ lahackett@ucdavis.edu
For related information visit: http://engineering.ucdavis.edu 
News: Helping students achieve success: Alum Mike Coffey supports resources to aid engineering undergraduates
Category
Tags