New Assistant Professor of Teaching Xianglong Wang
BME professor finds innovative ways to re-engage students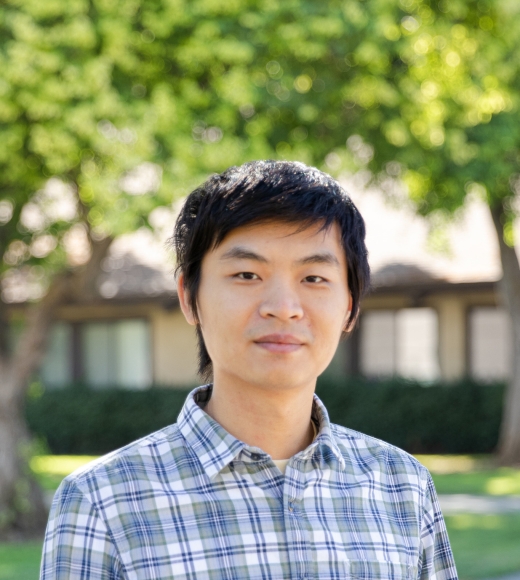 It is, perhaps, inevitable that Xianglong Wang was to become a new assistant professor of teaching at the UC Davis College of Engineering. He's been teaching since grade school.
"In elementary school, I was already teaching," he recalls. "My teacher handed me an hour around noontime so I could actually teach my classmates. Starting from that time, I have felt like teaching is a very rewarding job and it makes a lot of impact."
Since those days back in China, Wang earned his Ph.D. in biomedical engineering and scientific computing from University of Michigan, plus obtained years of experience with the Food and Drug Administration, Tulane University and Washington State University. All of which he brings to his new role at UC Davis.
A 'big-picture' approach to teaching
As the new assistant professor of teaching in the Department of Biomedical Engineering, Wang has plans to innovate his teaching methodology to re-engage post-pandemic students with their education.
Wang recently presented at 2022 Biomedical Engineering Society (BMES) Annual Meeting in San Antonio and detailed his novel approach for teaching students—that begins at the conclusion. He starts the term by presenting students with a completed project, and then has them attempt to replicate that project using concepts they learn during each class. Wang says he finds it an effective way to help students realize the big picture and end goal so they will be more engaged in learning the concepts.
The completed project he uses is a device he built that enables a person to communicate with a computer by flexing their arm. The device sends electrical signals from the muscles to the computer.
"We break down the relevant knowledge that they need to replicate these parts one by one," he explained. "They get hands-on practice and information in the lectures. Then they will apply these principles in the labs and in their senior design where they have to make their own projects."
Re-engaging students after the pandemic
Wang was inspired to try this approach after seeing his former students at Washington State University struggle to re-engage with class following many years of online learning due to the COVID-19 pandemic lockdowns.
"It's important for us to change our course in such a way that brings their attention span back," he said. "Make our course a reason for them to attend, not something that they dread. That's the point of making these kinds of innovations in teaching right now."
Wang relies on his students to teach him, too.
"It's a positive feedback loop: they provide feedback so I can make small adjustments on the fly. That makes your teaching even much better," he said. "Also, you get to make personal connections with the students. When you do that, students learn better."
Encouragement real-world application of engineering
Wang made the move from research into teaching because he wants to ensure current and future students receive all the support they need to be successful.
He credits is past advisors with teaching him how to apply engineering principles in the real world, which is what he wants to do at UC Davis. It's one of the reasons says he is excited to be working at a college whose mission is to connect people and technology to solve the world's most pressing problems.
"All that leads to me being an engineering educator now," he said.
Primary Category
Tags