Pandemic Engineering
Innovative Solutions and Industry Partnerships Keep UC Davis Students, Staff and Faculty Safe
SINCE WELCOMING STUDENTS, STAFF AND FACULTY BACK to campus in September 2021, the College of Engineering's commitment to the health and safety of the community is evident through agility, the leveraging of industry partnerships and the innovative approach to tapping into the power of citizen engineering.
The college has provided approximately 7,500 N95 masks for students, staff and faculty use, materials to build more than 80 Corsi-Rosenthal boxes, supplied 60 high-efficiency particulate air (HEPA) filters for use in communal areas. Indoor air quality is monitored in real-time through nearly 25 wireless sensor pods. Some of the unique people and partnerships helping the college keep the community healthy are highlighted below.
The Power of Citizen Engineering
HEPA filters can be expensive, and with the ongoing disruption in the international supply chain, the college needed another solution for cleaning the air. Its secret weapon was Dean Richard Corsi, who joined the college in fall of 2021. Corsi is the inventor of the Corsi-Rosenthal (CR) box, a low-cost, do-it-yourself air cleaner designed during the COVID-19 pandemic to reduce the number of virus-laden aerosol particles in indoor settings.
The Corsi-Rosenthal box was designed by Corsi and built by Jim Rosenthal, Chairman and Chief Executive Officer of Air Relief Technologies, Inc. and past president of the National Air Filtration Association.
"The idea came about in summer 2020 when many people were beginning to understand that COVID-19 was essentially transmitted by respiratory aerosols," said Corsi. "We created this to make air cleaning accessible for all people."
The design is straightforward: one box fan, four high-quality MERV 13 (MERV = minimum efficiency reporting value) air filters on each side, duct tape and some cut-out cardboard. Most boxes can be constructed in less than 45 minutes, with materials costing about $60 to $90.
The fan on top draws out the air purified by the filters on each side. Though the MERV 13 filters are generally less efficient than HEPA filters, the fan speeds up the rate at which air passes through the filters. This allows the system to clean a room's air more effectively and efficiently than most standard commercial HEPA air filtration systems.
"For the general public, we have expanded from citizen science to citizen engineering," said Corsi. "People can build their own Corsi-Rosenthal boxes for a quarter of the price of a regular HEPA air cleaner and do something positive to protect themselves and others in their communities."
Civil and Environmental Engineering atmospheric aerosol expert Professor Chris Cappa published the first paper showing the effectiveness of the device. This simple and effective box has launched a nationwide movement to build and improve upon the technology. According to an article published on The Conversation, as of January 2022, more than 1,000 units were in use in schools, with thousands more in homes and offices. More than 3,500 people had used the hashtag #corsirosenthalbox on Twitter, and tens of thousands more contributed to the online conversation. News articles and explainer videos on YouTube had collectively accumulated more than 1.9 million views.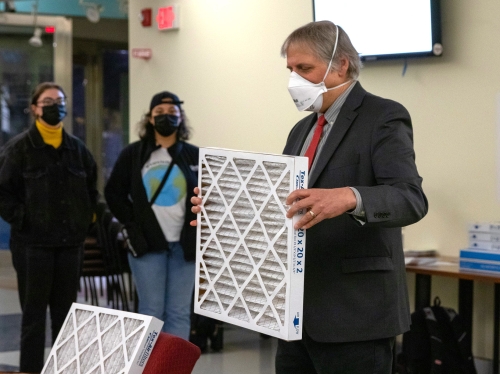 Keeping the Campus Community Safe
Throughout the winter quarter, College of Engineering students, staff and faculty began building Corsi- Rosenthal boxes for use in labs and other shared indoor spaces, spearheaded by the Department of Electrical and Computer Engineering (ECE).
ECE Chair André Knoesen, Professor Diego Yankelevich and graduate student Sean Alling constructed ten units within five days of receiving the materials. Cappa and graduate student Rachael Dal Porto trained ECE development engineer Lance Halstead and ECE undergraduate student Victoria Liera on performing particle decay measurements to evaluate the boxes.
After Liera confirmed that the ECE-built units operated at required specifications, they were deployed in all ten ECE instructional labs. In subsequent weeks, the team built 22 additional units for use in graduate communal office areas.
Students in the AvenueE and LEADR programs— which give engineering students from underrepresented backgrounds academic advising, mentorship and study spaces—participated in a Corsi-Rosenthal box building competition on February 15 in the Kemper Lobby. The ECE department and Texas Instruments generously sponsored supplies.
Industry Partnership Brings Wireless Atmospheric Monitoring to ECE Labs
In addition to building the Corsi-Rosenthal boxes, Knoesen brought a wireless sensor system to UC Davis' engineering laboratories to observe and report air quality through an industry partnership with Opus One Winery in Napa Valley.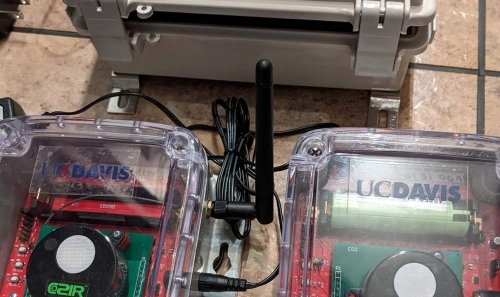 Knoesen's group has a long-standing collaboration with the winery through research with Professor Roger Boulton in the Department of Viticulture and Enology on novel Industrial Internet of Things (IIoT) technologies to monitor and improve wine production. Opus One Winery implemented a sensor network similar to one developed by an ECE senior design team in 2020 that monitors CO2, humidity, temperature and particle count. The sensor system is used when wine is fermented and has improved the winery's air delivery system.
As the Delta variant peaked in January 2021, Knoesen sent Opus One winemaker Michael Silacci an urgent message, asking to borrow the system.
"We need to monitor CO2 and particles in as many of our undergraduate instructional labs as possible in real-time," Knoesen wrote. "Therefore, having access to the Opus One wireless units will be essential."
"Yes, of course," Silacci enthusiastically responded less than 15 minutes later. "Life is a two-way street!"
The Opus One wireless sensor network was retrieved and redeployed in four ECE laboratories within a week. The wireless sensor system project caught the eye of John Matranga, the director of business incubation and acceleration of AVEVA. In response, Matranga provided Knoesen's group access to AVEVA Data Hub, which offers edge-to-cloud data visibility for industrial operations.
To date, 23 sensor pods take samples day and night at five-minute intervals to monitor the rooms. This allows a detailed study of how the rooms are used and how effective the ventilation is. This data are sent to the cloud-based Data Hub, which enables real-time monitoring of the labs. The wireless sensors have monitored the physical environment in four ECE labs during the winter quarter and will continue this spring.
This story was featured in the Spring 2022 issue of Engineering Progress.
Primary Category