Professor van Dam Named First Associate Dean for Facilities
Davis, Calif.; March 29, 2016—C.P. "Case" van Dam has been named the first Associate Dean for Facilities and Capital Planning in the UC Davis College of Engineering, effective June 1, 2016. Currently the chair of the UC Davis Department of Mechanical and Aerospace Engineering (MAE), Prof. van Dam was named by Dean Jennifer Sinclair Curtis to the position, pending final review by Chancellor Linda P.B. Katehi.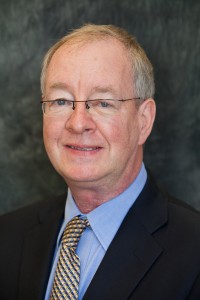 The College of Engineering anticipates adding more faculty members to meet its growing student enrollment. This growth will require significant improvement and expansion of facilities to serve the school's teaching, research and public service efforts. Dean Curtis prioritized creation of a leadership position to manage this growth and to help meet these needs.
Professor van Dam began his career at UC Davis as an assistant professor in the Department of Mechanical and Aerospace Engineering in 1985, and since July 2010 has served as the Warren and Leta Giedt Endowed Professor and chair of his department, recruiting eight new faculty members during his tenure. He will step down as department chair on June 30, 2016. Curtis said van Dam found solutions to meet the research and space needs of all involved.
"As Chair he has played a significant role in developing a detailed strategic plan for the department, planning and executing laboratory renovations, and overseeing new construction," she said.
Curtis also pointed to van Dam's work with undergraduate and graduate students. He has taught the aerospace capstone design course. In addition he has taught courses in aerodynamic design and optimization, wind tunnel experimentation, and wind power engineering. This experience, she said, will inform the development of new spaces for student education, teaching and research.
From 2002 to 2015, van Dam served as director of the California Wind Energy Collaborative (CWEC), a partnership between the University of California and the California Energy Commission. CWEC supports the development of safe, reliable, cost-effective and environmentally responsible wind power in California.
Whether it is using his administrative skills, experience creating innovations in engineering or working with students, van Dam will help the college accommodate the significant growth it's experiencing.
"He comes to this position with a creative approach to solving some of the college's most pressing space needs," Curtis said.
According to van Dam, the College of Engineering currently has 206 faculty members, and is expected to increase to 230 in the coming years.
"As you bring in new faculty finding appropriate lab space in a timely manner is very important," he said. "Especially for junior faculty who are on a six year tenure clock. We owe it to them to have their space ready to go."
In addition to creating room for new faculty, van Dam said he would focus on the expansion of current facilities. One key area is the Engineering Fabrication Laboratory (EFL), which the college hopes to expand with a multimillion-dollar renovation by 2020, according to van Dam. This transformation would turn the EFL into the proposed Engineering Student Design Center, where students would have more space and state-of-the-art technology and tools.
Professor van Dam also hopes to make improvements to the 50-year-old Bainer Hall.
Primary Category
Tags