Roland Faller Named Executive Associate Dean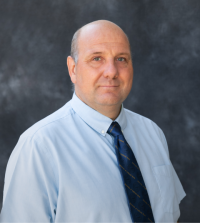 Chemical Engineering Professor Roland Faller was named the College of Engineering's next executive associate dean, effective July 1. The appointment is in addition to his current service as associate dean for facilities and capital planning, as well as graduate studies. In this role, Faller will serve as the primary executive officer and representative of the college to UC Davis and the public when Dean Richard L. Corsi is absent.
Faller joined the college leadership team in 2019 as the associate dean for facilities and capital planning. In that role, he manages all capital projects and oversees space allocation, renovations, repairs and construction, including the development of the new Diane Bryant Engineering Student Design Center (ESDC). A long-time advocate for graduate education, Faller was appointed associate dean for graduate studies in 2021. 
"I am excited to assume this additional role to help move the college forward on its exciting path," Faller said.
Faller joined UC Davis in 2002 as an assistant professor of chemical engineering and materials science. During his time as an associate professor, he chaired the graduate programs in chemical engineering and materials science and engineering, was the Joe & Essie Smith Endowed Chair in Chemical Engineering from 2007 to 2011 and served as a visiting professor at Aalto University in Espoo, Finland in 2010. As chair of the Department of Chemical Engineering from 2016 to 2019, Faller led the newly-constituted department with a focus on academic excellence and diversity.
Faller's research focuses on multiscale modeling of soft materials, as well as model and algorithm development. He uses computer simulations to study the properties of polymer brushes and glasses, ceramics, biological membranes and proteins. His research won a Department of Energy Early Career Principal Investigator award in 2003, and he has published over 150 scientific papers throughout his career. Most recently, Faller's group has been working with a team of collaborators to study alternative COVID-19 antigen production. In another collaboration, his group is studying the T-cell receptor in research that may be used to inform novel approaches to immunotherapies.
Primary Category
Secondary Categories
Tags