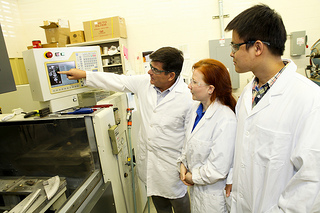 The UC Davis College of Engineering continues to be a robust engine of research innovation, based on expenditures for fiscal year 2012-13. The college's research expenditures for 2012-13 totaled $91.7 million — corresponding to an average of $489,717 per full-time faculty employee — which represents a 5.3 percent increase over the previous fiscal year. This figure has climbed steadily since the 2009-10 fiscal year, when the average was $451,000 per full-time faculty employee.
When broken down by department, the Department of Civil and Environmental Engineering continues to lead College of Engineering research expenditures, with $21.4 million for fiscal year 2012-13; the Department of Biomedical Engineering once again runs a close second, with research expenditures of $18.1 million.
In addition to research projects wholly within the College of Engineering's seven departments, these expenditure figures also reflect CoE faculty involvement as PIs in work undertaken through external agencies such as (among others) the Center for Biophotonics Science and Technology, the Western Cooling Efficiency Center, the John Muir Institute of the Environment, and the UC Davis Departments of Food Science and Technology; Viticulture and Enology; and Land, Air and Water Resources; along with the School of Medicine.
Extramural research funding — including grants, contracts and gifts — reached $91.4 million for fiscal year 2012-13, which represents a 25.8% increase since fiscal year 2009-10. The fiscal year 2012-13's top research projects included:
"These projects, and many others, demonstrate that UC Davis continues to be a world-renowned center for innovative technological breakthroughs," said College of Engineering Dean Enrique J. Lavernia. "We fully expect to keep expanding our research efforts, year by year, thereby attracting an ever-greater pool of undergraduates, graduates and faculty members to the seven departments under our College of Engineering umbrella."
Category
Tags