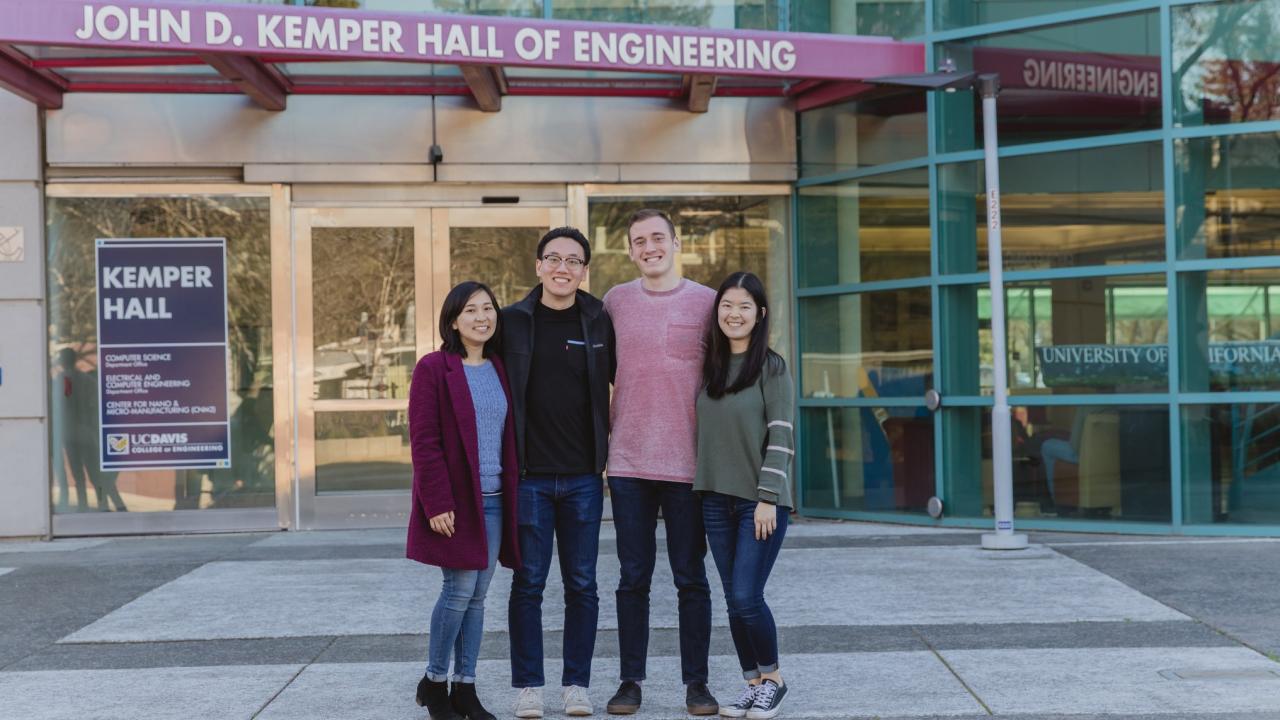 By Aditi Risbud Bartl
College campus events often result in leftover food—and unnecessary waste. For students looking to quiet a rumbling tummy with a stray slice of pizza or an extra pastry, UC Davis College of Engineering students Kim Quach, Jacob Scott Bevilacqua, Thomas George Chen and Lynn Miyashita have developed an app called Freebites that streamlines the process of connecting hungry students with leftover food from UC Davis campus events.
As a member of the Food Recovery Network student club on campus, Quach helps recover food from dining commons and markets on campus and donate it to homeless shelters in downtown Davis, as well as the Basic Needs Center on campus. However, said Quach, the club doesn't have the capacity to recover food from catered events.
"You see it all the time at student organization events, faculty meetings, conferences—when the event ends someone puts out a sign that says 'free food.' I'd been thinking about this issue for nearly a year, and was really excited to turn my idea of a food waste app into reality," said Quach, a senior in computer science. "We knew we had a large target audience: there are tens of thousands of students on campus and they love free food."
The Freebites team developed their app as part of computer science associate professor Sam King's new iOS fundamentals class at UC Davis. In this class, 70 computer science and engineering seniors spent the first half of the quarter gaining a fundamental understanding of computer science principles. In the second half of the quarter, they worked in small to teams to build a new app.
Motivated by King's offer of a A-plus grade to any team who could ship an app to the Apple App Store and get 150 or more active users—something King thought would be an impossible goal—the Freebites team designed, built and shipped their app to the App Store during the last three weeks of fall quarter.
"On the surface, 150 users might not sound like a big deal, but it is extremely impressive for a class project," said King. "These students had to build an app that was of high enough quality to make it through Apple's App Store review process, while providing enough value that people outside of their immediate friend group were willing to try it out. Not everyone's going to be an entrepreneur, but it's important to learn how to be proactive and be assertive. And along the way, these students learned the fundamentals of iOS and operating systems."
To attract users, the Freebites team bought pizza, posted its whereabouts on the app and asked pizza-seeking users to respond to a survey outlining their experiences through the process. Although the free pizza offering wasn't an "organic post," said Miyashita, it helped the team understand how to communicate with their users and optimize user experience. These user data could also inform future modifications to the app, says Quach.
"As they were working on their apps, I pushed them in new directions to deepen their knowledge," said King. "Essentially, I was customizing the curriculum specifically for each student team and allowing them to solve a problem they were genuinely passionate about."
By the end of the quarter, the Freebites team had surpassed their goal of 150 users, along with approximately 200 responses to their survey. They were the only team in the class to achieve this goal, notes King.
"It was great for us to get exposure outside of the classroom beyond software development experience and work on making a mobile application, look at design, business processes and get a real holistic view of everything," said Miyashita. "Being a part of the UC Davis computer science program has really helped me develop what I'm passionate about."
King says that although classes on iOS and app development are common, his approach is "a different way of thinking about teaching. By framing it as something the students are interested in, they were able to do much, much more than if I'd given them some pre-canned programming projects."
"Having these 'playground'-type experiences, being able to collaborate and interact with faculty in the computer science department, and then propose an idea and bring it to life—this made me feel like more than just a student," said Miyashita.
"We might not believe in ourselves yet, but it's great when our professors set out these challenges for us to take on that we can apply to our careers after we graduate," added Quach. "That's the most exciting and rewarding part—you don't have to wait to get out there to start making changes. You can start experimenting and making change yourself as a student."
Category
Tags