UC Davis Hosts Inaugural Ujima Day
On September 2, 40 Black/African American middle and high school students and 10 staff from across Northern California visited UC Davis for Ujima Day—the culmination of the first year of the Ujima Girls in Robotics Leadership (GIRL) Project.
The Ujima GIRL Project is a mentoring collective that aims to address the significant challenges of inclusion and equity for Black/African American middle school and high school girls in science, technology, engineering and mathematics (STEM) education. Funded by the National Science Foundation (NSF), the program uses hands-on coding and robotics within a culturally-relevant environment to support Black girls' development as leaders in STEM. Ujima Day at UC Davis is the annual capstone of the summer programming.
"Ujima Day is an opportunity for students to reunite, meet other Ujima girls from different cities, and learn about UC Davis and STEM research," said Program Manager Marcella Grant.
During their time at UC Davis, students from the Stockton, Antioch, and Elk Grove Unified School Districts had the opportunity to spend the day experiencing campus life, learning more about the admissions process, and touring various engineering labs. The day ended with words of wisdom from UC Davis Chancellor Gary May about his background in STEM, followed by a lively and thoughtful Q&A session.
"Diversity makes for better innovations," Chancellor May told the students. "The world needs to hear your voices and the STEM fields need your ideas, unique talents, and cultural perspectives."
"Ujima Day was such a heartwarming reminder of what our Davis classrooms could look like," said UC Davis School of Education Assistant Professor Faheemah Mustafaa, who is co-PI on the project. "I am grateful for the work Marcella and the team put in to make this happen, and I look forward to the future."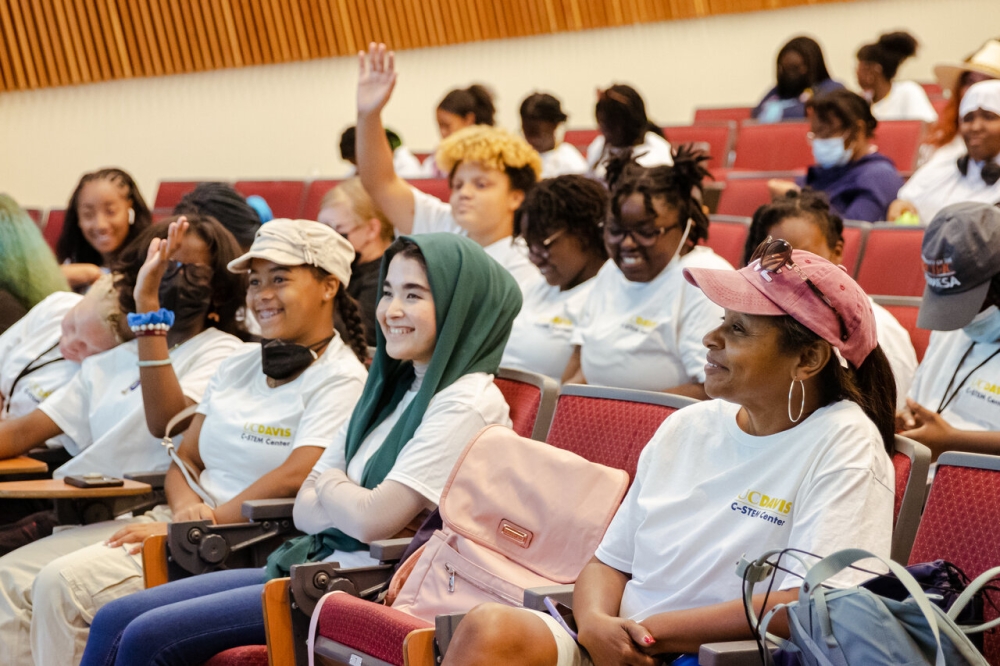 Building Robots and Community
The Ujima GIRL Project is part of the Center for Integrated Computing and STEM Education (C-STEM) at UC Davis, which received $2.4 million from the NSF last year to start the program.
The program builds on the foundation of the C-STEM Center's GIRL/GIRL+ Camps, which motivate middle and high school girls through peer mentoring to learn leadership and STEM concepts using a robotics-based curriculum. Ujima GIRL modifies and extends this curriculum with tailored lessons, community-building, and leadership activities that embody the Black/African American cultural value of Ujima, a Swahili principle for "collective work and responsibility."
With the partnership of California Community Colleges and the Umoja Community Education Foundation, the Ujima GIRL Project also recruits Black/African American college students to lead each Ujima GIRL Camp and serve as mentors for the students. By doing this, the program hopes to develop a long-lasting system of support, keeping participants involved as students and then as future mentors themselves.
"The program hopes to inspire Black middle and high school girls in conjunction with college women as STEM leaders in their school, community and future careers," explained Harry Cheng, professor of mechanical and aerospace engineering and director of C-STEM.
The project plans to expand in the coming years by mentoring over 1,500 Black/African American girls in middle and high school and eventually looks to become a nationwide program.
"There are so many great opportunities available in the STEM fields, but women and minorities continue to be underrepresented. That's something that needs to change," said Chancellor May. "The greater diversity we have in university research, the more likely we are to make discoveries and solve problems, and a wide mix of backgrounds, experiences and ideas helps make this happen."
Primary Category
Tags