UC Davis Wins Moon Challenge at First Nations Rocketry Competition
On a wet and windy Sunday in Wisconsin this April, the First Nations Rocketry team at UC Davis found their rocket sitting in reeds, just inches away from falling into a river and destroying itself and the electronics inside. As physics major Andrea Argüello and mechanical and aerospace engineering majors Alex Fillman and Esteban Aceves returned back at the launch site after a nerve-wracking three-hour recovery, there was a huge sense of relief. The project they had worked on all year could still be a success.
When the team downloaded flight data from the avionics bay, they were thrilled to learn that it exceeded 3000 feet and descended at 15 ft/s—enough to win them the First Nations Launch High-Powered Rocket Competition moon challenge for the second year in a row. The team also finished second in the written report and oral presentation categories.
The First Nations Launch challenges students from tribal colleges and universities, Native American-serving nontribal institutions and schools with American Indian Science and Engineering Society (AISES) chapters to design, build and fly high-powered rockets while providing a unique opportunity to engage with Native American communities and culture. This year's competition involved nearly 60 students from 14 institutions and represented 25 tribal organizations.
The First Nations Rocketry team at UC Davis is sponsored by the local AISES chapter, which promotes academic excellence and strong communities among Native American students in STEM. In each of the team's first two years, it has participated in the First Nations Launch moon challenge, which asks teams to launch, track and 3D model the flight of a rocket as it stably ascends to a specific altitude and safely parachutes down.
To tell the story, the College of Engineering met with Fillman, Aceves and aerospace engineering major Manbir Kaberwal over winter and spring quarter to learn about their experiences on the team.
A Tight-Knit Team
Fillman joined the team in fall 2021 after meeting Argüello, the team's lead. Fillman met Aceves and Kaberwal in a physics lab and told them about the club, and the three became teammates and friends. As first-time participants, they had to complete level 1 certification from the National Association of Rocketry, which meant learning to build and test-fly a rocket from a kit less than 48 hours in February.
"It was very fast-paced," said Aceves. "We were expecting to only go over basics, but out of nowhere, one of the people said, 'it's time to start building. Get your epoxy out' and we started panicking. When we got going, it was surprising how simply these complex ideas come together to make a working rocket."
With certification under their belt, Fillman and Kaberwal joined the group's vehicles team and Aceves joined the recovery team. Though they had their own specialties, the four subteams—vehicles, payload, safety and recovery—worked closely with each other to design the rocket. As they tested their design, the team felt fortunate to have the competition's NASA and industry mentors as resources who were all approachable, caring and passionate about rocketry.
"It might be a little scary to ask them for help, but the mentors genuinely care for us and want us to learn a lot," said Aceves.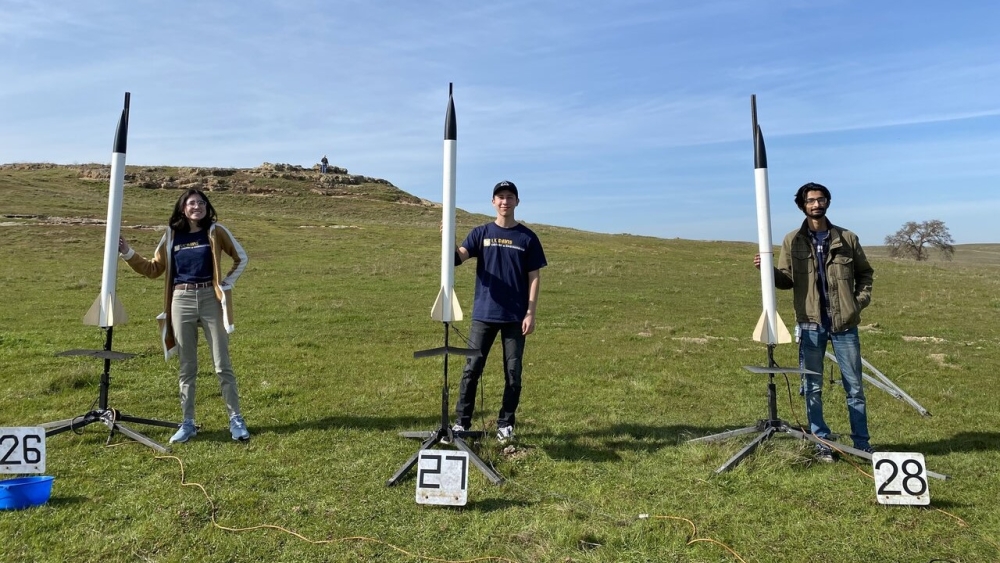 A Friendly Atmosphere
The team arrived in Kansasville, Wisconsin on April 22 for the three-day competition and were immediately struck by the diversity of their peers' rocket designs.
"Every team has their own unique rocket," said Kaberwal. "Compared to our level 1 certification rockets, ours wasn't that much bigger, but it was interesting to see how the other teams designed theirs, what kind of motors they used and what they thought to take into account in simulations."
Despite being a competition, everyone was friendly and collaborative. The teams finished their designs together in a large room before launch day, where they mingled, gave each other design tips and even pitched in when their peers needed help.
Because Native American culture was at the center of the event, the teams also proudly shared their cultures and identities. For Aceves, a highlight was having the University of Hawaii team challenge everyone to a Hawaiian dance battle on the first night.
"Everyone's culture really shined," he said. "The whole thing was very diverse and in every aspect of that word—from the rockets, to the people there and everyone's experiences. It was fascinating."
On launch day, the teams were greeted with high winds, wet weather and a nearby lake that would doom any of the mostly-cardboard rockets that fell into it. Though the team was still able to launch, it made the recovery process even more grueling. The GPS was still working so they knew the rocket wasn't completely submerged, but they couldn't see it, they couldn't guarantee that the whole thing survived and there was rain in the forecast, so they had to act quickly.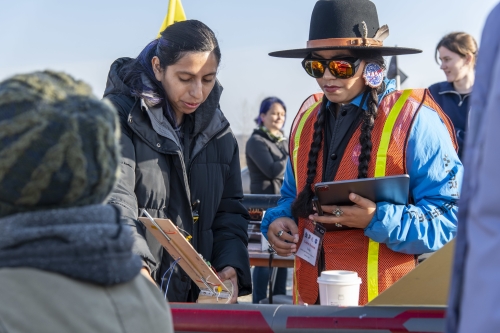 As the rest of the team watched their peers discover that their rockets were unrecoverable or completely destroyed, Fillman, Aceves and Argüello trudged through swampy water and mud and across a river before finally recovering the rocket.
"That recovery process was the perfect embodiment of Murphy's Law, but chaos in and of itself was a lot of fun," said Aceves.
"I know that I'm in the right field," said Fillman. "Engineering can be chaotic and crazy at some points, but it comes down to a bunch of people collaborating, great ideas and really pushing the limits of what you thought you could do."
Growing as Engineers
Fillman, Aceves and Kaberwal look forward to building on their First Nations Launch success in the coming years, as well as keeping up the connections they made with their peers and mentors. They also encourage others to explore rocketry.
"If you think you're going to have fun, do it," said Aceves. "It was very daunting to do all these reports and present in front of all these people about something I wasn't 100% sure I'd be able to do, but I did think I was going to be able to have fun and learn a lot, and I did. That's going to follow me next time I wonder whether or not I should do something."
"When you join our club, there's so much to learn and it may feel intimidating, but I genuinely believe that anyone can learn to do rocketry and get a good experience from it," said Fillman. "That's what we did."
The team consisted of Argüello, Aceves, Kaberwal, Fillman, physics major Lexa Loperena Beattie and biomedical engineering major Gonzalo Bernal. The team competed for the first time in 2021 and made headlines for helping their peers at Queens University in Ontario, Canada launch their rocket when they were unable to attend due to pandemic restrictions.
Primary Category
Secondary Categories
Tags