STEM Outreach Program Helps Middle School Students SOAR
"How do you build a rocket?"
For aerospace engineering master's student Andrew Arends '20, this question from a fifth-grade student was the perfect opportunity to share his passion for rocket science as part of the STEM Outreach Academic Reinforcement, or SOAR, Program at UC Davis. At the time, Arends was involved with the UC Davis ECLIPSE high-powered rocketry team, so he broke down some of the complexities of building a rocket for the student's class to fuel their curiosity. 
Arends is currently the Program Coordinator for SOAR, a volunteer educational outreach program that advocates for students in underserved communities within the greater Sacramento area and aims to nurture an interest in science, technology, engineering and math topics. 
"We all had an impression at some point that encouraged us to be involved with STEM and we recognize it happened early in our development," says Arends, who now looks to inspire the next generation of engineers. 
The SOAR program is a collaboration between retired NASA astronaut and Professor of Mechanical and Aerospace Engineering Steve Robinson's Humans, Robotics, Vehicle Integration & Performance Laboratory at UC Davis, the Aerospace Museum of California, and the K-8 Community Outreach Academy, or COA, in Sacramento.  
Student mentors from SOAR visit classrooms in-person once a month, host virtual events, coordinate field trips to the museum, and serve as role models for students throughout the academic year. They also partner with teachers from COA to reinforce their current curriculum and engage students with activities that encourage scientific problem-solving and exploration. 
Building Confidence and Leadership 
One of the most popular activities, "The Four Forces of Flight," teaches students about airfoils, a shape that allows the air traveling over the top of the airplane wing to travel farther and faster than the air below the wing. The faster-moving air above the wing exerts less pressure than the slower-moving air below, and this pressure differential pushes the airplane upward, giving it lift. Students observe this by running with makeshift wings, and as air moves around the airfoil, they can feel the lift force and have a tactile way of understanding how planes fly.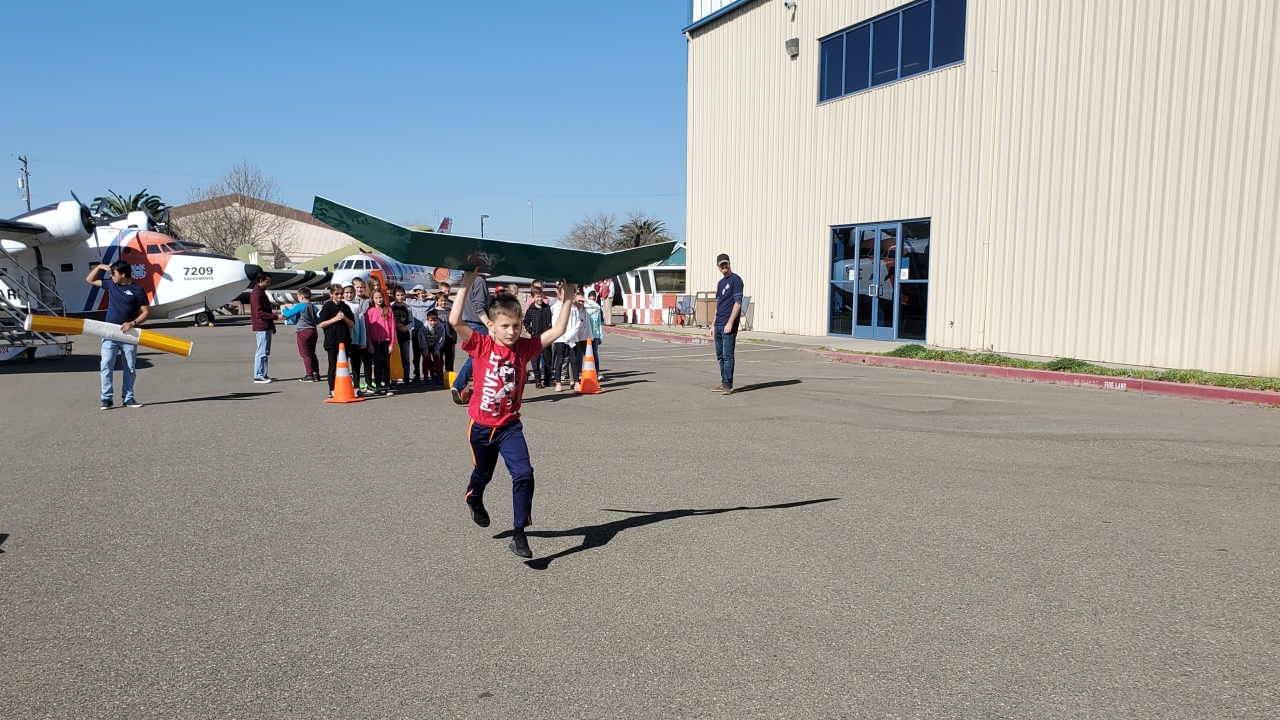 "We put a lot of effort into fostering a sense of self-belief and self-confidence and these activities are designed to help them explore, instead of focusing on whether they can get questions right," said Deputy Coordinator and current graduate student Casey Miller '17.  
SOAR hopes to create a cycle of mentorship where students can receive the support they need to nurture their interest in science while developing their leadership skills and confidence to become mentors themselves when they decide to pursue higher education. Seventh-grade students who were involved with SOAR in fifth grade are role models for the fifth graders who will participate in the future. Through this mentorship, students can reinforce their scientific skills and be confident enough in their knowledge set to pave the way for their peers in a way that hasn't been seen before. 
"We create an environment that's safe to explore and engage in discussions," Miller said. "Hopefully in the end they use the skills they have been learning to reinforce and develop their own mental model and are able to describe and articulate that model to other students."
SOARing through COVID-19 
One of the greatest challenges for the SOAR program has been COVID-19. According to the California Department of Education, academic achievement and student performance have declined since the start of the pandemic, and it's also forced the organization to innovate and reinvent activities for hybrid settings. 
Despite the challenges that come with having the SOAR mentors online while the students are in a classroom, the teachers and mentors have been able to engage and encourage participation from students who are equally enthusiastic about learning about STEM topics. Former deputy coordinator Cory George '20 thinks this is because programs like SOAR provide important spaces for students to nurture their passions for STEM and make up for some of the education they might have missed due to the pandemic. 
"It was very clear we had a positive effect on these students, especially when they were all at home," said George. "Our activities weren't mandatory and they didn't have to come to our events when they were at home, but they all did. This tells us that this is something that is fun for them that helped break up their mundane day and gave them positive support during an uncertain time."
Onwards and Upwards  
In the coming years, SOAR intends to become more involved within the broader Sacramento community by expanding the program and working with other elementary schools in areas such as Yolo County while working with the Aerospace Museum of California to facilitate these relationships. The program and the HRVIP lab are actively recruiting volunteers to help make a difference in these students' educational lives. 
"It's hard for me to imagine a world where young children are prevented from exploring the amazing world that is science," says Arends. "I joined SOAR to make sure these students receive the academic opportunities and support they need to achieve."
Primary Category
Secondary Categories
Tags