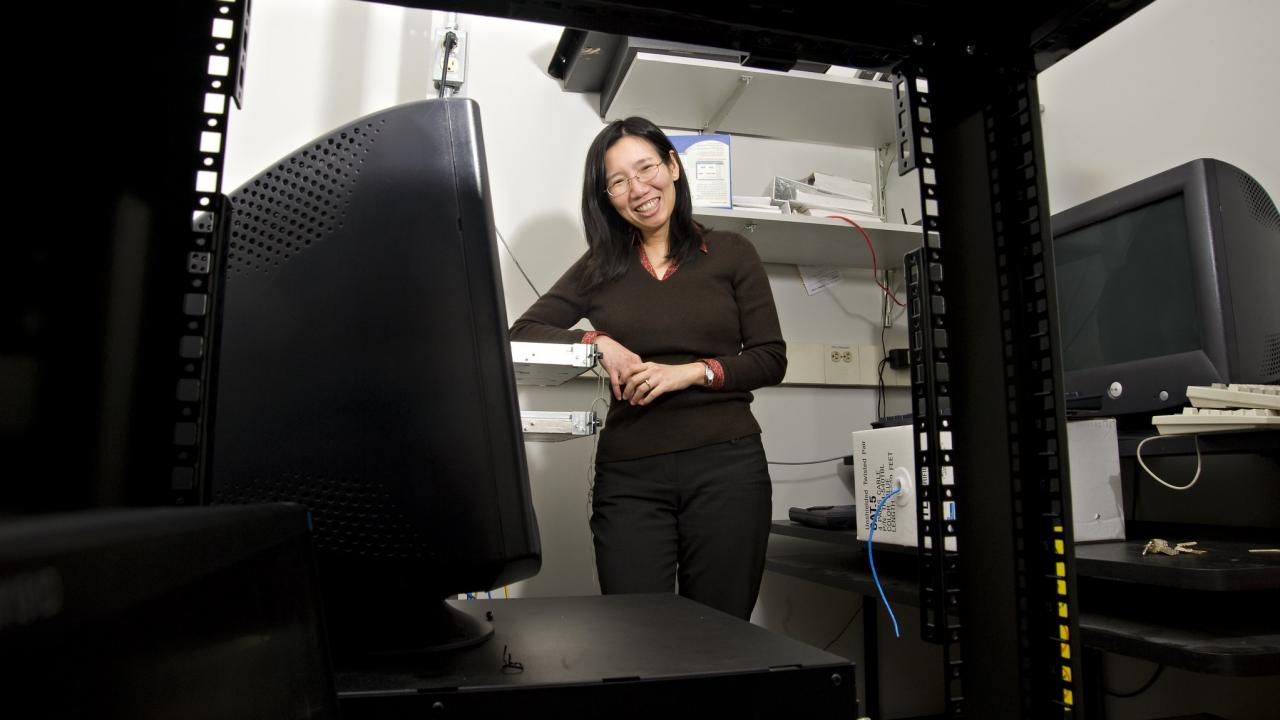 When a patient is in critical condition, often times their lives and health depend on quick diagnosis, effective decision-making and timely treatment of their conditions. However, it is not always possible to bring the patient to the hospital due to location or severity of injuries. This is why electrical and computer engineering professor Chen-Nee Chuah and a team of clinician investigators at the UC Davis School of Medicine are working to bring smart device and artificial intelligence (AI) technologies to healthcare.
Chuah and her collaborators received a $4.4 million grant from the Department of Defense (DoD) to develop a platform that optimizes critical care management in real time. The system combines endovascular devices with AI-assisted fluid and medication delivery to provide more accurate, dynamic and highly nuanced critical care for each patient.
An expert on networks and data science, Chuah is developing machine learning algorithms that are able to process large amounts of data—everything from physiological signals to the patient's medical history—on the fly to quickly diagnose patients and develop an effective, personalized treatment recommendation.
Though this is an exploratory project, Chuah hopes to one day see real-time data analysis platforms and AI-assisted clinical decision support systems as a staple of modern hospitals, saving lives daily in the ICU. This technology also has potential applications in the field, supporting a longer-term vision of a "virtual hospital" for environments that lack traditional resources. 
"With engineering, you get to work on exciting problems and with cutting-edge technology to create something for the bigger social good," she said.
The project, titled "Endovascular Perfusion Augmentation for Critical Care (EPACC): Personalized and Adaptive Therapy for Resuscitation after Trauma," is led by assistant professors Austin Johnson and Jason Adams at the UC Davis School of Medicine. Adams specializes in lung diseases while Johnson specializes in resuscitation after brain injury. Their common interest lies in the critical care of vascular diseases, diseases that attack the body's system of blood vessels.
Chuah has been working with Adams, Johnson and mechanical and aerospace engineering professor Jean-Pierre Delplanque for the past couple of years. The team recently received another $3.4 million DoD funding to develop a clinical decision support system (CDSS) that analyzes patient data and looks for anomalies to diagnose specific life-threatening diseases and predict whether the condition will improve, get worse or remain stable. They have already started developing machine learning-based predictive tools for diagnosis and prognosis of Acute Respiratory Distress Syndrome, or wet lung, a fast-moving and often fatal disease that occurs in critically ill patients.
For the EPAAC project, the team is collaborating with researchers from the Wake Forest School of Medicine, the U.S. Air Force and the U.S. Navy. They will use their grant money to foster these collaborations and hire more graduate students and postdoctoral scholars to assist with the research.
Chuah received her B.S. in electrical engineering from Rutgers University and her M.S. and Ph.D. in electrical engineering and computer science from UC Berkeley. She joined UC Davis in 2002 and has since been named a Distinguished Scientist by the Association for Computing Machinery (ACM) and a Fellow of the Institute of Electrical and Electronics Engineers (IEEE).
Category
Tags